The Wind in the Underground
The world traveller returns to the front gate of the family home. Times change and memories fade. Four siblings return to their roots — childhood dynamics re-emerge, and the complexities of family bonds are exposed. The Wind in the Underground comes to Perth following a highly successful season at the Old Fitz Theatre in Sydney, 2017.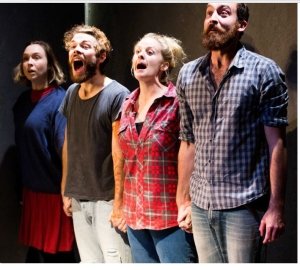 "A true showcase of Aussie theatre talent" AltMedia
"A superb cast enchants with their extraordinary chemistry" SuzyGoesSee
"Offers a poignant window into the family life… this moving tale is worth a visit" TheatreNow
Presented by:
Summer Nights & New Ghosts
New Ghosts is first and foremost a playwright's theatre company, collaborating with Australia's most up and coming writers and debuting the best international new scripts locally. Having gained her personal aesthetic while working in New York City, founder Lucy Clements brings an unique directing style to her works and prides herself in the creation of dramatic and heart-felt presentations with a wide appeal. The Wind in the Underground marks a homecoming for New Ghosts, as well as its Perth raised collaborators Michael Abercromby, Sam O'Sullivan, Whitney Richards and Bishanyia Vincent.
Review
****/*****
The world traveller returns to the front gate of the family home. Times change and memories fade. Four siblings return to their roots and are faced with the decision of whether to sell their father's house, their home; childhood dynamics and memories re-emerge, and the complexities of family bonds are exposed and examined in this heart-warming and compelling story. As indicated in the media release, this is the synopsis of the play.
The four sibling are Mitchell, Simon, Claire and Andrea. Simon played by Rowan Davies returns home after a trip to Europe or somewhere else. He is initially met with hostility by his siblings who do not appreciate the fact that he needed time out. Rowan played his role to perfection. He did indeed strike us as the vagabond that does not want to undertake too many family responsibilities.
Claire played by Whitney Richards is another extremely accomplished actress. She did not have as much of a talking part as her other siblings but her force and effect was felt throughout the play due to the brilliance of her acting.
Mitchell (played by Michael Abercromby) was the eldest son who was obviously mum's favourite child. Mum has left home ( reason's unknown) but Mitchell is very fond of her and does all he can to keep in touch with her and provide the family with updates. Again Mitchell was brilliantly cast and one did get the impression that he was the bossy all knowing elder brother.
And finally Andrea played by Bishanyia Vincent was also a very well presented role.
The four actors in the play have had a lot of experience acting and this is seen throughout the performance. The all manage to capture the essence of sibling rivalry. Each actor really got into their part and made us the audience really empathize with each individual and realise the different points of view conveyed by each role.
I thoroughly enjoyed this play. It took me back to my childhood where a lot of similar situations had occurred. The evening was extremely enjoyable.
I have to add that quite a lot of colourful language was flung around the place. If you are not fussed about hearing a little bit of bad language then come along to the State underground and have a great night seeing what so many of us experience in our daily life.
The play runs from 27th Jan – 3rd Feb. Book soon as most of the seats were sold out on the day I attended.
---
The Blue Room Theatre Summer Nights and Mudskipper
Productions in association with Playwriting Australia and Yirra
Yaakin Theatre Company present
BANNED
From emerging theatre company Mudskipper Productions comes the world
premiere of a thoughtful new work about race, class and footy.
BANNED
6 – 10 FEBRUARY 2018, THE BLUE ROOM THEATRE
"I got one son, that's why I'm 'ere to make this right for 'im. Don't matter what I bin through."
An ugly incident at her son's football game results in time in jail and a life-time ban from future footy matches for Kaarla. Now she wants the ban lifted. But Jane, the injured party, wants blood.
Mediation is a last-ditch, volatile shot at negotiating some form of mutual justice. Can these two women move from hurt and hatred, towards reconciliation and forgiveness?
Banned is the thought-provoking professional debut by emerging playwright Barbara Hostalek, and is directed by award-winning playwright and director, Hellie Turner.
Banned is made possible through Playwriting Australia and Yirra Yaakin Theatre Company's Next Step Program, which gives the opportunity for further development with Indigenous artists who engage in the theatre sector.
Writer: Barbara Hostalek / Director: Hellie Turner / Featuring: Della Rae Morrison, Talei Howell-
Price & Kingsley Judd / Producer: Elinor King / Stage Manager: Rebecca Davis / Sound Designer: Taylor Everitt
ABOUT MUDSKIPPER PRODUCTIONS
Mudskipper Productions is a new Western Australian theatre company that aspires to make you think.
Focusing on stories with themes of class, family and race, Mudskipper Productions highlights different points of view on contemporary life. Our stories will make you laugh, make you cry, and hopefully make you see a different perspective.
Helmed by writer Barbara Hostalek, this is the company's debut play.
What: Banned
When: 6 – 10 February, 9.30pm
Where: The Blue Room Theatre, Fringe Central, Northbridge
Ticket prices: $26 + Transaction Fee (group discounts available)
For bookings: summernights.org.au / fringeworld.com.au
---
A Prudent Man
Exploring what it means to be right…in more ways than one
Written & Directed by KATY WARNER
Performed by LYALL BROOKS
Presented by LAB KELPIE
What makes the Trumps, the Abbotts and the Hansons of this world tick?
What would happen if their world started to shift ever so slightly?
Hot on the tail of the US Elections, this speculative piece inspired by real life political events and people, is a dark comedic political thriller that was the critical and audience hit of the 2016 Melbourne Fringe Festival
Playing to sell-out houses it took home the coveted People's Choice Award from over 400 productions, won the WA Tour Ready Award and was nominated for Best Performance.
Writer and director Katy Warner returns home to WA having recently won the 2016 AWGIE for Best Children's Theatre for Reasons to Stay Inside and the 2016 Rachel Funari Prize for Fiction for One Hundred and Fifty Seconds. Her 2013 Melbourne Fringe play Dropped was nominated for two Green Room Awards and performed at this year's Edinburgh Festival.
Performer Lyall Brooks most recently appeared in the Helpmann Award nominated North by Northwest (Arts Centre Melbourne), The Heretic (MTC) and Sunday in the Park with George (Victorian Opera). He has received three Green Room award nominations.
★★★★★ "Profound and gripping viewing. You simply must see this shocking commentary on conservative politics." – Theatre People
★★★★★ "This is theatre at the very top of its game: complex, enlightening and thoroughly accomplished."
A conservative politician, a leader, a man in a snappy suit, an athlete in a bad tracksuit. Meet A Prudent Man – an amalgamation of the right-wing politician that haunts us all. "'Fringe' can sometimes be a euphemism for "low rent". Not so for Lab Kelpie, which is one of Australia's most exciting independent theatre companies on the rise." – The Music Venue: The Shambles – Perth Cultural Centre
FRINGE WORLD
Date: 1 – 6 February 2017
Time: 7.30pm
Duration: 50 mins
Tickets: $25.00
Bookings: fringeworld.com.au or call (08) 9227 0588
Website: labkelpie.com
---
Bus Boy
Rorschach Beast return to Summer Nights at The Blue Room Theatre this FRINGE WORLD with a new production set locally on Rottnest Island.
Winners of FRINGE WORLD 2016's Best Emerging Artist Award and Melbourne Fringe Ready to Tour Award, Rorschach Beast are back with a new show about isolation, friendship, and stealing buses.
Written by Izzy McDonald (dir. Girl in the Wood) and directed by Geordie Crawley (writ. Girl in the Wood), Bus Boy tells the story of Jerry, a young woman stuck
in transition, and how her life changes irrevocably when she meets Bus Boy on a trip to Rottnest. Through secret sharing and grand theft auto, both realise dreams they never thought would come true, and confront past events they wish had stayed buried.
"I have been connected to the island since I was child on family holidays, to a teenager letting loose and a young adult performing in history plays in the old chapel," McDonald says of the setting. "I feel connected to this place we all call our home for a weekend at a time, and how we interact with the island."
Geordie Crawley takes to directing for the first time, saying that there's an elation that comes from working with a tight-knit group of collaborators a second time around, but nerves are to be expected too. "Just about everything in this process terrifies me," Crawley admits, "But that's the fun of it."
Lead by two of WA's most exciting emerging theatre makers, Rorschach Beast made waves during FRINGE WORLD 2016 with their sell-out hit Girl in the Wood, which toured Melbourne Fringe later that year.
If Girl in the Wood was an arrival for these young creatives, Bus Boy is a way of them writing their names in wet cement.
The interview below was done by Malti Elliott with the writer/director Izzy Mcdonald.