BLACK PANTHER
an MCU entry with political intrigue, a social conscience and brains to burn
 Chadwick Boseman as Black Panther (T'Challa) in the new film from Marvel Studios.
U.S.A.  :  134 mins  :  M  :  R.T. 98%  :   4/5
After the smashing success of DC's female superhero in Wonder Woman, its Marvel's turn, with the full-feature entrance of Black Panther – a black lead (played by Chadwick Boseman) to strengthen the diversity of the Marvel Cinematic Universe.  But, other than having a black superhero, the film's key element is the social and political dimensions of director and co-writer, Ryan Coogler's script (along with Joe Robert Cole).
Even though Black Panther, at times, has a confusing sense of place, the location of its hero's homeland in the dense jungle of present day Africa, rather than in some distant alien or mythological world, gives it a grounded feel with a fascinating mix of Traditional African life (villages of thatched roofs) and sci-fi elements, such as futuristic space ships hovering overhead.
King T'Challa (Boseman) is returning to his fictional homeland of Wakanda to claim his crown but, in a physical challenge by his arch-enemy Killmonger (Michael B. Jordan) he is beaten and presumed killed when he's thrown over a waterfall.  Black Panther follows the usual narrative arc of a (resuscitated) rightful heir fighting to reclaim his position.
Black Panther's own powers derive from an intriguing, magical potion extracted from a purple, heart-shaped plant.  Combined with the metal Vibranium  in his armoury (the hardest substance on the planet, found only in Wakanda) he becomes almost invincible.
 Michael B. Jordan and Chadwick Boseman as adversaries after the same prize.
Boseman is an impressive presence on screen, only on occasions, in danger of being overshadowed by Jordan's high voltage performance.   The set design and costumes are magnificent and the battle scenes are on a huge scale, although the film is, unfortunately let down by some terribly stilted dialogue.  Andy Serkis has a wonderful time as a one-armed brigand, Martin Freeman makes an amiable CIA agent and Letitia Wright plays an ingenious young inventor of new technology.  But it's the 95 year-old Stan Lee, who created the character in 1966, whose appearance in a cameo as a gambler, should send fans into delirium.
When T'Challa turns up at the United Nations, addressing the assembly with an acknowledgement that the great wealth and technological advancement of Wakanda (hitherto hidden from human eyes) imposed a mandatory responsibility on it to the rest of the world, it sounds like a rebuttal (in a superhero blockbuster, no less) of President Trump's inflexible 'America First' policy.
Black Panther is a significant film – in which black characters are not treated as side-kicks or sources of cheap laughs or sops to political correctness but as figures of substance and respect.
In a postscript to Black Panther, there is the obligatory notice of the next instalment in the franchise.   If it possesses the smarts of the origin entry and with the addition of a little structural tightening, then it will be a welcome return for a concept that punches well above the weight expected of a superhero blockbuster.
phil 09.02.18. pbsailing@yahoo.com.au
(Black Panther will screen at Event from Tuesday, February 13.  Check eventcinemas.com.au or the press for details).
---
THE PHANTOM THREAD
In his most bizarre and perplexing role,
is this the final appearance of Daniel Day-Lewis?
Daniel Day-Lewis is fashion designer, Reynolds Woodcock, in The Phantom Thread.
U.S.A. : 130 mins : M : 90% R.T. :  4/5
After a glittering career, in which he's won Oscars for My Left Foot (1989), There Will be Blood (2007) and Lincoln (2012), actor Daniel Day-Lewis has announced his unexpected retirement and that writer/director, Paul Thomas Anderson's The Phantom Thread (in which he's picked up another Best Actor nomination) will be his last film. If this is the case, then the film world will not only have lost an actor of extraordinary talent but The Phantom Thread will, perhaps, be his most bewildering swan-song, from its heady but perplexing mix of sophistication, eccentricity and power-plays to its ultimately elusive title.
In London of the 1950's, Reynolds Woodcock (Day-Lewis) is one of the world's leading women's fashion designers and who even dresses a Princess for her wedding.  He is surrounded by a bevy of women who wait, patiently, to fulfill his every whim, from the seamstresses whose expert fingers bring his creations to life to the lady who pours his tea – his dedicated, stoic sister, Cyril (Lesley Manville) who is the queen bee of his hive.
Reynolds Woodcock is the last word in selfish eccentricity and Daniel Day-Lewis gives full reign to his complex mix of ruthless egotism and juvenile petulance.  But, just as complex is the performance of Lesley Manville (who's also picked up an Oscar nomination for Best Supporting Actress) whose Cyril professes a sisterly love but which is buried deep beneath a steely-eyed resolve to not only keep her brother's life in order but to maintain her own position in it.  When she warns Reynolds not to pick a fight with her because he knows she'll win – neither he, nor the audience, would doubt it.
With the arrival of Alma (Vicky Krieps, in the film's third outstanding performance) who Reynolds falls in love with and eventually marries, this intriguing network is complete. But it's clear that her position is perilous.  While Reynolds is deft of touch, Alma is clumsy and Anderson, cleverly, accentuates the sounds that irritate her husband – the scraping of toast, the clunk of a coffee pot lid – to the point where Reynolds confesses to Cyril (in plain hearing of Alma) "She doesn't belong in this house!"
Cyril tells her brother that she likes Alma – recognising in her, the same guile and resolve that she, herself, possesses.  But Alma knows that, if she is to survive, she has to make Reynolds dependent on her.  And the way she does it is fraught with danger and is truly shocking.
Like the elaborate gowns that Reynolds creates (in whose folds he delights in hiding cryptic clues to the owner) Anderson's film is an expertly drawn, finely detailed conundrum.  Gorgeous to look at, with scenes of exquisite beauty (such as the wedding feast, photographed by the ambient and roseate glow of a hundred candles) Phantom Thread is underpinned with a psychological depth that will tantalise and confound.
29.01.18.  pbsailing@yahoo.com.au
(Phantom Thread will screen at Event cinemas and at Luna's Cinema Paradiso and Luna's The Windsor from Thursday, February 1.  Check eventcinemas.com.au or lunapalace.com.au or the press for details).
---
THE SHAPE OF WATER
Hard-boiled eggs and Benny Goodman –del Toro conjures the most bizarre romance of the year.

U.S.A. : 123 mins. : MA 15+ : R.T.94% : 5/5
There's magic in every frame of Mexican director, Guillermo del Toro's The Shape of Water. While his screenplay (co-written by Vanessa Taylor) takes his film closer to Creature of the Black Lagoon (1954) than to Jean Cocteau's 1946, La Belle et Le Bete (Beauty and the Beast), it builds on the latter's theme of an improbable love between a beautiful woman and a beast. From the moment that Richard Jenkins' voice-over prologue refers to the mute Elisa (a sublime Sally Hawkins) as a 'Princess without a voice' we are in the realm of adult fairy tale and allegory. Even so, to believe that a woman could fall in love with a marine animal (Doug Jones) seems impossibly loopy. The fact that del Toro succeeds, suggests that something remarkable has happened on screen. This is exactly the case.
Set in the early sixties, at the height of the cold war, Elisa Esposito lives in an apartment, shared with a (gay) friend, Giles (a sensitive performance from Richard Jenkins) located above the Orpheum picture house in Baltimore. She works as a cleaner at an underground, top-secret, government research facility and one day the magic begins when an astonishing 'asset' (the human-sized marine creature) arrives in a sealed chamber, having been captured in the depths of the Amazon jungle.
The Shape of Water follows the typical narrative arc of any B-grade monster flick of the era it is set in. The freakish creature, reviled by research boss, Richard Strickland (Michael Shannon at his wonderfully ignorant, sadistic and despicable best) and under threat of termination by his superior, general Hoyt (Nick Searcy) depends on the empathetic Dr. Hoffstetler, a lab scientist with a dark secret (a wonderful Michael Stuhlbarg) and particularly, Elisa, to save him. While Doug Jones is tremendous and his aquatic suit is impressive, he still looks ridiculous. It is only when an ineffable bond develops between him and Elisa that alchemy takes hold, dispelling any doubt that the creature is real, intelligent and vulnerable.
Alexandre Desplat's score is hypnotic and cinematographer, Dan Lausten, chips in with his own visual magic. In one brief but exquisite scene (which shows why del Toro chose the title that he did) he zooms the camera up close to the rain drops on a window pane, as they do amazing things.
The wonderful Octavia Spencer provides some comic relief as Zelda, Elisa's friend and work mate but Sally Hawkins is mesmerising. Shy and demure (and who the creature recognises as similarly alone and 'imperfect') her Elisa tap dances, skips, boils eggs and clutches at the heart-strings with one of the most powerful and articulate performances of the year – and all without the power of speech.
Sally Hawkins is mesmerising.
For his film, Guillermo del Toro rightly won the Best Director, Golden Globe award. The Shape of water* is enchanting, moving and unforgettable.
phil. 13.01.18. pbsailing@yahoo.com.au
(The Shape of Water screens at Luna Leederville and Luna SX from Thursday, January 18. It will also screen at Camelot and Luna Outdoor. Check lunapalace.com.au or the press for details).
*Winner of Best Film, Critics Choice awards and has received 12 nominations for the upcoming BAFTA awards.
---
​
THE POST
– screening now! Jan 12
A new Spielberg film is an event and The Post is no exception.  On show are some of the finest skills in the business in one of the year's outstanding films.
THE POST
Technically immaculate but minus a knockout punch.
The combination of director, Steven Spielberg, with actors Tom Hanks and Meryl Streep, is akin to film-making royalty. As may be expected, The Post is virtually flawless in every department, from its seamless editing and fine screenplay (by Liz Hannah and Josh Singer) to Janusz Kaminski's fluid camera work to its stylish but restrained musical score (yet another collaboration with John Williams).  It's undoubtedly one of the most polished films of the year, yet the events it depicts, of the Washington Post's monumental disclosures of the so-called Pentagon papers, gave Spielberg some thorny structural decisions of his own to make.
At the core of this episode of journalistic history (in the late sixties) was the freedom of the press.  Spielberg has, wisely, made this the focus of his film.  Even though the revelations that were published (initially by The New York Times, until it was stopped by a legal injunction) were shocking proof of governmental and presidential cover-up and lies, yet the most fundamental concern was the first amendment of the American Constitution – the freedom of speech and of the press.
Tom Hanks inhabits the skin of editor-in-chief, Ben Bradlee, like it was his own.  He is brash, super-confident and highly principled.  As he says, "the only way to assert the right to publish is to publish".
That decision – whether to publish or not, falls to the paper's owner, Kay Graham (Meryl Streep). As not only the most important person in the organisation, but as the only woman on the board of management, Streep's role is both monumental and timely.  In contrast to the assertive Hanks, Streep is initially cautious, doubtful and ever-mindful that the men talk about her being the leader, only on account of her husband's death. But, it is satisfying to see Streep develop her role into a stronger woman, able to take down some of her pushy colleagues.
Streep's performance is magnificent but the real magic happens when she's joined by Hanks. These two, amongst the finest actors of their time, are at the peak of their powers and they are breathtaking to watch.
Even though The Post doesn't quite hit the heights of two other newspaper films – All the President's Men and Spotlight, nonetheless, this is still a rare achievement and will occupy an esteemed place in the canon of the most successful film-maker of all time.
phil. 10.01.18. pbsailing@yahoo.com.au
(The Post will screen at Luna Leederville and Luna's The Windsor from Thursday, January 11 and at Luna Outdoors and Luna's Camelot on selected dates.  Check lunapalace.com.au or the press for details).
---
COCO
Disney-Pixar's glorious celebration
of Mexico's Dia de Muertos -the Day of the Dead.
Miguel (Anthony Gonzalez) dreams of becoming a famous musician.
U.S.A. : 109 min : PG : DISNEY-PIXAR :  4.5/5
Mexico's Dia de Muertos holiday and festival, honouring dead family members, would seem to be an unlikely setting for Disney-Pixar's Coco, yet the film proves to be one of their liveliest and most emotionally resonant.  Co-directors, Lee Unkrich (Toy Story 3) and Adrian Molina (who shared the writing with Matthew Aldrich) have not only brought the plight of twelve-year old Miguel vividly to life but have given a vibrant insight into authentic Mexican culture.
Young Miguel (endearingly voiced by Anthony Gonzalez) is a talented musician but he's been banned from playing music and has to practice in secret.  Even though he idolises his great, great grandparent, Ernesto de la Cruz (the 'greatest musician in Mexico's history'), Miguel's grandmother, Abuelita (Renee Victor) says, it was la Cruz who broke the family apart and now she won't even allow musicians to play in the street.  However, when Miguel and the deceased Hector (an amusing Gael Garcia Bernal, The Motorcycle Diaries) embark on a journey to the land of the dead, they discover the devastating truth about la Cruz (a charismatic Benjamin Bratt), Hector and the true nature of their singer/songwriter relationship.  Cruz' iconic mantra, 'Seize the moment', takes on a totally different, ominous and mean-spirited meaning.
Family values are at the heart of Coco and Miguel comes to accept these as even more important than his passion for music.  But, in Coco, 'the family' doesn't mean just the living members – on the Day of the Dead, those family members that have passed on (according to belief) are reunited with the living in a celebration of feasting and music-making.
And, amid an explosion of saturated colour, there is an abundance of joyful, infectious mariachi music which keeps Coco moving at a frenetic pace.
The song, Remember Me, (aimed squarely at the Oscars) is the thematic foundation stone of the film – remembering those no longer with us, keeps their spirit alive.  When it is sung (with heart-wringing emotion) by Hector to the almost catatonic great-grandmother, Coco herself, it kicks off the strongest scene of the film with animation that is simply sublime.  When Coco hears her song, (which Hector wrote for her) her eyes light up, she beams from ear to ear and she begins to speak.
This 'miracle' isn't just a figment of Pixar's brilliant imagination.  Here the Pixar team show just how savvy and thorough is their research. It has been medically verified that music (with a deeply personal meaning) can revitalise the physically immobile – and they've used this fact to create pure cinematic magic.
This thoroughly entertaining film, with a huge cast of (largely unknown) Mexican voices, is steeped in the spirit of Mexico.  For this reason, it seems likely that Coco will have greater success in North America, where the Day of the Dead is a familiar event.  Kids from other countries may battle to overcome the scare factor of hundreds of bleached skulls, although, ingeniously, Pixar has gone some way to overcome this by giving them eyes.  And, if the exuberance, colour and vivid animation aren't enough to dispel any misgivings, Coco sports one of the loopiest and totally lovable (non-speaking) dogs seen on screen – whether real or animated.
phil. 04.11.17. pbsailing@yahoo.com.au
(Coco will screen at Event Cinemas from December 26.  Check eventcinemas.com.au or the press for
details).
AWARDS:
Coco has been awarded Best Animated Film of the year by both the New York Film Critics Circle and the National Board of Review.
---
ONLY THE BRAVE
A true fire-fighting saga that
builds from chest-thumping to emotional depth.
U.S.A.  :  133 mins  :  M  :  3.5/5
In 1991, Backdraft was a dramatic fire-fighting feature whose special effects (for which it earned Oscar nominations) were superior to the rather lifeless narrative.  Only the Brave, directed by Joseph Kolsinski and with a cast including Josh Brolin, Jennifer Connelly and Jeff Bridges, is based on the real events of the Yarnell Hill Fire of 2013 and pays homage to the Granite Mountain Hotshots.  This time, the equation is reversed – story takes precedence over effects.
Eric Marsh (Brolin) is the leader of a fire-fighting team who lives with the desire to get his team accredited as Hotshots (not a nickname but the official term for the crack fire-fighters who lead operations).  With the introduction of a rookie, Brendan ('Donut', played by Miles Teller) the first half of the film becomes an induction course for the audience, as much as for Donut.
Along with the usual clichéd mix of all-male behaviour – mild crudity, high-spirited practical jokes and bravado (accompanied by AC/DC's thumping rock tracks) – there's also some 'emotional hooks' created by Kolsinski and writers Ken Nolan and Eric Singer.  Donut is on probation (for minor offences) and has an unborn child by a girl who's shunned him; scenes of intimacy between Eric and his wife, Amanda (Jennifer Connelly, who succeeds with limited material) show the routine female resentment of the unfair balance between love and the job.  But, Kolsinsky has a fine eye for detail and, although these scenes are over-extended, yet the earnest, respectful (but not quite reverent) treatment works, so that by the time of the impending tragedy, most will care about what happens to these guys.
Only the Brave kicks into high gear with the start of the Yarnell Hill Fire.  With fire itself hardly making an appearance to this point, the sight of an uncontrollable wall of flame, powered by a fierce, unpredictable wind is terrifying.
Brolin gives a fine performance, striking a balance between his leadership qualities and his personal weaknesses.  The respect he gets from his team seems credible and deserved.  And Teller is effective as the youngster at the other end of the spectrum while Jeff Bridges, as the team's mentor, adds solid support.  Kolsinski does well in the pacing and choreography departments, although he lapses into sentiment in the final wash up (history has shown that it's most effective to treat this in silence).
Only the Brave (in spite of its flag-waving title) succeeds in posting a sincere and (sporadically) moving tribute to these dedicated men whose sense of camaraderie was equal to that of any military fighting unit.
​​See you in the dark. phil. 17.11.17. pbsailing@yahoo.com.au
(Only the Brave will screen at Event Cinemas from Thursday, November 23.  Check eventcinemas.com.au or the press for details).
---
MURDER ON THE ORIENT EXPRESS
this return trip on Agatha Christie's most infamous train, gets derailed.
Kenneth Branagh directs and stars as Hercule Poirot in Murder on the Orient Express.
U.S.A.  :114 mins  :  M  :  3/5
With a cast including Penelope Cruz, Willem Dafoe, Judi Dench, Johnny Depp, Derek Jacobi, Michelle Peiffer and Kenneth Branagh (who doubles as the film's director) has there ever been so much talent riding in a single train, as there is in Murder on the Orient Express? – Kenneth Branagh's remake of the 1974 classic (itself no pauper in that department).
Sometime during the night, one of the passengers, Edward Ratchett (Johhny Depp) is stabbed to death.  There are multiple wounds to the body and it looks like a frenzied attack.  As the train was under way with no stops, everyone is a suspect.  It's fallen to Poirot (Branagh) to solve the mystery and so begins a long series of interviews and disclosures, with Poirot trying to unravel a complex web of deceit and intrigue. It seems as though nobody the famed sleuth talks to is telling the truth.
Older members of the audience, or those who've read the book (by Agatha Christie) will probably remember how Poirot's powers of deduction are stretched to the limit, before the murder is finally solved.  It's an ingenious plot.  For those new to the tale, they may find Branagh's treatment intriguing but with limited emotional clout.  There are some strange decisions which don't seem to help, such as opting to film the discovery of the victim's body from above.  Because the faces of the people involved can't be seen, the drama of the situation is diminished.
There's no fault with the actors, except perhaps with Branagh himself (possibly, Michelle Pfeiffer takes the honours, giving depth and colour to the role of Caroline Hubbard).  Branagh, of course, had the task of shaking off the spectre of David Suchet, who's made the role of Poirot his own in later years. He succeeds fairly well, although his flamboyant moustache looks slightly ridiculous and, on occasions, his faux French accent tends to slip.  But, it's the film's climax, when scriptwriter Michael Green and Branagh tip into melodrama and Poirot becomes uncharacteristically heavy-handed, that proves the biggest disappointment.
Murder on the Orient Express is glorious to look at.  Every aspect of the film has been lavishly and immaculately brought to the screen (the costumes alone are worth the price of a ticket).  But the film is overly earnest and could have benefited from a dash of comic relief while, on the other hand, the tension is unlikely to pin you to the edge of your seat. However, the magnificent alpine scenery and ravishing cinematography will surely take your breath away.
phil. 08.11.17. pbsailing@yahoo.com.au
(Murder on the Orient Express will screen at Event Cinemas and Luna Leederville, Luna on SX and Luna's The Windsor from Thursday, November 9.  Check eventcinemas.com.au or lunapalace.com.au respectively, or the press for details).
---
THE MOUNTAIN BETWEEN US
too cold for romance.
Kate Winslet and Idris Elba fight for survival at their mountain crash site.
U.S.A. : 112 mins : M : R.T. 44% :      2/5
Film director, Hany Abu-Hassad, working from a script by Chris Weitz and J. Mills Goodloe and based on the book of the same name by Charles Martin, The Mountain Between Us enters familiar adventure/survival territory when the plane, chartered by Ben Bass (Idris Elba) and Alex Martin (Kate Winslet) and piloted by Walter (Beau Bridges) crashes in the High Uintas Wilderness, in Utah, U.S.A.  With the pilot dead (but with his dog surviving) the two strangers, lost in the freezing conditions, have to come to trust each other, as well as finding their way to safety.
A plane crash in the middle of nowhere is always an interesting premise but, unlike, for example, the (original) enthralling Flight of the Phoenix (1965) The Mountain Between Us takes a soft, heart warming approach to its desperate situation. Both (the talented) Winslet and Elba struggle to inject life into their underwritten characters and power up the chemistry between them; the writing is as barren as the landscape, having only a modicum of wit, ingenuity and drama – both Ben and Alex have narrow escapes but, overall, their ordeal on the mountain is likely to run second to that of the long-suffering audience.
As may be expected in this rugged location, buried beneath a deep blanket of snow, the cinematography is breathtaking.  And, if it's pretty miserable for the humans, the dog seems to have had a wonderful time.  Although, if it hadn't have been for the fortunate intrusion of a cougar, which provided the survivors with some much-needed protein (and if the production team had been inclined to make a real survival film) it may well have been the dog that finished up on the dinner menu.
A last ditch attempt at injecting romance into the finale of The Mountain Between Us may please some of the audience but most are likely to have reached a zenith of exasperation and be savouring the thought of their own escape.
phil. 11.10.17. pbsailing@yahoo.com.au
(The Mountain Between Us opens on Thursday, October 12 at Hoyts and Luna's Cinema Paradiso.  Check hoyts.com.au or lunapalace.com.au respectively or the press for details).
---
Mother!
Darren Aronofsky is as confronting a film maker as they come.  He's not over-concerned about making mainstream, entertainment film but, as a high-profile director, it's no wonder that fine actors, such as Jennifer Lawrence and Javier Bardem want to join him.
Jennifer Lawrence shines in mother!
Aronofsky's wild, apocalyptic allegory.
Jennifer Lawrence rips her heart out in the surreal mother!
U.S.A. : 121 mins :  MA  : 3.5/5
To date, this year has seen no film divide audiences and critics to the extent that Darren Aronofsky's mother! has (the lower case 'm' and the exclamation mark are intentional). The creator of Black Swan and Requiem for a Dream has one of the most daring and inventive imaginations in film (some would say 'febrile' or even 'demented').  It could only be the stature of the director's name that persuaded a mainstream studio (Paramount) to entertain such a bizarre and altogether outrageous project.
mother! cannot be taken literally.  To do so renders it ridiculous or unfathomable, neither of which obtains if it's seen as an allegory.  Aronofsky has never been accused of subtlety and here, he is anything but.  With the naming of Jennifer Lawrence, simply as mother, Javier Bardem as Him, Ed Harris as man and Michelle Pfeiffer as woman, Aronofsky's intent is clear.  Religious symbolism abounds, from the fires of hell to mother's declaration, "I want to make a Paradise." as she renovates her newly-destroyed and resurrected home.
mother!'s central theme seems to be one of a never-ending cycle of unconscionable mortal excess and finding redemption in (divine) compassion. As Him says, late in the film (when the house is overrun with adoring fans of his literary work) "We have to find a way to forgive them."
mother! begins like some creepy, nightmarish horror film, in which uninvited guests turn up to the two storey country house and become aggressive and belligerent and resist all attempts to make them leave (Ed Harris gives a wonderfully astute performance as man while Michelle Pfeiffer as woman, his wife, is magnificently obnoxious).  But the film rapidly becomes surreal, as the house (literally) reveals a beating heart within its walls and becomes packed to the ceiling with impassioned people. Madness and mayhem ensue in an atmosphere of intense claustrophobia.
Javier Bardem, whose Him is symbolic of the creative artist, sustained by the adulation of fans, maintains a powerful sense of focus in the midst of pandemonium.  While conciliatory to his wife, he is virtually oblivious of his surroundings and moves through a kaleidoscope of emotion, from love to anger to hate.  Jennifer Lawrence is stunning as (the Earth) mother, again showing great skill as she spirals from bemusement into abject terror, degradation and despair.  Her frighteningly intense performance is complemented by the incessantly close-up camera work of Matthew Libitique.
The final third of the film is frenetic and repellent and its nightmarish excesses are reminiscent of Polanski's masterful Repulsion (1965).  But whereas that film was firmly grounded in the psychology of sexual neurosis and paranoia, Aronofsky's seems capable of being interpreted ambiguously – as either devotional or cynical. Its visual tour de force seems, therefore, included for its own sake and, as such, the film teeters maddeningly on a knife edge between terror and absurdity.
Aronofsky's outrageous vision is so powerfully confronting that it virtually demands to be either embraced or rejected.  But, whichever way audiences fall, even those who dismiss mother! as another of the film maker's undisciplined indulgencies, should applaud his courage.  mother! will stand as one of those cinematic rarities – a film that disdains formulaic conservatism and pushes the medium to the extreme and for that, the film world is all the richer.
phil. 02.10.17. pbsailing@yahoo.com.au
(mother! is screening now at Luna.  Check lunapalace.com.au or the press for details).
---
BATTLE OF THE SEXES
Back in 1973, women tennis players were paid about one eighth of the match fees that men earned.  Billie Jean King, champion at the time, fought hard to close the gap.  Bobby Riggs, ex-pro, freely expressed the male chauvinism of the time – women were great in the bedroom and the kitchen but did they have a place on the tennis court?  Well, yes, said Riggs, for if not them, who else would pick up the balls?  Such is the backdrop to one of the most widely watched games in the history of the sport.  This is a wonderful production, full of humour, drama and tension with two great performances from Steve Carell and especially Emma Stone who is simply sensational.
See you in the dark at the tennis, phil.
BATTLE OF THE SEXES
an event that proved game, set and match for women's tennis.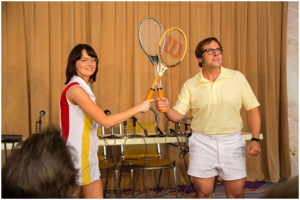 Emma Stone and Steve Carell star as Billie Jean King and Bobby Riggs, whose1973 tennis match drew a massive television audience.
U.S.A. : 121 mins :  PG-13 : 4/5
Forty four years ago, Billie Jean King (who was at the top of her game) agreed to a challenge by former champion, Bobby Riggs, to play a tennis match which many thought would be just a spectacle but which proved to be a game-changer for women's tennis.  King (Emma Stone) wanted to close the huge gap between the match fees paid to men and women while Riggs (Steve Carell) needed to raise funds to sustain his betting habit and put an end, once and for all, to the argument of equal status.  Although Battle of the Sexes is no documentary, yet it re-visits the match with great honesty and conjures one of the finest crowd-pleasers of the year.
Directors Jonathan Dayton and Valerie Faris (Little Miss Sunshine), working from a (clever and witty) script by Simon Beaufoy, cut back and forth, seamlessly between King and Riggs, providing just enough back story to give the central characters depth and integrity.  Carell is great, taking every opportunity to express his rampant male chauvinism and hamming up the goofiness, playing the natural showman and clown that Riggs became at the venerable age of fifty-five.  In the quiet moments, too, Carell is also impressive, in the bitter-sweet relationship with his wife (a warm, sensitive performance from Elisabeth Shue) who finally admits Riggs can never change his ways.
But the film belongs to Stone and her performance is magnificent.  As King, she juggles trepidation with composure, resolution and intelligence.  Her determination to fight for greater respect for all women players, never wavers. On the personal front, while married to Larry (a sensitive Austin Stowell) king's sexuality becomes complicated as she develops a strong relationship with her hairdresser, Marilyn, (Andrea Riseborough).  Both women are quite wonderful and the loving scenes between them are handled with tenderness and discretion.
The build-up to the tennis clash is a little long and the film begins to sag but with the knuckle-biting tension and edge-of-the-seat excitement of the game itself, Battle of the Sexes reaches a thrilling crescendo.
Although primarily a heady mix of humour and drama, the film has perhaps, an unexpected, contemporary resonance, due to the attitude toward women, of the current American presidency.  With the likes of Danny Boyle (Slumdog Millionaire) on the production team and with the real (73year old) Billie Jean King as an advisor, Battle of the Sexes is a resounding and faithful tribute to one woman's struggle for gender equity – a battle which continues to be fought, even today.
phil 26.09.17.  pbsailing@yahoo.com.au
(Battle of the Sexes will screen at the new Event Cinema at Whitfords and others from Thursday, September 28.  Check eventcinemas.com.au or the press for details).
Beatriz at dinner
Beatriz at dinner is a small scale but elegant
ly deft squirmfest that fearures an incredible performance by Salma Hayek. It could also be described as an allegory of the age of Trump.It is a drama about a kind, empathetic Mexican immigrant to America (Salma Hayek) who unexpectedly ends up having a tense, uncomfortable evening at a client's small dinner party, where she meets an unapologetically boorish billionaire (John Lithgow​)
Beatriz is not a character with a sense of humor, and the movie never laughs at her. It does, however, look at her with a teasing sense of mystery. Hayek, in bangs and a plain blue shirt, makes Beatriz a gravely soulful presence, always staring into the middle distance, as if she had seen a vision. At first she doesn't say much (that will change), but what's going on with Beatriz — who she is, what she wants — is the film's playfully suspenseful enigma.
This film Beatriz at Dinner favors substance over style. Despite a few touches of magical realism, the story is incredibly simple: After Beatriz' car trouble, Cathy misguidedly invites her to an important dinner, not considering how uncomfortable it will be for the hardworking healer to have to interact with domineering, casually racist businessman Doug. Doug is a real estate billionaire with a brash personality who has un-PC views on everything from immigration to environmental protection laws. His interactions with Beatriz are what creates the drama's delicious tension. Without Doug, there would be no vehicle for Beatriz' growth. Playing against type, the usually glamorous Hayek is stripped of all of make up and couture — and delivers a career-bolstering role that highlights her soulful eyes, expressive face, and fundamental talent.
This isn't a particularly easy film to watch — the tension can border on cringe-inducing — but seeing Hayek and Lithgow square off is a thing of acting beauty.
All in all I feel this is a movie that shows us how people who come from two completely different worlds really clash because of the way they view life, situations and people. An extremely good film that makes for excellent viewing.
---
GIFTED
A little gem, with a pocket genius at the centre of a tug of war.
McKenna Grace is the 7yr old maths genius in Gifted.
U.S.A.  :  101 mins  :  PG-13  :  4/5
Seven-year-old Mary Adler (McKenna Grace) is a mathematical prodigy and while her uncle and de facto guardian, Frank (Chris Evans) is proud of her, yet when she's offered a place in a school for gifted kids, he declines.  All he wants is for Mary to have a normal childhood (as her deceased mother wanted) while Evelyn (a fiery Lindsay Duncan), her determined but well-meaning maternal grandmother, believes it is imperative that her extraordinary ability be fully nurtured.  And so begins a custody battle between Frank and Evelyn, with little Mary stuck in the middle.
Director, Marc Webb (The Amazing Spider-Man) is in great control of this small-scale story with a cast that are low-profile – apart from the charismatic Octavia Spencer as the black, genial and Mary-loving neighbour, Roberta Taylor. Spencer is just wonderful here (as she was in Hidden Figures).
Amongst the overblown, CGI-laden offerings that clamour for attention, Gifted is a rarity.  It's mature, intelligent and emotionally involving and it works because the relationship between Frank and Mary is entirely credible.  Evans is tremendous as the loving but doubt-wracked uncle.  But it is the pint-sized Grace (with maturity way beyond her tender years) who steals the show in an emotionally–charged performance that ranges from smart-ass humour to heart-wrenching pathos.
If the narrative arc of Gifted is fairly predictable and offers few surprises, the writing of Tom Flynn frequently sparkles with dialogue that is witty and believable.  While Gifted, in lesser hands, may have been sunk by sentiment and melodrama, Flynn has the skill to deliver, instead, moments of poignancy and gold-plated drama. (And his inclusion of Fred, the one-eyed cat, is a clever and delightful metaphor, which underscores Evelyn's hard-nosed attitude).
There's much to be thankful for in Gifted (including the faith and courage of mainstream distributor, Fox Searchlight Pictures) and it's good enough to seek out among the more stridently promoted films of the day.
phil. 31.08.17. pbsailing@yahoo.com.au
(Gifted is screening now at Event.  Check eventcinemas.com.au or the press for details).
Killing Ground 
A couple's romantic camping trip becomes a desperate fight for survival in this ultra-raw, unhinged kill ride. In need of a break from the pressures of their life in the city, Sam (Harriet Dyer) and Ian (Ian Meadows) head to a remote beach for a weekend getaway. When they come across an abandoned campsite, with no trace of its occupants, they're concerned. When they discover a lone, traumatized child nearby, they're scared. And when they encounter two local weirdos, they're in for a hell of a bad time. Unfolding in an innovative, time-scrambling structure, Killing Ground delivers both nerve-shredding suspense and gut-punching realism.
While Killing Ground falls into the same sub-genre of horror as Wolf Creek, it's not quite as extreme in terms of its gore, yet still is quite disturbing. It's a fairly simple story with just a few characters based in a single location, but Power switches things up by telling the story using a scattered non-linear story device. This may throw some for a loop, at first, but it doesn't take long to catch on where things are leading.
One thing Power mostly gets right is that he spends enough time with both the predators and their victims, separately, so that you start to care for the latter even if you don't fully understand the motivations of the former.
As with many of these films, watching innocent people getting terrorized and killed for no particular reason eventually wears thin, and Power drags out the inevitable, quite literally delving into darker territory. For whatever reason, the last ten minutes of the movie are set almost completely in pitch black, making it too dark to tell what is happening, and that's a frustrating way to end your thriller.
The film has been described as a frightening thriller that will keep you on the edge of your seat. I personally found that quite true though I have to admit the ending left me feeling unfulfilled and dissatisfied. What was that all about and where did it eventually lead to??.
---
SPIDERMAN HOMECOMING
Spiderman Homecoming is a sweet, witty, briskly-paced romp that captures everything that has made Peter Parker and his costumed alter ego such a lovable and enduring character for over half a century. The core dilemma Spider-Man has always grappled with is, of course, "with great power comes great responsibility." But as the events of Spider-Man: Homecoming show, Peter Parker's responsibilities aren't just related to being Spider-Man. He has a responsibility to be a good student, to let his Aunt May (Marisa Tomei) know where he is and if he's okay, and to find the balance between his personal and superhero lives. Spider-Man: Homecoming portrays the entry of the teen superhero in the Avengers world. Holland's Peter Parker is just very excited and is unable to believe that he actually stole Captain America's shield, Games Radar reported. The fun, light-hearted introduction in Homecoming is said to be different from all the other superhero films. the normal, boring life of Spider-Man (aka Peter Parker) just trying to save his neighborhood and balancing high-school life is enjoyable to watch. The traditional superhero fare to save the world from aliens is eliminated instead, a frustrated teen Marvel hero is seen constantly bugging Tony Stark aka Iron Man (Robert Downey Jr.) for a mission to save the world.
Homecoming, then, is a fitting subtitle for this latest Spider-Man film. Not only does it refer to its setting, which puts Peter Parker back in high school, but it also cleverly alludes to the fact that, finally, Spider-Man is back with his Marvel superhero pals. Most importantly, Homecoming also fixes what the previous Spidey movie series fumbled: the characterisation of Peter Parker and Spider-Man. The Tobey Maguire-led films made Spider-Man too morose and mopey, while Andrew Garfield's take on Peter Parker in the Amazing series made the normally awkward character too hipster cool. But Spider-Man: Homecoming gets both sides of the character right. Doing both sides of the character justice goes a long way in Homecoming. After all, Spider-Man became of one the comic book world's biggest names not because he was the most powerful or exotic, but because he was–outside of the whole irradiated spider bite thing–just a normal guy. When he wasn't fighting
 super villains as Spider-Man, Peter Parker was dealing with the same issues many of us faced: money problems, job security, family concerns, love, and rejection. While other superheroes were billionaires, aliens, or gods, Peter Parker was mundane; just a good kid trying to make the best of what he had. He was us.
In conclusion I would like to say this is a lovely feel good movie that is being released at the right time – school holidays. Kids will have a field day enjoying the antics of the boy next doos who became a hero.
---
THE PROMISE
An Armenian tragedy of love and war.
When Turkey entered the First World War, its little-known, mass elimination of its Armenian neighbours (with, allegedly, a million and a half citizens killed) was one of the most horrendous acts of the Twentieth Century.  The episode is still mired in controversy due, in part, to the Turkish protestations of innocence which always claimed to be 'relocating' people, rather than murdering them.
The Promise provided the opportunity of bringing the story to the world but, sadly, director and co-writer, Terry George (along with Robin Swicord) elected to feature an ungainly love story instead, with the human tragedy of the Armenians as a backdrop.
Rising star, Oscar Isaac, is very fine as the apothecary, Mikael, a dedicated medical aspirant studying in Constantinople to become a doctor and who, before leaving his home in Armenia, promised to marry a local girl on his return. While abroad, he falls in love with Ana (Charlotte Le Bon) whose lover is Chris (Christian Bale) an American reporter and so the story chronicles various relationships, reunions and near-death escapes.  The chemistry between Mikael and Ana is flat and their relationship unconvincing, even though Le Bon is fine.  Christian Bale, on the other hand, seems out of place, with his name in the cast list more as a draw card.  But the major question is, why is the audience spending time with this personal melodrama at all, when the more important story is not being told?
It is only at the end of The Promise when real, archival images are thrown onto the screen, along with their chilling notation, that the audience feels the impact of this human tragedy.  These final moments starkly underscore the film's tonal mis-match and are a reminder that the horrific story of the Armenians' plight remains on the shelf, waiting for a film to finally, and fully, bring this tragedy into the light of day.
Phil.  14.06.17. pbsailing@yahoo.com.au
(The Promise will screen at Event Cinemas from Thursday June 15th.   Check eventcinemas.com.au or the press for details).
---
Despicable Me 3?
It's more of the same and it's utterly delightful, turbo-charged fun.                                    ​​
See you in the dark.  phil.
DESPICABLE ME 3
Despicable? – never!
U.S.A. : 90 mins : PG :       3.5/5
Production company, Illumination (currently riding a wave of success), gives that lovable character, Felonious Gru (voiced by Steve Carell) and his horde of (equally lovable) Minions, a third outing in the Despicable franchise.  Like its predecessors, it's bound to be a huge success; both for the youngsters and for the parents they insist should take them to see it.
To the infectious rhythm of Michael Jackson's Bad, Despicable Me 3 bursts into life with the introduction of the villain, Balthazar Bratt, voiced by Trey Parker, co-creator of South Park.  But, rather than the hard edge of his own show, Parker gives Bratt the same irrepressible energy and good humour required of the DM3 cast.
Bratt isn't the only new character introduced.  Writing an unknown twin brother into the story is a much-used ploy for extending a narrative and it works well here, when Gru's stupendously wealthy and successful brother, Dru (also voiced by the versatile Carell) comes to light.  But the twist is that he is actually envious of Gru's former notoriety and wants to team up with him in one last, large-scale heist.  Cleverly, writers Cinco Paul and Ken Daurio have Gru playing a double bluff.  While pretending to entertain his brother's plan for stealing the biggest diamond in the world, he's really intent on retrieving it from the villainous Balthazar Bratt (who has stolen it himself) and returning it to its owners, hoping to reclaim his job in the Anti-Villain League.
Directors Pierre Coffin and Kyle Balda keep the visual gags coming at a frenetic pace and these and the sprinkling of witty wordplays, should keep the adults moderately entertained.  However, the cleverest ingredient for bigger people is the modern, fractured structure of Gru's own family.  With three (adorable) adopted girls, Gru's unconditional love is nothing less than exemplary.  But it is Lucy (a wonderful Kristen Wiig), Gru's wife and the girls' adoptive mother, who plays the strongest emotional hand.  As a 'new' mum, she is desperate to be accepted by the girls.  So, when one of the girls, already half asleep, mumbles "Goodnight, Mum" her ecstatic response provides a priceless and poignant moment in the film.
The only disappointment with DM3 is that Illumination chose not to give the film a satisfactory ending, but to leave the main narrative line hanging in the air, as a way of luring the audience back for the sequel.
However, this is not likely to worry too many viewers, most of whom will be more than happy to play the part of 'minions in waiting' before welcoming the next installment of this delightful series back to the screen.
Phil.  10.06.17. pbsailing@yahoo.com.au
(Despicable Me 3 will screen at Grand Cinemas, Warwick, from Thursday, August 15th.  Check grandcinemas.com.au or the press for details).
---
THE MUMMY
This blockbuster is almost as bad as it gets.  Perhaps youngsters may enjoy the high-octane action but it's hard to find little more to recommend it.  Even admirers of Cruise and Crowe (both fine actors) may be challenged to put this on their favourite film list.                         ​​
See you in the dark.  phil.
THE MUMMY
R.I.P.
U.S.A. : 107mins : M : 2/5
Alex Kurtzman directs this reboot of The Mummy franchise which is the first installment of the Dark Universe series.  With a screenplay by David Koepp, Christopher McQuarrie and Dylan Kussman, it stars Tom Cruise as an unscrupulous hunter of ancient relics and little known, Sofia Boutella, as the Egyptian Princess Ahmanet/The Mummy.
During military conflict in Iraq, the ground collapses and Nick (Cruise) and his partner discover the tomb of the mummified Princess Ahmanet.  Although bogged down with hieroglyphics and complex religious mythology, The Mummy gets off to a promising start with Cruise and the bona fide archaeologist, Jenny (Annabelle Wallis) crossing swords over profiteering versus preservation of ancient burial sites.
Loading the mummy's casket onto a military plane, they barely escape an approaching sandstorm (a sequence which is spectacularly staged) but run into a plague of bats which severely damage the plane.  The bedlam inside the plane is thrillingly filmed but, unfortunately, as the plane comes crashing down, so too does the film.
Even the inclusion of Russell Crowe, as the evil Dr. Henry Jekyll, can't save The Mummy from collapsing under its own weight of CGI creations, gun-fights, frenzied pursuits and cacophonous explosions which have little narrative cohesion or logic.  Just about every horror cliché is thrown into the mix but trying to work out whether Nick is supposed to be dead or alive (at one point, Jenny actually suggests he should see a doctor!) and then discovering that the morally upright Jenny is really an agent of evil, tips the film into silliness that is not even redeemed with some tongue-in-cheek humour.  As for the Mummy herself, Sofia Boutella simply looks as though she's an escapee from the local casualty ward.
As an origin entry, it is obviously intended that The Mummy be followed with a series of sequels.  However, it is hard to see that audiences with welcome a further outing.  As Jennifer ironically remarks "We've angered the gods."  All of those involved in this overblown hotchpotch would be well-advised to avoid angering them even further.
Phil. 09.06.17. pbsailing@yahoo.com.au
(The Mummy is screening now.  Check readingcinemas.com or the press for details).
---
MY COUSIN RACHEL
Those who love period pieces, such as Downton Abbey, should mark this on their calendar.  It's a fine re-working of the Daphne Du Maurier tale, first filmed in 1952.  It's gorgeous to look at, with some wonderful English countryside and features two great performances from the leads.
It's a thrill when a huge production company turns out a film of this quality.  Please, drop me a line if you get to see it.                                 ​​
See you in the dark.
phil.
MY COUSIN RACHEL SPINS A COMPLEX WEB OF DOUBT AND INTRIGUE
a Gothic romance centred on an impenetrable enigma
U.S.A./U.K.: 106 mins : PG-13     4/5
Writer/director, Roger Michell's adaptation of Daphne du Maurier's 1951 novel, My Cousin Rachel, begins with a question, spoken in voice-over – "Did she or didn't she?" It immediately stamps the film with a deep and beguiling sense of mystery that the audience will work increasingly hard to unravel.
Given its first outing in 1952, when Richard Burton and Olivia De Havilland starred, today the orphan, Philip Ashley, and the eponymous heroine are played superbly by Sam Claflin and Rachel Weisz.
Du Maurier's tale occupies similar territory to (and with the romance and passion of) her better-known, Rebecca. Set in the lush English countryside of the mid eighteen-hundreds (fields swathed in carpets of bluebells ravish the eye), Michell has recreated the period in fine detail but has injected a fire and vibrancy that brings it vividly to life.
With the death of his beloved adoptive father, Ambrose, Philip becomes heir to the country estate.  But he is suspicious and fears that Ambrose's wife, Rachel, was responsible for her husband's death.  When Rachel arrives at the stately home, Philip treats her with disdain and barely-suppressed anger.  However, as Philip becomes enamoured with the grace and beauty of the older woman, hatred turns to love and he entertains the prospect of marrying her.  However, he is beset with doubts and his feelings swing first one way then the other without relief.
Michell's film is an immaculate construction, with superb cinematography and brisk pacing.  Indoor scenes are shot in evocative, moody candlelight (especially effective in a scene of the Christmas dinner). This thoroughly absorbing tale depends entirely on the performances of the leading roles and the (Oscar-winning) Weisz and Claflin are both outstanding.  Claflin plays Philip with an emotional vulnerability and a lack of worldly wisdom that make his blind infatuation and rash decision-making utterly believable. Weisz, on the other hand, is dazzling as the woman in total control, both of Philip and of her own affections.  Hers is an inscrutable passion. Under her radiant but composed features, it is always possible to believe she's a cold-hearted schemer but to think so seems immediately unjust.  Weisz maintains suspense throughout, with an uncertainty that is delicately and deliciously balanced.
My Cousin Rachel is intelligent, adult film-making.  Philip's heart-wrung cry of "Rachel, my torment!" is likely to linger long in the audience's mind.  For them, it is a torment to be savoured.
Phil. 08.06.17. pbsailing@yahoo.com.au
(My Cousin Rachel is screening now at Event Cinema, Innaloo and at Luna's Cinema Paradiso and The Windsor.  Check eventcinemas.com.au or lunapalace.com.au or the press for details).
---
GAL GADOT'S WONDER WOMAN STORMS ONTO THE BIG SCREEN
Not just 'wonder-full', this superhero film is amongst the best of them – male or female.
U.S.A. : 141 mins : PG-13 :   4/5
In a courageous first, Warner Brothers backed Gal Gadot to star as Wonder Woman after a minor appearance in last year's Batman V Superman:Dawn of Justice.  In addition, director, Patty Jenkins, became the first female to direct a big screen, live-action superhero film featuring a female protagonist. Wonder Woman exceeds all expectations and is both thrilling and refreshing.
More than the mandatory sensational action sequences, writer, Allan Heinberg has given Wonder Woman gentle wit, some knowing nods to feminism ("Men are necessary for procreation" remarks Diana, "but when it comes to pleasure…") but, in addition, he's given the script great intelligence and heart.  Taking time to flesh out the characters and the back story (the ancient Greek mythology is intriguing), Gadot, as Diana Prince, feels like a flesh and blood character, especially in the scenes following her and Steve Trevor's (Chris Pine, Star Trek) escape from the embattled shores of Diana's homeland.
Taking place at the time of WW1 (in a more patriarchal society, making for great audience amusement at her assertiveness), Diana's first encounter with the world outside her isolated island of Amazon warriors, plunges her into the chaos of warfare which she determines to end.  Even though nobody in the outside world knows what she's talking about, Diana is convinced that Ares, the errant son of Zeus and god of war, in the guise of Sir Patrick Morgan (an imposing David Thewlis) is the driving force behind the conflict.
Gal Gadot projects the perfect mix of superhuman strength and fighting skills and an irresistible sense of wide-eyed naiveté as she navigates her way through an alien world.  She's muscular, without compromising her beauty and sexual allure.  In mid-leap, bounding high over the massed German soldiery, she makes a daunting sight. As one male character says, "I'm both frightened and aroused".
But it's her extreme sense of duty, compassion and empathy that clearly set Wonder Woman apart from the increasingly dark and cynical paths of other superheroes. Director, Patty Jenkins and Gal Gadot triumph in restoring the sense of wonder that made the superhero such an exciting and fun character.
At well over two hours in length, Wonder Woman, understandably, sags a little in the mid-section.  And, strangely, when the climactic fight between Wonder Woman and Ares kicks in, there's a feeling of ho-hum about it, even though it's superbly staged.  The really enthralling passages are those in which Gal Gadot and Chris Pine play a normal couple, because the chemistry between them really works.  It's a case of real-life drama upstaging CGI melodrama.
There seems little doubt that Gal Gadot is set to extend the Wonder Woman franchise.  If it carries on in much the same vein, it's to be welcomed as it's just the sort of fresh-air injection the superhero genre needed as well as providing an empowering template for young females everywhere.
Phil.  31.05.17. pbsailing@yahoo.com.au
(Wonder Woman screens at Event cinemas from Thursday, June 1st.  Check
eventcinemas.com.au or the press for details).
---
---
GUARDIANS OF THE GALAXY VOL. 2
The comic-book troupe returns with fun, adventure, laughs and a dollop of sentiment.
U.S.A. : 136 mins : TBC :   3.5/5
No doubt, the hordes of fans who made the Marvel Comics outing, Guardians of the Galaxy, a notable success, will give a rapturous welcome to their motley band of intergalactic heroes when they return to the screen on April 24th .
Writer/director, James Gunn's sequel is on a huge scale with a suitably epic run time of two hours and sixteen minutes.  To the fans, it will be a joyful reunion with the likes of Quill (Chris Pratt), Gamora (Zoe Saldana), Drax (Dave Bautista), Baby Groot (the voice of Vin Diesel), Rocket (the voice of Bradley Cooper), Yondu (Michael Rooker), Nebula (Karen Gillan) and many more plus the novel addition of an aging Sylvester Stallone as Stakar (a life-long enemy of Yondu) and who shows he can still deliver screen charisma.  However, for the uninitiated, they will be engaged in their own epic struggle to make sense of this bewildering, technicoloured succession of conflicts and pursuit.
Casting aside the cosmic shenanigans, at base level, Guardians is about getting to the truth of Quill's parentage.  Much fun is made of his carrying around a picture of David Hasselhoff, tv star of Knight Rider, believing him to be his father.  However, his real dad is not revealed until well into the film and the outcome is surprisingly moving.
But, for the most part, Guardians moves at breakneck speed hardly pausing for breath. With bizarre (but skilfully constructed) make up and costumes, some of the best special effects around, and some wonderful 70's and 80's music (all linked to the action and including George Harrison's My Sweet Lord and Cat Stevens' Father and Son) Guardians of the Galaxy Vol.2 delivers nostalgia for the parents and a thrill-a-minute ride for their teenage offsprings.
Phil. 21.04.17. pbsailing@yahoo.com.au
(Guardians of the Galaxy Vol.2 will screen at Event Cinemas, Innaloo from April 24th.  Check eventcinemas.com.au or the press for details).
GET OUT
Think you can predict the shape of a horror film involving a black man in a white community? Think again. This film is an original bag of tricks that will scare you witless at one moment and have you laughing helplessly in the next. It's a one of a kind which is creating untold excitement in the film world. Hope you get to see it.
GET OUT
A scintillating mix of humour, horror and social commentary.
U.S.A. : 103 mins : MA 15+ : R.T.99% 4.5/5
With a low-profile cast and a modest budget, writer and debut director, Jordan Peele, has crafted Get Out with such precision that it's a rarity among horror films – a serious contender for film-making honours.
There is nothing in the beginning of Peele's film to suggest that its title implies a desperate bid to escape. In fact, the scariest thing on Chris' mind, a young, black photographer in New York City, (played superbly by Daniel Kaluuya), is meeting the parents of his white girlfriend, Rose (Allison Williams) at their secluded, country retreat, especially as she hasn't told them he is coloured. So skilfully does Peele flesh out this premise that the audience may believe they're in for a re-visit to the racial stomping ground of the 1967 film, Guess Who's Coming to Dinner.
However, nothing seems quite right when they meet the parents, Dean (Bradley Whitford) a top neuro-surgeon and Missy (Catherine Keener) a hypno-therapist. And their son, Jeremy (Caleb Landry Jones) is decidedly odd.
By degrees (with fixed stares and stylised mannerisms) the tone changes to one of chilling, mesmerising inertia, akin to that of The Stepford Wives.
Jordan Peele has thrown out just about all the expectations of the stereotypical clash of black and white. Ingeniously, he has cast the black man as a victim rather than a perpetrator and also, as a person to be envied for certain superior traits, rather than defiled as racially and inherently inferior. All this is politically apposite in an American society currently riven by racial disharmony.
Peele's master stroke, in this superbly crafted shocker (whose surprises you're unlikely to guess and which will have you jumping out of your seat) is the inclusion of comic relief, in the character of Chris' best friend, Rod (Lil Rey Howery). Events get progressively bloodier and while the suspense in Get Out builds to an unbearable level, the film is kept afloat with Howery's wonderfully wide-eyed performance and some sharp, very funny, writing. The scene where he tries to convince the three cops in the police station that his friend is in danger of being commandeered as a 'sex slave' is priceless.
Peele has shown not just a bracing degree of originality but a level of mastery and sophistication many seasoned film-makers would envy. Get Out's final transition, from suspense to gore fest, is about the only predictable move this super-charged film makes. The cast is uniformly outstanding with Keener's Missy Armitage, memorably terrifying. It's highly likely, after seeing what she does with it, that a cup of tea will never seem so harmless and inviting again.
Phil. 06.04.17. pbsailing@hotmail.com
(Get Out will have advance screenings at Luna Leederville on April 28th-30th then from May 4th. Check lunapalace.com.au or the press for details).
---
GHOST IN THE SHELL
Classic anime gets a U.S. live-action make-over and replaces philosophising with kicking butt.
U.S.A. : 120 mins : PG-13 :                         3/5
In 1995, the Japanese animated Ghost in the Shell was acclaimed as something of a landmark – a blend of sci-fi, action and philosophy, based on Masamune Shirow's classic Japanese manga and aimed squarely at adults.
Over twenty years later, and in typical Hollywood fashion, of re-working the back catalogue,  Dreamworks/Paramount took on a live-action re-boot, in the same way that Disney has done with Beauty and the Beast (and with about the same time frame). The set is spectacularly futuristic (in the manner of Blade Runner but without the grunge) although there are anomalies, such as cars, still with steering wheels and trucks which look just like those of today.
Big name draw card, Scarlett Johansson, took on the lead role of The Major (and copped criticism for her Caucasian features being grafted onto a Japanese character – such is the fervour of the fan base) and Rupert Sanders was given the job of directing from a script written by Jamie Moss, William Wheeler and Ehren Kruger.
Having her human body virtually destroyed in a terrorist attack, The Major has her brain transferred to a curvaceous, featureless and almost indestructible humanoid frame, designed as a fighting machine for Section 9, a counter-cyberterrorism unit in the Ministry of Defence.  This scene is visually arresting, if not sublime (as much of the film is) – suitably reverential to the provocative questions that are thrown up about the nature and definition of humanity and what constitutes a soul (or, in this case, a 'ghost').  But, although the audience may be itching for some in-depth discussion, it never comes.
A year later, Major (as she's now called), teams with Batou (Pilou Asbaek) as members of Section 9, headed by Aramaki (played with steadfast earnestness by Takeshi Kitano and who injects a touch of Japanese authenticity) while Michael Pitt is impressive as the menacing head of a malevolent technology organisation.
Juliette Binoche is wasted, in her okay performance as Dr. Ouelet, who considers herself Major's creator/mother while Scarlett Johansson, virtually sleep-walks through her performance. While her lack of animation was superbly eerie, as the poker-faced alien in Under the Skin, it seems stiff and forced here and, as the major character, she struggles to work up any emotional connection.
This new Ghost in the Shell (aimed at a younger audience) is mostly style over substance and has none of the intellectual and philosophical depth that so distinguished the original.  There is little speculation on the survival of Major's personality and to what extent she is still 'human' (the erasure of her memories raises questions of the most profound nature).  Instead, navel-gazing has given way to all-out action.  And there is enough of it (and done superbly) to satisfy the hardest addiction.
Though Johansson may be looking to start her own franchise (the film ends with the inevitable nod in that direction), she may battle to secure support, because her character, though a rare, empowered female is, ultimately, not very interesting.  In fact, it's little more than an empty 'shell'.
Phil.  30.03.17.  pbsailing@hotmail.com
(Ghost in the Shell is screening now at Event cinemas.  Check eventcinemas.com.au or the press for details).
---
Smurfs and the lost village
In this fully animated, all-new take on the Smurfs, a mysterious map sets Smurfette and her best friends Brainy, Clumsy and Hefty on an exciting and thrilling race through the Forbidden Forest filled with magical creatures to find a mysterious lost village before the evil wizard Gargamel does.
Eventually the Smurfs encounter a whole tribe of female counterparts in the Lost Village. They're led by the commanding SmurfWillow (Julia Roberts, whose children are presumably Smurfs fans), who at one point engages in a coy flirtation with a clearly smitten Papa Smurf (ew!). It all ends with a dance celebrating girl power, accompanied on the soundtrack by Meghan Trainor's new song, "I'm a Lady."
Embarking on a rollercoaster journey full of action and danger, the Smurfs are on a course that leads to the discovery of the biggest secret in Smurf history!
The movie is fast paced, full of action and adventure, and comedic moments both kids and adults will enjoy. There are some suspenseful, slightly darker scenes, and a big fight towards the end, but nothing that will scare the littler viewers. 
Featuring computer animation so brightly colored and frenetically paced that it potentially threatens the well-being of both diabetics and epileptics, the film is purely for the small fry. Unless, that is, you're the type of adult who finds amusement in the wizard's description of one of his secret ingredients for a spell as "a piece of cheese I left in my underpants." Very young children may become upset when Smurfette — spoiler alert — becomes transformed into an inanimate lump of clay (admittedly, not much different from her usual appearance), before she's — spoiler alert, again — miraculously brought back to life.
The film is being released during the school holidays and I am sure all kids would enjoy this wonderful time at the theatre.
---
THE LEGO BATMAN MOVIE
Opening this Thursday, there's a buzz of anticipation about the new Lego Movie after the first was so successful.  As you would expect, there's the same mix of fun and action but, this time, Batman is the star (and fans of the Caped Crusader will not be disappointed). It's so clever and such fun – lots for big and little kids to enjoy.                                    See you in the dark, with Batman.  Phil.
THE LEGO BATMAN MOVIE
Don't even think of blinking, dude – this Dark Knight entry moves at the speed of light.
U.S.A./DENMARK/AUSTRALIA : 104mins : PG : R.T.91%                  4/5
Following on from the huge success of The Lego Movie (2014), Batman, one of its minor characters, is promoted to the central role in this spin-off (but not direct sequel, which is still coming).  Directed by Chris McKay, it's based on a story by Seth Grahame-Smith (one of five screenwriters, along with Chris McKenna, Erik Sommers, Jared Stern and John Wittington).
Even before The Lego Batman Movie begins, the self-referential voice-over, with outrageous ingenuity, comments on the 'black screen' the audience is looking at and the 'scary music' they are hearing, before announcing, "Now let's start the movie!"
As it roars into action, it's almost impossible to catch every quip or visual reference. Batman (voiced in deep, stentorian tones by Will Arnett) is accompanied by his expected (but self-appointed) sidekick, Robin (Michael Cera) and the matronly Alfred (Ralph Fiennes).  But the film has a panoply of fantasy and mythical figures thrown into the mix, including Superman, the Joker, Harley Quinn, the Daleks, King Kong (doing his iconic thing at the top of the Empire State building), Catwoman, Wicked Witch of the West, Lord Voldemort, Green Lantern, the Flash et al.
The storyline centres on the frenzied and explosive battle for control over Gotham City between Batman and the Joker (Zach Galifianakis) but, when the new Police Commissioner comes along (Rosario Dawson as Barbara Gordon) she strikes a renegade note in telling Batman that a lone vigilante will not do to protect the city – it's a family that's needed now.
The story of Bruce Wayne using his fortune to fight crime (as Batman) has always had a dark, psychological undertone, with him witnessing the violent death of his parents, when he was still a child.  Even though The Lego Batman Movie is a fun, action-packed outing, aimed at the younger demographic, yet even here, the film cleverly picks up on this aspect to give it greater emotional depth.
While adamantly refuting his need for anyone else's help, yet Batman, the Lego Caped Crusader (his square jaw beginning to tremble) actually admits to FEAR – he's afraid of losing someone else he allows himself to get close to (just like he lost his parents).  As the plaintive strains of Harry Nilsson's One is the Loneliest Number are heard, he is moved – and, remarkably (and as a tick to the film's skill in transforming handfuls of inanimate, plastic, coloured blocks) so too is the audience.
Ironically, The Lego Batman Movie ranks among the better entries in the Batman franchise.  It's enormous fun (refreshingly able to spoof the material without trashing it), has excitement, inventiveness and wit (fans will pick up on its many references, such as the campy tv. series of the 60's and almost every Batman feature made).  But, most of all, it has heart and a sense of integrity.
No doubt, The Lego Batman Movie will do as much as the first for the Lego product but, in addition, it will deliver a welcome fillip to one of the most enduring creations of the D.C. universe.
Phil. 20.03.17.  pbsailing@hotmail.com
(The Lego Batman Movie will screen from March 23rd. Check eventcinemas.com.au or the press for details).
---
---
KONG:SKULL ISLAND
This King Kong film is monstrously thrilling
U.S.A. : 118 mins : M :    4/5
Coming from 'nowhere', director, Jordan Vogt-Roberts' variation on the King Kong myth explodes on the screen with superlative CGI and with all the ingredients of a great monster film – action, combat, bad-ass humour, a good script (from Dan Gilroy and Max Borenstein) and all handled at a frenetic pace.
In 1933, Merian C. Cooper created King Kong (with questionable assistance from celebrated author, Edgar Wallis, now disavowed) giving birth to one of the enduring icons in film history with endless (usually low-grade) variations being produced.  The exception was Peter Jackson's distinguished 2005 tribute to the original which was also dynamic in its own right.
Dispensing with the 'King' moniker, Kong:Skull Island begins, in 1944, with a scintillating dog-fight between a Japanese and an American war plane, with the two pilots parachuting down to Skull Island.  The American turns out to be Hank Marlow, a WWll lieutenant (J.C.Reilly) who gets to be stranded on the island for twenty-eight years.  He becomes an authority on the various creatures and dangers and is recognised as a demigod by the local Iwi natives (jaw-droppingly realised – with faces intricately decorated and some of which assume a chameleon-like camouflage with their surroundings).
Fast forward to 1973 and Bill Randa (John Goodman), adventurer, convinces the U.S. government to mount a search for the mysterious Skull Island which has defied all attempts to locate it.  Throw in Samuel L.Jackson as Preston Packard, leader of the Sky Devils helicopter squadron, Tom Hiddleston as James Conrad, experienced Vietnam soldier (with an oh-so British voice), Brie Larson as a war photographer and the film has some serious star-power in roles that (unfortunately, but predictably) barely register in the third dimension.
But what matters is the action.  And it's gloriously, almost deliriously, delivered in spades, with earth-shaking fights between monsters and men, monsters and helicopters and, of course, with everybody versus Kong (brought to CGI life with ferocious power and brute energy).
With its references to Apocalypse Now, Platoon and King Kong itself (done with knowledge and respect) Kong:Skull Island is an action and monster fans' serious adrenalin rush.  At almost two hours, it hardly pauses for breath, right up to the finale which flags the inevitable sequel (it's worth staying for the final clip after the closing credits).
With just enough tongue-in-cheek wit to spark a chuckle or two, Kong:Skull Island is one of the best entries in the King Kong franchise and is bound to prolong its legendary status.
Phil. 08.03.17. pbsailing@hotmail.com
(Kong:Skull Island will screen at Event cinemas from tomorrow, March 9th.  Check eventcinemas.com.au or the press for details).
---
BEAUTY AND THE BEAST
A classic fantasy gets a make-over 
with Disney creating its own modern magic
U.S.A. : 129 mins : PG :                                 4/5
Jean Cocteau's 1946, black and white version of the Jeanne-Marie Leprince de Beaumont's Beauty and the Beast (La Belle et la Bete), is an acclaimed masterpiece and one of film's greatest ever fantasies.
The story was filmed again in 1963 and in 1991, Disney's version became the first animated feature to get an Oscar nomination for Best Picture.  Why, then does Disney return to the well yet again?  Because this time, director Bill Condon, though keeping it as a full-blown musical, took on the challenge of making it as a live-action film.
Though actually filmed in Shepparton Studios in the U.K., setting it in a 'French village', together with its numerous French words and phrases all pay lip-service to the original text. But the cleverness doesn't stop at the script.  There's a smorgasbord (and perhaps a little too many) of inventive CGI characters from an animated candelabra (Ewan McGregor as Lumiere), a gold-plated clock (Ian McKellan as Cogsworth) and a talking tea-pot (a delightfully English Emma Thompson as Mrs. Potts, whose cup of tea makes 'everything better') to name just a few.  But, underneath the frenzied musical numbers and the thunderous chase sequences (the wolves are terrifying), the original motif, of beauty being only skin deep and a pure heart having the greater value, remains intact.
In the central character of Belle, scriptwriters Stephen Chbosky and Evan Spiliotopoulos have created a contemporary, feminist heroine and Watson is the perfect choice, playing her with a mix of grit and tenderness.  She is not only feisty, courageous and selfless but she's also intelligent, well-read (there are many literary references) and, importantly, she's no glamour girl.  Her loving relationship with her father (a wondrous Kevin Kline) provides the film's beating heart.  Whilst the scheming, narcissistic Gaston (a dastardly Luke Evans) is all the tale condemns, his companion is virtuous (a wonderfully good-natured and affectionate performance from Josh Gad as Le Fou – make what you will of speculation on his sexual orientation).  Rejecting Gaston's amorous advances, Watson's Belle is utterly believable when she finally (and literally) gives him the heave-ho.
Dan Stevens, as the Beast and Prince Adam, captures all the animal's fierceness but also the pain and injustice of his less than human transformation. When the Beast and Belle are drawn together, by degrees, it all makes sense and, in the Beast's final return to human form, Condon, the director, adds a touch of brilliance by giving us a close up of Stevens' eyes that fills the screen – emphasising that the eyes are the 'windows to the soul' and that this is the same person Belle loves – whether man or beast.
This version of Beauty and the Beast is a skilled, revisionist and wholly head-spinning outing – manipulative, melodramatic, rambunctious, overblown, overlong but all within the acceptable parameters of the Disney universe.
Phil. 04.03.17. pbsailing@hotmail.com
(Beauty and the Beast will screen at Event cinemas from March 23rd.  Check eventcinemas.com or the press for details).
---
---
T2 Trainspotting
Times have changed, but have the guys?
U.K. : 117mins : R : R.T. 75%   4/5
In 1996, director, Danny Boyle's Trainspotting, became one of Britain's most influential films – an unflinching look at drugs and thugs in the underbelly of Edinburgh.  Twenty years on and based on Irvine Welsh's Trainspotting and Porno, he returns to the same group of characters and teams with the same writer (John Hodge) for an update in T2 Trainspotting.
Most of the vibrant energy that characterised the first film is still there and these 'likeable villains' have lost none of their appeal.  There's the latent threat of physical violence still smouldering in Franco Begbie (Robert Carlyle) as he plans his escape from jail (serving a twenty-five year term and refused parole on account of his temper).  Breaking out via the hospital and a staged injury with a pointed needle (ouch!) he's hell-bent on exacting revenge on Mark (Ewan McGregor) for, supposedly, ripping him off.
It's really Mark's return to his home in Edinburgh, which kicks off proceedings.  His arrival at his mate, Spud's house (Ewen Bremner, whose bulging eyes threaten to pop at any moment) finds Spud still in the grip of heroin and, in fact, is just in time to prevent him from topping himself.  Simon ('Sick Boy', played by Johnny Lee Miller) has inherited a pub (Port Sunshine – the only building spared demolition in its local surrounds) but, far from going 'straight' he carries on a side line of blackmail and grows cannabis in the basement.
But, almost from the start, Boyle infuses a touch of nostalgia.  There's a sudden flashback (and a tonal change) with pictures of the guys as kids and he makes repeated use of these as well as snippets from the earlier film.  This is not about misappropriating the glory of the predecessor but of necessary introspection and emotional bridge-building for the audience and it feels exactly right.  But, in spite of the manic physicality age is having effect.  Some of the most telling scenes are between Begbie and his son, Frank Jr. (Scot Greenan) who he expects to follow in his illegal footsteps.  But the boy has college aspirations and finally, Begbie gives his blessing, knowing, sadly, that his legacy, on the wrong side of the law, is coming to an end.  Heart conditions, erectile dysfunction (with a hilarious outcome) and family considerations have all made an impact.  But John Hodge's dialogue still sparkles with undiminished wit and impassioned expletives and Danny Boyle has injected such life into T2 that it feels like a wild, technicoloured, kaleidoscopic ride that you don't really want to end.
But end it does – and in what fashion.  'Rent Boy' lowers the arm on his record player and as Iggy Pop belts out the lyrics of Lust for Life, Danny Boyle produces his most inventive final shot, like a magician pulling a rabbit from a hat.  It's brilliant and unforgettable and it bangs down the lid on a triumphant reprise.
Phil. 16.02.17.  pbsailing@hotmail.com
(T2Trainspotting will screen from February 23rd at Luna Leederville, Luna SX and Luna Outdoor.  Check lunapalace.com.au or the press for details).
---
You may be amazed to find that a contingent of black women worked on NASA's space programme in the 60's and one of them, Katherine Johnson, played a crucial role in the John Glenn launch.  Just recently, a research facility at the Langley Research Centre was renamed in her honour.  This is no dry history lesson.  It's upbeat and hugely entertaining.
See you in the dark.  Phil.
HIDDEN FIGURES
Breaking through the glass ceiling and heading for the stars – this is a genuine crowd pleaser
UNITED STATES : 127mins : PG : R.T.93%                           4/5
Having less than a dramatic title (but, at least with the cuteness of a double meaning -'figures' being both of the human and the mathematical kind) director/writer, Theodore Melfi's true tale of three black women employees playing an integral part in NASA's manned space programme, is as astonishing as it is (generally) unknown.
Melfi, like most film directors, has played with the timeline a little, for in 1961, when J.F.K. was President, the film shows NASA as still practising racial segregation (while in fact, it had ceased when NASA came into being) and with its top administrators being almost exclusively male (at the time of the film, Dorothy Vaughan, one of the featured black women, had been a supervisor for over ten years).
Nevertheless, Hidden Figures, with the skilful insertion of archival footage, is both a fascinating history lesson in space technology (with America being stung into patriotic fervour by Russia's success in putting Yuri Gagarin into space) as well as a dramatic human interest tale in which these three black women fight doggedly for equal rights and promotional opportunities.
Of the close friends – Dorothy (Octavia Spencer), Mary (Janelle Monae), and Katherine Johnson (a superbTaraji P. Henson), it's the latter who plays by far the biggest role.  Her mathematical genius propelled her into the upper echelons of administration where she worked under the leadership of Al Harrison (an authoritative, focused but sympathetic Kevin Costner).  With the launching of John Glenn into space, Katherine's rare skill in trajectory computation became critical.
Katherine was first given access to classified information and then, most remarkable of all, became the first woman (let alone a black woman) admitted to the staff briefings where all of the logistics of space flight were being nutted out.
Taraji P. Henson is magnificent as Katherine, a woman of poise, dignity and humility.  Most of the minor characters are thinly drawn (Kirsten Dunst and Jim Parsons have little to work with but Mahershali Ali, as Jim Johnson, shows the same magic and warmth he brought to the screen in Moonlight ).  But writers, Theodore Melfi and Allison Schroeder, have compensated with a superbly witty (and even sassy) script that is almost orgiastic in its celebration of the women's achievements.
Hidden Figures will make audiences laugh and maybe cry but most of all it will make them cheer for these three redoubtable women.
Phil.  05.02.17. pbsailing@yahoo.com.au
(Hidden Figures will screen at Event cinemas from February 16th.   Check eventcinemas.com.au or the press for details).
---
Anyone who remembers Bruce Willis and Hayley Joel Osment in The Sixth Sense may be pleased to see the latest film from the same director, which has some of the same scary magic (Bruce Willis even makes a cameo appearance in the final frames).
SPLIT
A man with 23 different faces
U.S.A. : 117mins : PG-13 :      3.5/5
Writer/director, M. Night Shyamalan sprang to prominence with his 1999 mix of horror and the supernatural, The Sixth Sense ("I see dead people") but his work since has met with only middling success. In Split, he opts for the psychological, in a (loosely-framed) sequel to Unbreakable (2000) and returns to something like his top form.
Kevin Wendell (James McAvoy) suffers from the mental condition known as dissociative identity disorder (commonly referred to as 'split-personality', hence the film's title). Having 23 separate and quite different personalities (7 of which are shown, on screen) means that McAvoy gets an actor's dream role and he plays it with skill and conviction.
Three teenage girls, Claire (Haley Lu Richardson), Marcia (Jessica Sula) and (the less popular and more solitary) Casey (Anya Taylor-Joy) are kidnapped by Kevin when his 'Dennis' personality is 'in the light' (the professionals' way of describing which of a sufferer's personalities is currently dominant). Claustrophobia sets in as Dennis takes them to a complex of below-ground buildings and incarcerates them.
As Kevin assumes his different identities the girls are mystified, while for the audience his behaviour is simply laughable – that is until Shyamalan, quite cleverly, introduces his therapist – Dr. Karen Fletcher (beautifully played by Betty Buckley as a frail, knowledgeable and sympathetic character who believes in the unique characteristics of each of the sufferer's separate personalities and explains all this in a student lecture).
At this point, proceedings take on a tone of fascination, as well as fear.  There are, in fact, relatively few moments of shock but McAvoy's transformations – from his 'Hedwig' persona (a precocious nine year old boy) to that of the adult 'Barry' is intriguing and very well done.
With the introduction of Kevin's 24th identity who, almost predictably, is more violent than the others, Shyamalan ditches fear in favour of horror and rushes the film to a bloody finale.
In his best film since The Sixth Sense, Split is skilfully handled and provides a ride with  thrills and chills and more interest than most of its kind.
Phil. 24.01.17.  pbsailing@yahoo.com.au
(Split will screen at Hoyts and other cinemas from Thursday, 26th January.  Check the press or websites for details).
---
 xXx : RETURN OF XANDER CAGE
exXxtreme mayhem
U.SA. : 107mins : PG-13          3/5
This one is strictly for the action junkies.
Vin Diesel, the impressively muscled and athletic Cage, comes out of exile and is enlisted by the CIA to retrieve a hacking device (called Pandora's Box) that is bringing down the military's satellites.
Film Director, D.J.Caruso, must have had enormous fun putting together an hour and a half of almost non-stop, unbelievable stunts, involving jumping on and off moving vehicles, leaping off a mountain and 'skiing' down its wooded side (not a snowdrop in sight) and shooting and bashing a legion of anonymous baddies. Whether the audience will have fun watching it will depend on the age and appetite of the individual.  Some may well empathise with one of the female characters, when she says "I can't believe this shit!"
Scott Frazier hasn't given much time to developing character or plot in his screenplay, although the inclusion of Agent Gibbons, especially in his final scene at his own funeral, marks his most inventive and humorous writing.  Samuel L. Jackson, as Gibbons, also gives some distinction to the largely interchangeable members of the cast (even the distinguished Toni Collette struggles to inject life into her role as Intelligence Chief, Jane Marke).
If the audience embraces this ear-shattering onslaught, they may relish the (already planned) prospect of yet another outing from Diesel as triple X and, regardless of the title, it's a sure bet that it'll be more of the same.
Phil. 19.01.17. pbsailing@hotmail.com
(xXx:The Return of Xander Cage is screening now at Event cinemas.  Check eventcinemas.com or the press for details).
---
MOONLIGHT
A drug dealer lowers a silent young boy into the waters off Miami.
How do we read this scene, one of many striking moments from Moonlight, a film like no other? Is it a burial or a baptism?
It's closer to the latter, although the negative option may seem more likely when viewed out of context. We need to abandon all stereotypes for a movie this special, one of the year's best.
The drug dealer is Juan, wonderfully played by Mahershala Ali, who has befriended a fatherless 10-year-old everybody calls Little (Alex Hibbert). Juan drives around their tough neighbourhood with a crown on his dashboard and a swagger in his step, not afraid of anybody.
He's a different person around Little, to whom he's shown paternal affection since discovering the painfully shy lad hiding from bullies in an abandoned house. Juan and his girlfriend Teresa (Janelle Monáe) are keeping an eye out for Little, whose mother Paula (Naomie Harris), a nurse addicted to crack, can barely keep herself together, much less raise a child.
That beach scene above? It's Juan teaching Little to swim. It's one of the film's transformative moments, many of them involving water.
Moonlig
ht is structured as a triptych, spanning 16 years as it charts the progress of Little, whose real name is Chiron. Chapter 2 finds him as a tall and gawky teenager, now played by Ashton Sanders, still barely speaking and still observing the world with a wary combination of dread and wonder.
He's also still being bullied. But his classmate Kevin (Jarrel Jerome), who has known Chiron since childhood, inspires him to address his fears, which include a homosexual orientation Chiron only vaguely perceives.
Chapter 3 arrives and so does an older Chiron, now played by Trevante Rhodes and going by the name Black, a nickname bestowed by Kevin.
This is a coming of age story about a boy often overlooked by society, That little kid not cool enough to hang out with bigger ones and without the support of a family to keep him from simply disappearing into the night.
It is a heart breaking story of a young man's struggle to find himself as he experiences the ecstasy, pain and beauty of falling in love while grappling with his own sexuality.
A masterpiece of a film – not to be missed *****/*****
---
Passengers
Imagine, you've given up your life on Earth, paid a ton of money to take a 120-year-long nap, and when you wake up you'll start over on a brand new planet without having aged a day. Now imagine something goes wrong and you accidentally wake up early. You're stuck on a ship that can't return to Earth and won't reach its destination before you die. What do you do?
That's one heck of a premise, and an especially appealing one in light of so many action sci-fi thrillers about survival in the face of impossible odds. (‪Gravity, The Martian). It's that premise that sets Passengers apart from those other films, and also what makes it one of the most troublesome movies in recent years.

Jennifer Lawrence and Chris Pratt can do anything … or so you'd think. But Passengers – a chemistry-free, agonizingly slow sci-fi misfire – blows a hole in that theory. Star power can only go so far when the screenwriter (Jon Spaihts) and director (Morten Tyldum) snooze on the job. Here's the setup: Pratt plays Jim Preston, a mechanic traveling with 4999 other hibernating passengers and 255 crew members aboard an interstellar airliner hurtling toward a privatized colony called Homestead II. For those paying customers tired of dirty, overcrowded Earth, the journey will take 120 years. Then Preston wakes up about 90 years too early, alone and roaming the sleek decks. He grows a beard, runs around naked, plays basketball, dances with holograms, and kibitzes with a droid bartender (Michael Sheen). For a year goes progressively crazy – like suicide-contemplating crazy. Then he does a bad thing. He sees a hot blonde (Jennifer Lawrence) asleep in her pod and wakes her up, which means he's killing her chance for a future with anyone but him.
That's the premise of Passengers, which hooks you at first; with these two live-wire stars, how could it not? They're meet-cute is fun; so is the existence of a class system in space. Aurora is a Gold Star member, which means she can access mocha cappuccinos while Jim's been stuck swilling coffee-flavored swill. But he hasn't told his fellow traveler what he's done. When he does, can she ever forgive him? It's an idea that the movie does little to nothing with. Tyldum, who won an Oscar nomination for expertly blending action and character in The
Imitation Game, loses his touch here. The spectacle feels lifeless and what could have been a challenging moral provocation dissolves into sappy, feel-good pandering.
**/*****
---
Red Dog
This is a beautiful Aussie story about a family friendship and the adventure between a young lost child and a lovable dog that grows up to be an Aussie legend.  Rated 4***/5
It is a featu
re film that tells an inspirational story about a dog that no one knew had any potential till he was cast in this role. He not only pulled off an incredible performance but was also the one who took it on the road.

Levi Miller ( who plays Mick) the young boy sent to live on his grandfathers cattle station thinks he is in for a difficult time. However he finds a beautiful puppy in a flood after a cyclone and the two become inseparable. He then decided to run away with his canine companion called Blue after he is sent to boarding school.
Red Dog was played by a Kelpie called Phoenix who is the most adorable dog I have ever seen. True Blue also stars Bryan Brown as Miller's father and wolf creek actor John Jarrett as the mining magnate Lang Hancock.
This film also talks about the transition of the Pilbara as it goes from pastoral mining.
It is a very touching film that both old and young would enjoy. It is a feel good film That you cannot miss Spend a delightful afternoon at the movies with your kids enjoying this beautiful story of a young boy and his adorable dog. The film hits the cinemas in Boxing day
---
 SING
Illumination studio hits the jackpot with a
film that threatens to burst its seams
with pure musical joy. 
U.S.A. : 108mins : G :       4/5
From the studio that made Despicable Me and The Secret Life of Pets, Illumination has reached new heights with its latest production and thrown out a serious challenge to the Disney/Pixar domination of animated film.
From its full-throttle start, Sing throws us into a dizzying, kaleidoscopic world of anthropomorphism with nary a human in sight.  With Buster Moon (the effervescent Koala, voiced by Matthew McConaughey) cooking up a singing contest to save his cash-strapped theatre, that's about all there is to the plot.  Sing certainly doesn't have the emotional depth or character development of Toy Story (1995) or Up (2009) but director/writer, Garth Jennings (the voice of the hilarious Matilda, an elderly iguana who is Buster's assistant) conjures wave after wave of toe-tapping music and visual inventiveness that makes Sing virtually irresistible.
An extraordinary line-up of voices includes Reese Witherspoon as Rosita, the pig, a talented but unfulfilled and unappreciated housewife with twenty-five offsprings; Seth MacFarlane as Mike, an arrogant mouse with a heavenly voice (his rendition of Sinatra's My Way is a highlight); Scarlett Johansson as Ashley, a porcupine punk rocker with teen-aged attitude; Tori Kelly as Meena, an elephant with a jumbo-sized fear of performing; Taron Egerton as Johnny, a young gorilla trying hard to become a singer and avoid his dad's path of crime (his high-octane performance of Elton John's I'm Still Standing is enough to bring the house down) and Jennifer Saunders as Nana, the elderly sheep – a rich and formerly famous performer in a role with echoes of Gloria Swanson's in Sunset Boulevard.
The film's comprehensive range of music includes classical, jazz, rock and great standards, such as Pennies from Heaven (played on the saxophone).  Music and film buffs will have fun identifying all the relevant references while the kids will love the animals (whose silly antics look far more cute and humorous than humans' would).
Almost the catch-phrase of Sing is the line, "what's great about being at rock bottom is that the only way left to go is up".   On the rebound from disaster, in the film's final third, it's hard to imagine anyone who doesn't develop a spring in their step and a song in their head as Sing surges onwards and upwards on a tidal wave of enthusiasm.
See you in the dark, Phil.  03.12.16. pbsailing@yahoo.com.au
(Sing will screen from Boxing Day at selected cinemas.  Check the press for details).