Opera Lovers WA presents "Meet the WA Opera Young Artists"
WA Opera's Young Artist Program is brimming with talent with this year's Young Artists.  Fleuranne Brockway recently won Liederfest 2017 and travelled to the Franz Schubert Institut for intensive study on Lieder while Rebecca Bunn, a co-recipient of the Bendat Scholarship, will be singing in the forthcoming production of Lucia di Lammermoor.  Paull-Anthony Keightley is the winner of the prestigious Deutsche Oper Berlin Award which will see him re-locate to Berlin for the 2018/19 opera season.
Don't miss this one-off opportunity to hear these aspiring stars of the future before they leave our shores and join the international opera stage.
Fleuranne and Paul-Anthony biography (1)
Christmas Invitation
Wednesday 18 October 2017, 6.00pm
Wesfarmers Puccini Room, His Majesty's Theatre, Hay Street Perth 
Non-Members:  $40; Members: $30; Students: $10 
(includes snacks and refreshments)
Booking is through EFT to our account BSB 036-082 account number 214 292 indicating your name and Young Artists as reference;  or by cheque to PO Box 1126, West Perth, WA 6872 or call Mark 0459 629 755 or Irene 0408 901 981 with credit card details.
---
Manon
9th July 2017 Perth, WA – After enchanting audiences world-wide since its premiere at the Paris Opera Comique,
OperaBox presents Massenet's most popular opera, Manon in three performances at the brand new Marist
Auditorium the
atre at Newman College, Churchlands and a Concert Performance in Darlington Hall. From 1-7th
September, Perth will see a fully-staged original production with orchestra, chorus and a cast and creative team made up
of local Perth talent alongside artists from USA and Sydney.
Vibrant and full of passion, Manon tells the story of Manon Lescaut, an impressionable young woman who is torn
between love and her desire for the lavish Parisian high society. Based on a French novel that inspired both Massenet
and Puccini's operas, Massenet's opera focuses on the emotional journey of the heroine as she struggles with her
conflicting desires and her choices.
This exciting new production will be conducted by young international conductor Christopher Dragon, returning to
Perth from his second season as Associate Conductor of the Colorado Symphony Orchestra (USA). As Christopher's
5th opera with OperaBox, he is well known to OperaBox audiences and also as a conductor of the West Australian
Symphony Orchestra (WASO). Sydney-based opera director Joseph Restubog will make his WA debut with Manon
and will be setting the action in the 1920s. Restubog said "Manon, ultimately, is an agent of her own destiny in this
opera. It will be interesting to explore the parallels between her and a more modern woman's pursuit of happiness."
The fantastic cast showcases operatic talent from both Perth and Sydney. Tenor Gaetano Bonfante (Opera Australia)
stars as Des Grieux alongside Scottish-Australian soprano Jenna Robertson who returns to Perth to perform the title role
of Manon. Baritone Sitiveni Talei (Opera Australia, West Australian Opera) performs the role of Brétigny alongside
Kristin Bowtell as Lescaut, Michael Heap as Comte des Grieux, Christina The, Esther Counsel and Belinda Cox. This
opera will be performed in the original language of French with English surtitles.
"Perth opera company OperaBox…with Ariadne auf Naxos…have come up with a real tour de force."
William Yeoman, The West Australian
"An edgy, hilarious production of Strauss's Ariadne auf Naxos…established OperaBox as a company that was serious about
presenting operatic rarities at a professional level."
Rosalind Appleby, Australian Book Review
PERFORMANCE DATES & TIMES BOOK NOW
1st, 5th, 7th September 2017, 7.30pm bit.ly/ManonTix
Marist Auditorium, Newman College, 216 Empire Avenue, Churchlands, WA 0406 258 450
3rd September 2017, 7.30pm
Concert Performance at Darlington Hall, Darlington, WA
The interview was done by Chris Durrant with Jenna Robertson and Michael Heap
---
Opera Lovers WA presents "

What Talent!

"
Forget the winter blues and come and hear members of the Opera Lovers committee, which includes acclaimed and emerging artists, sing a delightful selection of arias and songs from Mozart, Handel and Gilbert and Sullivan.  Helen Brown, Katherine Goyder and Louis Hurley, accompanied by the inimitable David Wickham, will warm your heart in this not to be missed recital.
Tuesday 25 July 2017, 6.00pm
Wesfarmers Puccini Room, His Majesty's Theatre, Hay Street Perth 
That Talent Poster 9 July 2017
Non-Members:  $40; Members: $30; Students: $10
(includes snacks and refreshments)
Booking is through EFT to our account BSB 036-082 account number 214 292 indicating your name and Talent as reference;  or by cheque to PO Box 1126, West Perth, WA 6872 or call
Mark 0459 629 755 or Irene 0408 901 981 with credit card details.
---
RUMOUR HAS IT
AVIIDA TO JOIN CAST OF HIT ADELE SHOW RUMOUR HAS IT
Following standing ovations across the country including acclaimed seasons at Sydney Opera House, Hamer Hall Melbourne and Adelaide Cabaret Festival, Australia's smash hit Adele show Rumour Has It makes its way to WA in 2017, featuring special guests AViiDA.
Starring Naomi Price (The Voice Australia) in her acclaimed portrayal of international superstar Adele, Rumour Has It charts the incredible rise of modern music's biggest star live in story and song.
In a WA exclusive, fellow The Voice Australia alumni AViiDA (Paula Parore and Clay Darius) will join the hit show in June as featured vocalists for performances at His Majesty's Theatre Perth, Mandurah Performing Arts Centre, Kalamunda Performing Arts Centre and The Cummins Theatre Merredin.
Australian stage and screen star Naomi Price said she was honoured to have Perth's powerhouse duo as special guests.
"I met Paula and Clay in 2015 when we were all coached by Ricky Martin on The Voice Australia," Price said.
"I was immediately a fan of their incredible voices, both together and as soloists, but more importantly I really loved being around them. I knew that I had to work with them after The Voice ended, and so we started making plans!"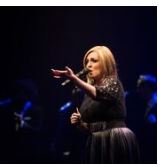 Perth-based AViiDA sprang to national attention on the top-rating television singing show as part of Team Delta, before being poached by Latino superstar Ricky Martin during The Battle Rounds.
In Perth, the soulful duo is highly sought-after, performing regularly at music hotspots The Laneway Lounge and Ellington Jazz Club, plus countless corporate events across Australia and New Zealand.
"Paula and Clay are powerhouse performers with warm, generous hearts and I am so excited to welcome them into the Rumour Has It family for the WA leg of our 2017 national tour. They are going to bring the house down!" Price said.
Rumour Has It will play six performances in WA in June 2017 as part of a 38-date national tour across five states.
For information and tickets, visit rumourhasittheshow.com
---
Never tilt your chair back on two legs
Louise Devenish, Leah Scholes & Vanessa Tomlinson | 10 – 11 April, 7:30pm
AWARD WINNING PERCUSSIONISTS TAKE YOU ON A
JOURNEY
THROUGH HISTORY
Never tilt your chair back on two legs
Louise Devenish, Leah Scholes & Vanessa Tomlinson
10 – 11 April, 7:30pm
Never Tilt Your Chair Back On Two Legs MR
PICA Performance Space
Bringing together three of Australia's leading female percussionists, Never tilt your chair back on two
legs is a sonic double bill exploring the evolving role of women throughout history, featuring the world
premiere of a composition by celebrated Australian composer Kate Neal and the Australian premiere of
Dressur by Mauricio Kagel (ARG/GER).
This theatre-music event highlights the practices of four award-winning female musicians: Louise Devenish
(WA), state winner of the Art Music Awards 2016 for Performance of the Year; Leah Scholes (VIC), whose
diverse work spans Australia and Internationally; Vanessa Tomlinson, two time Green Room Award winner
and 2011 APRA/AMC Award for Excellence; and Kate Neal (VIC) whose new composition will be
performed by Devenish, Scholes and Tomlinson.
The first half of the double bill features the Australian premiere of the 1970s unique percussion-theatre
work, Dressur, by Mauricio Kagel. Originally designed for the male voice and body, the work will be
transformed for three female performers, becoming a significant contribution to the performance history of
the work. Kagel is renowned for his self-taught and unique composition approach and his pioneering
investigations in blending musical and theatrical performance practices are recognised as a significant
contribution to the development of twentieth century western art music and beyond.
Neal, recent recipient of the prestigious Beleura Award and winner of the 2016 Art Music Award
(Performance of the Year and Instrumental Work of the Year) for her acclaimed work Semaphore, is known
for her exploration in incorporating theatrical elements in her work, such as physical gesture, design and
choreography. This new work focuses on the percussive sound world of everyday objects.
Set at a formal dinner table, the percussionists re-enact etiquette, using utensils as instruments and
chronicling two centuries of customs. New instruments have been made specifically for this work including
a mechanical chandelier made of antique silver cutlery.
Don't miss this rare opportunity to celebrate some of Australia's finest musicians in this dynamic multidisciplinary
approach to percussion and theatre.
Read a review Review
---
---
Anniversary Concert launches Pipe Organ Plus 2017Series
WHAT: Pipe Organ Plus Concert Season Launch Anniversarywith The Winthrop Singers
DATE: Saturday 18 March
TIME: 7.30pm
VENUE: The Basilica of St Patrick, corner of Parry and Adelaide Streets, Fremantle
TICKET LINK:www.trybooking.com/OODY
ARTISTS: Dominic Perissinotto (pipe organ) and The Winthrop Singers conducted by Dr Nicholas Bannan
FREMANTLE organist Dominic Perissinotto will launch his 2017 Pipe Organ Plus concert series on Saturday, March 18th
at 7.30pm in the Basilica of St Patrick, Fremantle with a spectacular eveningthat will combineorgan music with the harmonic voices of the Winthrop Singers.
2017 marks the tenth anniversary of The Winthrop Singers and the 17th concert season for Pipe Organ Plus. The Anniversary concert program will combine organ and choral favourites with music by Haydn, Mendelssohn, Howells, Handel and Stanford.
"The combination of a choir with the organ will sparkle in the Basilica's grand acoustics, ideally suited to the beautiful music on this programme," Dominic said.
"I am delight
ed to have The Winthrop Singers returning to my Pipe Organ Plus series. Their singing, under Nicholas Bannan's conducting, is joyous and vibrant, bringing the music to life!
"Our Anniversary programme includes some of the all-time favourites of choral and organ music, with pieces bound to inspire and excite!"
Winthrop Singers Conductor Nicholas Bannan (Duncraig) said the 30-50 member-strong choir will make an exhilarating sound in the Basilica.
"Our home base at St George's College is a significantly smaller space, so being able to unleash the full potential of an expanded choir, including the mature voices of alumni, in conjunction in with the magnificent organs under Dominic Perissinotto's expert playing, is very exciting," Mr Bannan said.
The Winthrop Singers were formed in February 2007 in a partnership between the School of Music and St George's College at the University of Western Australia in Perth.
2017 marks the 17th year of the Pipe Organ Plus Concert Season by Dominic who will be joined by some of Perth's finest musicians in four concerts in March, June, September and November at the Basilica of St Patrick in Fremantle with guest visits to other venues.
On Saturday March 18that 7.30pm the Anniversaryconcert will feature Dominic on pipe organ andchoral music by The Winthrop Singers under Dr Nicholas Bannan.
On Monday June 5th the Ramble concert (in association with the Fremantle Heritage Festival and the Organ Society of Western Australia)will celebrate the public holiday with visitsto four historic churches in Fremantle in a one day series of organ and musical recitals. Ramble will also feature Eva-Marie Middleton (mezzo soprano), Margaret Blades (violin) and Louise McKay (violoncello). The day will run from 10.30 – 3.30pm.
The third concert, Creator, will feature Dominic on the Grand Organ at St Patrick's Basilica in a solo performance on Sunday, September 17th at 2.30pm.
The final concert for the season will be on Sunday, 19 Novemberat 2.30pm at St Patrick's Basilica. This will feature trumpeter Brent Grapes in a concert inspired by the Chagall Windows in Israel, contrasted with works from some of the greatest composers of all time.
---
---
one more time for Suzi
With a career now spanning over 50 years of performing, it's "one more time for Suzi" as she returns in February 2017 for a national tour starting on the Gold Coast on February 3 and finishing in Darwin on March 4.  Tickets go on sale early October.
"Well…..what can I say….eh!  Australia.   You're in my bones, you're in my blood, I was born to entertain, I had to come back – I missed you too much," Suzi said on the announcement of the tour.
 With 31 Australian tours under her belt, for this tour, Suzi will bring Andy Scott from THE SWEET on guitar and vocals and Don Powell from SLADE on drums.   They will perform as "QSP" for the opening act. The trio have recorded an album "QSP" which will be released in January.  Suzi will have an eight-piece band, performing the hit programme for t
he second half of the show, in her leather jumpsuit of course.
Born in Detroit Michigan, Suzi was raised in a musical family who all played various instruments.  Suzi made her stage debut, playing bongos in her father's Jazz band, The Quatro Trio.  >From an early age, she studied classical piano and percussion and at the age of 14 began an all-girl band with her sister Patti calling themselves The Pleasure Seekers.  Suzi was 'told' she would be playing bass guitar which was as tall as she was and also became the lead singer.  In 1969 they changed their name to Cradle and it was this band that caught the attention of famed record producer Mickie Most who offered her a solo contract as a singer/songwriter/musician.
She went to the UK in 1971 to begin her journey to fame.  Suzi began working with the now legendary songwriters Chinn and Chapman. Chapman also produced Suzi, which resulted with her first magic hit "Can The Can" which went to #1 around the world, and sold over 2.5 million copies.  In the past four years the original video has nearly 6 million hits.
Between 1973 and 1980 Suzi Quatro featured in the British charts for 101 weeks and to date sold over 55 million records including hits, "48 Crash", "Too Big", "Devil Gate Drive", "Daytona Demon", "The Wild One", "She's In Love With You", "Rock Hard" and her duet with Chris Norman, "Stumblin' In".
In 1977 Suzi then spread her wings and headed for the small screen playing Fonzie's good friend, Leather Tuscadero in Happy Days.  She continued to act in other television series including Minder, Dempsey and Makepeace, Absolutely Fabulous and Midsomer Murders.   In 1986 Suzi made her West End debut playing the lead of Annie Oakley in Irving Berlin's Annie Get Your Gun receiving critical acclaim. In 1991 Suzi wrote and starred in the title role in a musical about the life of actress Tallulah Bankhead entitled Tallulah Who?
Recently, Suzi presented her one-woman show Unzipped both in the West End and on BBC Radio 2 as a two-hour Christmas special performed live at the BBC Radio Theatre in London. Suzi has had her own radio show on this station since 1999 and has recently published her first poetry book released worldwide titled "Through My Eyes".
Suzi was one of the first rock and roll acts to tour to Russia where she performed to 500,000 people in six weeks in 1989.
The tour is presented by Duet Productions and Sony Music Entertainment Australia. Denis Handlin AM, Chairman & CEO Sony Music Entertainment Australia & New Zealand and President of Asia said, "I have always been a big fan of Suzi's amazing career and we are delighted to partner with Duet Productions for Suzi's forthcoming Australian tour, "Leather Forever". It will be great to see her perform in Australia again.  We are also excited to be releasing Suzi's new album "QSP" with legendary performers Andy Scott (The Sweet) and Don Powell (Slade) and we are really looking forward to them performing on the tour with Suzi".
The interview was done with Suzi Quatro by Chris Durrant
---
 Patsy Cline
A funny and touching tribute to country music mega-star, Patsy Cline
Touring Australia in 2016, the Perth Theatre Trust is excited to present the off-Broadway smash hit, Always…Patsy Cline at the Subiaco Arts Centre, 23 – 26 November.
Based on the true story of legendary country singer Patsy Cline's friendship with a fan, Always…Patsy Cline is both a staged musical and concert in one. It includes 27 heartfelt hits including Crazy, I Fall to Pieces, Sweet Dreams and Walking After Midnight.
The musical play follows Houston fan, Louise Seger, as she befriends the star in a Texas honky-tonk in 1961 and continues the correspondence until Patsy's tragic death in 1963. The show's title was inspired by Patsy's letters to Louise, which were consistently signed 'Love ALWAYS… Patsy Cline'.
Created and originally directed by Ted Swindley, this new production directed by AFI award-winning Denny Lawrence stars Australian country music singi
ng sensation Courtney Conway as Patsy Cline and popular stage star Mandi Lodge (Menopause The Musical, Just The Ticket) as Louise Seger.
Under the musical direction of Ross Sermons, it features a live band.
Courtney Conway is an award-winning country music artist. She graduated from the College of Country Music in Tamworth the
n burst onto the country music scene with her debut EP A Few Little Things. She won Best New Talent at the 2011 National Country Music Awards and was nominated for multiple awards at the 2015 Country Music Channel Awards. Courtney recorded her first album 21 Days in Nashville in 2014 and it reached the Top Ten ARIA Australian Artists Country Albums Chart.
Described by the Los Angeles Times as "A Song Filled Valentine" and the Chicago Critic as "…a heartfelt story that will lift your spirits", don't miss this inspirational musical this November.
Tickets to Always…Patsy Cline are on sale through Ticketek or phone 1300 795 012.
The interview was done by Malti Elliott with the lead singer Courtney Conway.
---
OPERA AT TWILIGHT IN STIRK PARK
A magical evening of famous operatic selections and more.
As the sun sets over the historic Stirk Park in the Perth Hills, come and be thrilled by operatic selections from Cosi Fan Tutte, Rigoletto and Carmen as well as much-loved songs from the famous musicals Phantom of the Opera and Les Miserables.
Some of Perth's finest opera singers – Ileana Otto-Johansen, Kristin Bowtell, Jeremy Ryan (The Voice), Stephanie Parr and John Milton will be supported by the Dolce Ensemble and directed by Christina Trus-Browning at the piano.
This first-time outdoor concert is organised by the Rotary Club of Kalamunda and supported by the Shire of Kalamunda.
"Kalamunda Rotary is thrilled to be a part of creating this very exciting music event in Kalamunda's lovely Stirk Park", said Dee Buckland, President of the Kalamunda Rotary Club.
"We have a star-studded group of operatic singers supported by Perth's passionate Caprioska String Quartet as well as a piano on stage!  We're really hoping the evening will be such a magical experience for the concert goers that they'll all want to return next year".
Patrons can BYO their twilight picnic, chairs, blankets and opera glasses. Gates open at 5.30pm.
Free bottled water will be available for patrons courtesy Kalamunda Rotary Club and Crabb's IGA Supermarket. There are
no purchased food or beverage outlets at the event.
Proceeds of the concert will go to support the work of the Rotary Foundation charity Interplast.
Opera at Twilight is on Saturday, November 5th at 6.30pm at the Stirk Park Rotary Sound Shell, Elizabeth Street, Kalamunda.
It's suitable for 14 years of age and over.
Tickets are just $35 (no concessions) and can be bought online at www
.trybooking.com/MYCW
or at Nightingale's Pharmacy in Kalamunda, the Lucky Charm Newsagent in Kalamunda Centro or on the night.
Please phone 0409 557 202 for more information.
The interview was done by Chris Durrant with one of the singers Ileana Otto-Johansen
---
"The show is incredible – we had a blast!"
Angela Bishop – Entertainment Reporter
 "…the songs, the stories… we laughed and we cried – Just Brilliant!"
Molly Meldrum
Friday on My Mind – Falling in Love Again – Evie (Parts 1,2 & 3) – Hey St Peter – Down Among the Dead Men – Love Is In The Air – St Louis – Pasadena – The Love Game – Silver Shoes – Birmingham – Keep On Smilin' – The Day That My Heart Caught Fire – Standing In The Rain – Walking In The Rain – I Wanna Do It With You – Where The Action Is – I Hate The Music – Yesterday's Hero – It's a Long Way To The Top
 …all written by two of the most extraordinary songwriters of our time Harry Vanda and George Youngand John Paul Young was at the heart of their hit making era.If you loved the music from the hugely successful ABC TV series BLOOD AND THUNDER, then this show is for you!
John Paul Young and The Allstar Band The Vanda & Young Songbookis a concert celebrating this incredible song-writing duos creations; The songs that gave Australia it's unique soundtrack during the 60's 70's and the 80's and still to this day.
With hits written for The Easybeats, AC/DC, Grace Jones, Ted Mulry, Vanda & Young's own studio unit "Flash and the Pan" to the wealth of hits written for John Paul Young, this show will have you up and dancin' like it's 1979.
John Paul Young & The Allstar Bandwill travel you through the decades of mega hits and John's own behind the scenes stories about the songs and their making, at a time when music was king.
 John Paul Young is one of the most iconic artist in Australian music's history, with over 4 million world wide album sales and numerous awards which garnered him an induction into the ARIA Hall of Fame in 2009. In 2012 John received an Order of Australia (OAM) for his services to charity and the music industry.
From John's first release with Pasadena, in 1972, he then went on to become the un-official co-presenter alongside Molly Meldrum on ABC TV's Countdown and to the present day he has been a constant presence on the live music scene, in theatre with roles in the original Jesus Christ Superstar, Shout – The Johnny O'Keefe Story, Leader of the Pack – The Ellie Greenwich Story and most recently, Grease, The Musical. A stint in radio at NEWFM Newcastle, saw him top the rating in Breakfast, Mornings and Afternoon timeslots.
 The Allstar Band features two of the original members in Warren "The Pig" Morgan who cut his teeth in the original Aztecs and Ronnie "Rockwell T James" Peel, of The Missing Links and La De Das fame. Both have been with John since the beginning and have been joined over the years by Greg Plimmer, Juan Gonzalez and Michael "China" Walker and this outfit has been together since the early 80's, with Paul Kirtley (percussionist) a recent addition to the troupe.
The interview was done by Chris Durrant with John Paul Young.
---
Opera Lovers WA presents
"An Afternoon with Albert Herring"
Join us for an afternoon of excerpts from WAAPA's upcoming production of Benjamin Britten's little known comic gem, Albert Herring. With WAAPA Classical Voice and Opera students, directed by Thomas de Mallet Burgess with David Wickham as Music Director, it is sure to be an afternoon of laughter and a brilliant introduction to this genius piece of operatic repertoire!
Sunday 18 September 2016, 3.00pm
Music Auditorium, Western Australian Academy of Performing Arts, 2 Bradford Street Mt Lawley
Non-Members: $40; Members: $35; Students: $15
(includes afternoon tea)
Tickets available online at www.trybooking.com/MXAK; credit card details or cheque to Opera Lovers WA, PO Box 1126, West Perth, WA 6872. Enquiries to Louis 0423 982740
---
Ariadne auf Naxo
Celebrating 100 years since this sparkling gem of the Richard Strauss operatic repertoire was premiered, OperaBox presents Ariadne auf Naxos from 9 -16 September 2016 for the first time in WA with orchestra.
A clever combination of comedy and tragic opera, Ariadne auf Naxos tells a story of the competition between high art and popular art.
Artists on each side fight for their work in a hilarious prologue and we ultimately enjoy the beauty of both as they are
performed simultaneously in an 'opera within the opera'.   This exciting new production is created by award winning theatre director Kathryn Osborne, "one of our best young theatre directors" (The West Australian).
Kathryn is a Company Artist at The Last Great Hunt and most recently was a winner at the WA Young Achiever Awards in the Arts and Fashion category.
Kathryn is leading OperaBox's finest ever design team to create her production. Osborne said
"Ariadne auf Naxos is a rich opera for a director. Combining the aesthetics of high art and popular art
and allowing them to sing together is what's beautiful about both the music and what I'm most excited about in what will be a modern staging.
"Ariadne auf Naxos will be conducted by the magnetic rising star Christopher Dragon,currently Associate Conductor at Colorado Symphony Orchestra (USA) , and former Assistant Conductor at the West Australian Symphony Orchestra (WASO).
"Ariadne auf Naxos is OperaBox's most ambitious production to date matched by our strongest ever team. . Not
because it has an opera within an opera (similar to the movie Inception) but because of the complexity
of the music of Richard Strauss said Dragon.
"This unique opera does not utilize his gigantic orchestral sized forces but instead an ensemble of 34 musicians"
2015 Herald Sun Aria Winner, Melbourne based soprano Fiona Jopson will make her role debut and WA debut in the
title role of Ariadne and Prima Donna and one of Australasia's most outstanding and popular tenors Henry Choo, will return to the role of Bacchus after his debut earlier this year in Melbourne. Limelight Magazine hailed,"Henry Choo's Bacchus was, for my money at least, the greatest discovery of the evening. A robust yet pliant tenor who displayed both power and restraint, Choo's regal gait perfectly match the nobility of portraying this Greek deity."
The rest of the cast is completed with some of Perth's best operatic talent in their role debuts including Jenna Robertson as Zerbinetta, –
With this dynamic and incredibly talented team and rare opportunity to hear such a great operatic piece, you'd
be crazy to miss it!
The opera will be performed in German with English surtitles.
"Those of us privileged to be among the audience witnessed an exuberant and thoroughly professional production…The passion and vivacity of the company will continue to fascinate well after memories of some productions in Australia's premier opera houses have faded." Darlington Review
"OperaBox (as a production house for opera in WA) once again proved, by this production, that they have the professional skills and integrity to be a major force for good"Tony Howes, Capital Radio
PERFORMANCE DATES & TIMES
BOOK NOW
9th– , 11th and 16th September 2016, 7.30pm
Joy Shepherd Performing Arts Centre, Mosman Park, Western Australia
The interview was done by Chris Durrant with Eva-Marie and Fiona.
---

An Evening with OperaBox:
Ariadne auf Naxos
Wednesday 31st August2016, 6pm
Please join us for this exclusive event for Opera Lovers providing a unique insight into this ambitious OperaBox production of Richard Strauss' Ariadne auf Naxosin Perth in September. Celebrating 100 years since the opera was premiered in Vienna, OperaBox presents the WA Premiere with orchestra. Hear a special preview of some of Richard Strauss' luscious music performed by the cast, including 2015 Herald Sun Aria Winner, Melbourne soprano Fiona Jopson and one of Australasia's most popular tenors, Henry Choo.You can also receive a special introduction and insight into this brand new production created by Kathryn Osborne, "one of our best young theatre directors" (The West Australian).
Wesfarmers Puccini Room, 3rd Floor, His Majesty's Theatre
Hay Street, Perth (enter by the stage door)
Non-Members $40; Members $35; Refreshments included.
Ticketshttps://www.trybooking.com/MKPZ  or send cheque or credit card details and number of members/non-members tickets required to Opera Lovers, PO Box 1126, West Perth, WA 6872.Enquiries to Jenna0431329014 or Margaret 0419914023
---



Comings and Goings
Thursday 28th July 2016, 6pm
Join us for an evening of arias and duets from the grand opera repertoire with Sam
Roberts-Smith, Caitlin Cassidy and Brianna Louwen – each coming and going from
Perth at different stages in their careers. Joining us in Perth between his international
performing commitments is baritone and former West Australian Opera (WAO) Mentored
Artist Sam Roberts-Smith. Returning to Perth after her post-graduate studies in New York
is mezzo soprano and former WAO Young Artist Caitlin Cassidy and soprano Brianna
Louwen is heading off to the UK for further vocal study. Accompanied by David Wickham.
Wesfarmers Puccini Room, 3rd Floor, His Majesty's Theatre
Hay Street, Perth (enter by the stage door)
Non-Members $40; Members $35; Refreshments included.
Tickets www.trybooking.com/MBUB or send cheque or credit card details and number of
members/non-members tickets required to Opera Lovers, PO Box 1126, West Perth, WA 6872.
Enquiries to Louis 0423982740 or Margaret 0419914023
---
Straight No chaser
If the phrase "male a cappella group" conjures up an image of students in blue blazers, ties, and khakis singing traditional college songs on ivied campuses… think again. Straight No Chaser (SNC) are neither strait-laced nor straight-faced, but neither are they vaudeville-style kitsch – and they're coming to Australia this July!  As original member Randy Stine comments, "We take the music very seriously; we just don't take ourselves too seriously." In the process, they are reinventing the idea of a cappella on the modern pop landscape.
Originally formed two decades ago while students together at Indiana University, the group has reassembled and re-emerged as a phenomenon – with a massive fan base, more than 32 million views on YouTube and proven success with holiday releases, 2008's HOLIDAY SPIRITS and 2009's CHRISTMAS CHEERS as well as WITH A TWIST (their first full length departure from holiday music (2010), UNDER THE INFLUENCE (2013) and THE NEW OLD FASHIONED (2015).
Under the Influence featured guest artists including Sara Bareilles,Phil Collins, Elton John, Jason Mraz,Dolly Parton, Seal, Rob Thomas and Stevie Wonder. Their 2013 Holiday EP, titled Under the Influence: Holiday Edition included a track with Paul McCartney and their 2014 Christmas track entitled Text me Merry Christmas featured singer/actress Kirsten Bell. In an era when so much pop music is the product of digital processing and vocal pro-tooling, Straight No Chaser is the real deal – the captivating sound of ten unadulterated human voices coming together to make extraordinary music that is moving people in a fundamental sense… and with a sense of humour.
Even after all the success, the members of Straight No Chaser don't take anything for granted: "To think that the ten of us could go our separate ways after college, start professional lives, and then commit to putting SNC back together after all these years is nothing short of a minor miracle," said original member Charlie Mechling. "With each opportunity to perform that comes our way, we are reminded of how fortunate and blessed we are to be able to do what we love to do."
The group originally came together in 1996 at IU, basically as "10 guys who happened to be good friends who also liked to sing." Choosing the members carefully for personality as well as vocal talent – Stine, Mechling, Jerome Collins, David Roberts and Walter Chase remain from the original lineup — SNC set itself apart from other a cappella groups with its contemporary repertoire and dynamic approach, quickly headlining concerts both in Bloomington and on road dates. SNC recorded three independent albums, and John Mellencamp even invited the group to his home for a private performance.
When the founders began graduating in 1999 and went on to jobs mostly outside of music, they chose replacements and established SNC as an ongoing group on campus with future generations of ambitious IU undergrads. More than 50 members have passed through the group's ranks so far. Such was the impact SNC made at IU that the school hosted a 10th anniversary reunion show for the original lineup in 2006, and when Stine posted clips from a 1998 concert on YouTube, SNC's fan base grew exponentially. In 2007 alone, the group's version of "The 12 Days of Christmas" was viewed more than seven million times. Today that number has surpassed 19 million.
Australian audiences are in for a treat of beautiful harmonies, much loved songs with not a blue blazer in sight!
The interview was done by Malti Elliott with one of the singers in the group Don Nottingham.
---
Foster & Allen 
Foster & Allen – Ireland's most famous and successful duo are returning to Australia in May and June.
Mick Foster and Tony Allen have been performing together for over 30 years, and this will be their 18h trip to Australia.
These charismatic singers have been performing their unique blend of easy listening and folk music all over the world and their popularity is proven by their record sales.   Between them they have sold 20 million records, making them one of Ireland's biggest entertainment exports, in the same league as U2, Enya, Boyzone and The Corrs.
Their 27 albums have included the immensely popular The Rambles of Spring, A Bunch of Thyme, Maggie and After All These Years and 100 Hit Legends.  Their chart success stretches back to 1982 with their first appearance on Top Of The Pops.    With this tour they will release CELEBRATION, which of course celebrates Foster and Allen's 40 years as a performing, touring and recording duo.  This new album features two duets with THE CHIEFTAINS and SIR JIMMY SHAND AND HIS BAND.
Formed in 1975, this most famous singing duo in Irish music history began working on the local music circuits of Ireland and England.  Soon, with their own special brand of music, the duo became hugely popular.  In the first year, Foster & Allen recorded their first single, The Rambles of Spring which was a massive hit on both sides of the Irish Sea.
Tony Allen was born in Mount Temple, Ireland, the youngest of nine children. His family loved music and encouraged Tony's interest in it from a very early age. In 1968, he turned professional, playing guitar and singing on a national level with many well-known Irish bands. He met Mick Foster in 1975 and they joined to form Foster & Allen.
Mick was born in County Kildare and began playing the piano accordion at age 13. In 1964, at 17, he won the first of three All Ireland Accordion Championships.
The Foster & Allen band accompanying them to Australia includes Moyra Fraser (keyboards), Ollie Kennedy (bass guitar) and Bryan O'Donnell (guitar).
After 40 years, their popularity continues to flourish and fans often travel long distances to catch their shows each time they tour Australia.
The intefview was done by malti Elliott with Tony Allen.
---
Luka Bloom
With
a poet's heart and a rockstar's soul, Luka Bloom is regarded as one of Ireland's best-respected contemporary folk artists, having produced 20 albums since the 1970s, Bloom continues to push the boundar
ies of what his music can do.
An internationally acclaimed singer-songwriter, and recording artist; Luka Bloom has enjoyed over two decades of success worldwide. Since the release of one of the all-time Irish classics "Riverside" in 1990, people from all corners of the globe have embraced the true beauty of this remarkable musician.   Luka returns in 2016 for his 12th Australian tour, to the country he loves as much as his homeland.
 With this new tour is a new album FRUGALISTO    "Australia is the country where the new record will be first released, and I am thrilled about that.  The song Frugalisto was inspired by an amazing group of young men and women who live near me in the West of Ireland. They are people with 2 particular passions in life. They are surfers, but more importantly, they are actively devoted to sustainable lives, working with the earth, without destroying her. Many of the songs on this record are inspired by the people where I live.  And one of the songs is called Australia. It is a simple love song to a country that means so much to me; a place I have missed this past 3 years. I can't wait to sing my new songs in Australia.  And am thrilled that the first tour in my calendar for 2016, is Australia" said Luka.
 Luka's appearance at the Pink Pop Festival in the Netherlands in 1991 is considered the start of his breakthrough in Europe.  In 1992 Luka headed down under for his first extensive tour of Australia.  His love affair with Australia had begun.   He says "…in truth, I spend 2 months out of 24 in Australia and the next 22 waiting to return…."
 One of the most amazing experiences of my working life happened in Australia in June 2011.  I was invited by the organisation Dalai Lama Australia to come down and sing a particular song (As I Waved Goodbye) before he spoke each evening.  It was an unforgettable experience for many reasons.
 Like many who write songs, Luka's orchestra of choice is the guitar. What makes his career a little different is his constant search for a new voice within the guitar. The guitar is the landscape on which the song is created, and he is forever probing that landscape for new inspiration. No effects, no gadgets. Time, effort and a whole lot of love bring forth new voicings within the instrument, and bit by bit, the songs come to life. And eventually they fly, bringing Luka with them to be heard in Byron Bay, San Francisco, Hamburg, or even Doolin.
 Luka Bloom has the power to bring audiences to a hush as his poetic lyrics bounce over melodies in a beautiful, captivating way.  The same artist can rouse the spirit of the audience to the ceiling when he changes the tempo.  .
 Luka's live performances are summed in his own words – "Every gig is precious. Whether the Spa in Lisdoonvarna, Carre in Amsterdam, or the Enmore Theatre in Sydney, the privilege is the same, as is the commitment to the gig."
Interview was conducted by Malti with Luka Bloom.
NORTH
Multi-Award winner Graeme Connors' 25th Anniversary celebration of his landmark album NORTH is coming to town.
"…a show celebrating one of the most enduring careers in Australian music. …so many country No.1 hits that he can fill the entire second half of the show with them." Noel Mengel, Courier Mail
Songs are special. In a matter of minutes they can sum up your life, make you feel completely at home, or spark a wonderful memory. Graeme Connors is someone who writes those kinds of songs. As one of Australia's most loved songwriters, he creates cinematic-style stories with music that we can hold on to; songs that somehow make sense of our lives even when we can't.
"I hold the album North very close to me. It's about the place I come from and the state that inspired it," explained Connors.
NORTH (recently voted by his peers # 3 Best Australian Country Albums of All Time) was written about his Queensland roots, describing life in the North with songs like Cyclone Season, Let the Canefields Burn and the iconic title track A Little Further North Each Year. Queensland's #1 singer songwriter has always had the spirit of his hometown and state in his songs and it shines all through this album.
Graeme performs the complete album North, from beginning to end, as well as a special bonus track Our True Native Son recorded during the original sessions in 1988, and now finally seeing the light of day on NORTH, 25 Years On, his remixed, remastered and repackaged CD for 2014.
The second half of the show will be stacked with the hits & audience favourites from 17 CD's from his first And When Morning Comes produced by Kris Kristofferson, to his 2013 release Kindred Spirit this will be a concert to remember from Australia's Greatest Storyteller.
"It all started in December 1973 when I walked out of the classroom, the next day I hopped on a Fokker Friendship flight to Brisbane, jumped in a waiting hire car – and two hours later stepped on stage to open for a show in Toowoomba, …hard to believe it's 40 years ago, it feels like yesterday" says multi award winner Graeme.
Unashamedly influenced by singer-songwriters like Randy Newman, Kris Kristofferson and another notable American songwriter John Prine. It was through Kristofferson's songs that a young Graeme Connors learnt to "mean what you say and say what you mean".
By the time he was 14, Graeme knew he, his guitar and songs, were going to be lifelong companions. The Queensland-born boy loved live performance and was already singing with his own band.
In a career spanning four decades, Graeme has released 17 albums, received multiple songwriter & album awards including an ARIA Award, Golden Guitar Awards, national & international songwriter awards as well as writing an extensive and impressive catalogue of songs for other artists including John Denver, Jon English and Slim Dusty, along with his own work; and for that, Graeme is included in the Queensland Influential Artists Q150 Icons List sharing that accolade with the likes of Geoffrey Rush, Judith Wright & The Bee Gees.
Graeme will have copies of this superbly remixed remastered and repackage "Collectors Addition" of NORTH, 25 Years On available at all the shows, but if you can't wait until October it's available NOW from all good physical and digital outlets.
Click to listen to an interview conducted by Malti Elliott with Graeme Connors. 
---
Lennon: Through a Glass Onion
Lennon: Through a Glass Onion will return to Australia following a sold out season of 122 performances in New York. The internationally acclaimed theatrical event celebrating the genius, music and phenomenon of John Lennon which we know and loved as LOOKING THROUGH A GLASS ONION
was re-produced and rebranded for its Off-Broadway debut at the Union Square Theatre. Created and performed by renowned Australian actor/musician John Waters and esteemed singer/pianist Stewart D'Arrietta, Lennon: Through a Glass Onion, part concert and part biography, reveals the essence of the life and astonishing talent of one of the most admired icons of the past century with a story and 31 songs including "Imagine," "Strawberry Fields Forever," "Revolution," "Lucy In the Sky with
Diamonds," "All You Need is Love," "Come Together," "Help," "Working Class Hero," "Mother,"
"Jealous Guy," and more.
"It was truly an emotional experience seeing Lennon: Through a Glass Onion in New York at its
American premiere" said producer Harley Medcalf. "We were overwhelmed, blessed really, to have the
support of Yoko Ono and the Lennon Estate. As Charles Waterstreet (Fairfax) said, 'We should get out
the streamers and confetti to shower D'Arrietta and Waters in an open limousine to the steps of our town
halls'". The show will return to the US following the Australian tour in April/May.
John Waters added "To be embraced by New Yorkers as we were from October to January, this was a
great reward for all of us who worked so hard to get our show there, at the Union Theatre. It truly felt as
though Glass Onion had in fact given the city what it needed, to reconcile their own sense of loss of a
much loved 'son', as John Lennon came to be. Night after night, our audiences stood to acknowledge us,
and it doesn't get much better than that."
In 1992, twelve years after Lennon's death, Waters and D'Arrietta first conceived and performed Lennon:
Through a Glass Onion on a small stage at the Tilbury Hotel in Sydney. The show was an instant success.
In the years that followed, Waters and D'Arrietta toured the show and played sold out engagements at
venues including The Sydney Opera House. The show performed a three-month engagement in London's
West End.
"Its been fantastic the response the show is receiving, especially from the younger audiences that are coming
along, some of whom were not even born when Lennon and The Beatles were recording and releasing their
music. It's a testament to the legacy of the man and his music that still excites and intrigues people to this
day" says Waters.
"It never ceases to amaze us how many people still request to see the show, even after our last lengthy tour,
we're constantly getting emails and messages asking when is the show coming back, so its great that the
demand and interest is always there", says Waters.
"The song Glass Onion was John Lennon's postscript to The Beatles. It had such a strong image of crystal
ball-gazing and peeling away the layers that it inspired the format for this show – a kaleidoscope collage of
song, word, emotion and image", agrees D'Arrietta with Waters.
For the audience this is either an emotional trip down memory lane or a wonderful introduction to the life
and times of one of the most fascinating icons of our time.
WHAT THE CRITICS HAVE SAID…..
Lennon's spirit shines through on "Glass Onion" NEW YORK POST
D'ARIETTA is a powerful pianist with strong beats for a Honky Tonk CURTIN UP NEW YORK
His credible take on Lennon's Liverpudlian dialect is top notch, meritoriously channeling the
singer/songwriter's acerbic wit and rebel yell moxie over the course of the 90 minute one act concert
monologue. EDGE NEWORK NEW YORK
"a remarkable celebration of a unique talent… Waters does it brilliantly"
THE SPECTATOR, LONDON
"John Waters encapsulates the essence of Lennon." CAPITOL RADIO, LONDON
Listen to an interview with John Waters conducted by Malti Elliott.
---

REFLECTIONS
REFLECTIONS is the new album by Australia's 'Voice Of Romance' Alfredo Malabello which will be released March 6th on Fanfare Records. Alfredo has also been announced to be the special support artist on the national tour of Greek superstar NANA MOUSKOURI in April. (tour dates listed below)
 Not your typical crooner, Alfredo transforms songwriting gems of yesteryear into loungey, sexy and romantic musical arrangements. Along with his smokey vocal style Alfredo delivers a tender longing that juxtaposes his strong passionate performances.
Alfredo Malabello is Australia's very own Italian son of song, and he's harboured a burning passion for music as far back as he can remember. As a very young boy growing up in Adelaide, I couldn't fall asleep unless I had the radio on. Music was my one true escape, and even now, if everything is crumbling around me, as soon as I start to play my piano and sing, the world as it is stops and my own private universe begins.
Sydney-based Alfredo is a true citizen of the world, and his colourful career has transported him to many places across the globe. I've played in cities as varied as New York, Nashville, Tokyo, Milan, Dusseldorf, Saint Moritz, Munich, Rome, London, and all over Australia of course. What a trip it's been.
With over 30 years experience on stages around the world, Alfredo has earned a reputation as one of Australia's most remarkable live artists. He has performed at VIP parties for Canadian crooner Michael Buble, he's entertained guests at a lavish ceremony to celebrate the opening of the 2011 Formula One in Melbourne, and he's also shared the main stage at the Sydney Opera House singing duets with Tina Arena and The Sydney Symphony Orchestra.
"Tina used to come and sing with me in a small bar in Melbourne in the late 1980s, and it was a special moment when she recently chose me to sing The Prayer with her, backed by a grand sixty piece orchestra. It was a glorious highlight of my career."says Malabello.
Along with his credentials on stage, Alfredo has also cemented his status as an exceptional recording artist. His 2010 debut album Ciao Bella peaked at Number 4 on the Jazz and Blues chart in Australia, spending an astounding twenty-seven weeks in the Top Twenty. His 2nd album THE TWO OF US achieved the number 2 spot on the National ARIA Jazz and Blues Charts in Nov 2011.
Alfredo is a man of many surprising talents. He has also established himself as an actor getting major roles in the acclaimed SBS series Carla Cametti PD, Channel Nine's successful Underbelly Files, ABC's The Devils Dust, Tricky Business, UKTV's Dripping In Chocolate, and as the lovable Rocco The Barrista in the national CGU campaign.
Alfredo's new album REFLECTIONS continues with another substantial dose of his Italian and English style and sound.  Click here to listen to an interview.
---
DIRECT FROM SOUTH AFRICA AND BROADWAY COMES THE WORLDWIDE PHENOMENON
"DRUMSTRUCK"
THE WORLD'S FIRST INTERACTIVE THEATRICAL EXPERIENCE IS COMING TO AUSTRALIA
NATIONAL TOUR APRIL – MAY 2015
"THE SHOW WHERE THE AUDIENCE PLAYS THE DRUMS"
"The beats that are its soul resound across time and culture" – New York Times
"Simply exhilarating…'Drumstruck' is a feel good spectacular par excellence" – Time Out, New York
"High energy, athleticism and charisma make a compelling case for drumming as an Olympic event" – New York Post
STANDING OVATIONS FROM NEW YORK TO TOKYO FROM SHANGHAI TO SYDNEY
"Drumstruck", created by Warren Lieberman and director by Kathy-Jo Ross, is a compelling blend of soul stirring African rhythms, thrilling colourful dancing and the world's most magnificent and uplifting voices. Traditional dancing, ornate sets and artfully painted performers adorned in radiant costumes provide a colourful and entertaining spectacle. "Drumstruck" premiered in Johannesburg, South Africa in 2002. The smash hit musical has played to sellout theatres receiving standing ovations at every venue, this unique phenomenon, rooted in African culture, is a thoroughly engaging spectacle that provides the audience with pure interactive fun and entertainment that is perfect for the whole family.
The "Drumstruck" cast members have performed in front of dignitaries such as, Nelson Mandela, Bill Clinton, Queen Elizabeth, Nicole Kidman, Elton John, Richard Branson to name just a few. And they were invited performers for the 2008 Beijing Olympics Opening ceremony.
Now South Africa's Broadway sensation – "Drumstruck" – the world's first interactive theatrical drumming experience – is returning to Australia in April – May 2015, proudly presented by Abstract Entertainment.
"Drumstruck" is unique in that the audience helps create the show – everyone participates in the musical's show-stopping rhythms and drumming sequences on their own African djembe drums.
Listen to an interview with the Producer/ Director Warren Lieberman done by Malti Elliott.