THE TRAPPE FAMILY BY SEAMUS O'ROURKE
This play was written by Seamus O'Rourke a multi-award winning Irish playwright, director and actor.
The play is set in a small town in County Leitrim. The Trappe Family gather on the roof of their garage each year to commemorate and celebrate the life of 'Daddy' who passed away five years ago. Daddy was a larger than life character, well liked by everyone in the town, a part time garage owner/mechanic and part time stand up comedian who lost touch with his family and reality many years before.
Freddie Trappe has taken over the garage, the stand up routine and Daddy's slim grip on reality.
Mammy brings the family together on the anniversary to remember, say a few prayers and tell nice stories about Daddy but there is a darker side to the family that is slowly revealed. Mammy is a cripple, so how does she get onto the roof without any help? How did Daddy actually die? Why is Joseph so bitter? Who or what is 'The White Angel'? Patrick has always been considered "slow", but is there something else about him, something sinister? Can Majella keep everyone from hurting each other both physically and mentally?
It's the story of a typical Irish family with all the comedy and tragedy that is such an essential part of Irish life. We all know families like this.
This is a transcript of my questions to Sean Byrne – the director of the play.
Good Day Sean and thanks for taking the time to answer a few questions about your upcoming play that you are directing for the Irish Theatre Players in April.
Let's start at the very beginning. Can you tell us a little about yourself and your journey in the world of theatre?
I've been involved in theatre for many years. I started in Dublin helping backstage with various productions and then travelled around the country doing theatre festivals. When I came to Perth in 1997 I joined Wanneroo Rep and helped backstage for many years.
Ireland is a place that is full of famous, funny playwrights. What made you decide to direct this particular play?
I saw this play when I visited Ireland in 2007 and it struck me as a wonderful ensemble piece that captures the Irish phsyche very well.
Tell us a little about Seamus O'Rourke – the playwright of this play?
Seamus O'Rourke is a multi award winning actor, director and playwright. He hails from a small town in County Leitrim and his plays capture the very essence of what it is like to be living in a small town in Ireland. In this play he has captured the typical Irish family, warts and all.
Tell us the storyline in a nutshell?
The Trappe family gather on the rooftop of their garage every year to remember Daddy, say a few prayers and tell nice stories. But there are very few nice stories to tell.
The play throws up a lot of questions. Do the audience eventually find answers to these questions or are we left feeling "This is your time to decipher the ending".
Yes the audience will find the answers to most of the questions.
You have indicated that this is a story about a typical Irish family with all the tragedy and comedy that is an essential part of Irish life. Give us an insight into some of the comical episodes?
The comedy is in each characters perception of Daddy, who and what he was and who and what they are.
What about the sad situations that are spoken about?
The sadness is in the characters slim grip on reality and how that plays out.
Was it easy finding the right people to play the required roles?
We were very lucky to have the right people turn up to the auditions.
The Irish have a quaint accent that is very difficult to imitate. Have you got an entire Irish cast?
We have a mainly Irish cast, except for Mark Tilly who plays Joseph. Mark is an Aussie who has mastered the Irish accent.
George Boyd is known for his skill in building sets. Is there anything in particular you would like to tell us about his sets?
I've long been an admirer of George's sets. He is a diligent researcher who listens to the director and turns out fabulous sets that work.
What do you think are the main selling points in this play?
It's a very engaging play that captures the attention of the audience from the opening scene and it keeps them engaged throughout.
The play is about Irish life put across in a very Irish way. Would this play appeal to a non- Irish audience?
The play is about a family, we all have a family, it's universal. Everyone will relate to this play.
What were the main challenges you faced while directing this play?
There were no particular challenges, the team at Irish Theatre Players take over all the external stuff and allow the director the time and space to direct.
Where is the play taking place?
Townsend Theatre at the Irish Club in Subiaco is the venue.
Before I let you go is there anything I have not touched on that you would like to talk about?
Typical of many contemporary Irish plays, there is strong language throughout. If you don't like or are offended by strong language this may not be the play for you.
Thank you so much for answering a few questions about this amazing show and I look forward to seeing it soon.
Ordinary Days
South Perth resident directs star Perth cast in Playlovers musical, Ordinary Days
South Perth local,Alida Chaneydirects an all-Perth star cast in the upcoming Playlovers show, Ordinary Days.
This is Playlovers first production since July 2019, which features almost 90 minutes of continuous music.
Ordinary Days tells the story of four young New Yorkers whose lives intersect as they search for fulfillment, happiness, love and taxi cabs.
With equal doses of humour and poignancy, it celebrates how 8.3 million individual stories combine in unexpected ways to make New York City such a unique and extraordinary home.
Alida says she has wanted to direct this musical for some time, but first needed to be assured of an excellent cast and a first rate accompanist/Musical Director, Stage Manager/PA, great lighting designer and Sound Technician. Alida is confident that she has ticked all the boxes.
"My directing style involves collaborating with the cast to create an engaging performance whilst maintaining excellent vocals that ensures that the audience is totally engaged throughout, she said.
The show has not been without its challenges, as COVID-19 restrictions forced the show to be cancelled earlier this year as part of the Fringe Festival 2021 in Perth.
"I am extremely proud of the cast and their commitment to the show throughout all of the changes. They have worked incredibly hard and I am thrilled we can present this beautiful show to audiences," she said.
First performing professionally at the age of 11, Alida has numerous stage credits. She trained in London and has performed in many shows, as well as sung in a couple of different bands around England.
These days she doesn't have much time to perform, as her time is invested in teaching and directing. But if a good role is offered or there is an audition for a show that she has always wanted to be a part of …then she will give it her best shot.
Adam Gwon's Ordinary Days plays at 8:00pm on March 3, 5, 6, 10, 12, 13 with 2:00pm matinees on March 6, 13 at Stirling Theatre in Innaloo.

Tickets are $25 for adults, $22 concession, groups of six or more and for Playlovers members – book at https://www.trybooking.com/BOSQG.
For more information head to playlovers.org.au.
This interview was done by Malti Elliott with Alida Chaney the director of the play.
—————————————————————————————————————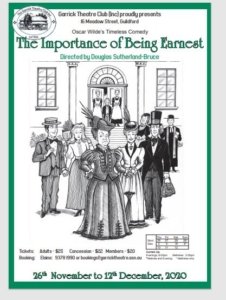 Arguably one of the world's funniest and certainly best enduring plays in the English language. The Importance of Being Earnest, A Trivial Comedy for Serious People is a play by Irish writer Oscar Fingal O'Flahertie Wills Wilde.
It was first performed on 14 February 1895 in London, it is 'a farcical comedy in which the protagonists maintain fictitious personae to escape burdensome social obligations. Working within the social conventions of late Victorian London, the play's major themes are the triviality with which it treats institutions as serious as marriage, and the resulting satire of Victorian morality.
Some contemporary reviews praised the play's humour and the culmination of Wilde's artistic career, while others were cautious about its lack of social messages. Its high farce and witty dialogue have helped make The Importance of Being Earnest Wilde's most enduringly popular play.
The hugely successful opening night marked the climax of Wilde's career but also heralded the beginning of his fall from grace.
Wilde, who was bisexual at a time when homosexuality was illegal, was conducting an affaire with Lord Alfred Douglas, the son of the Marquess of Queensberry, who in an ill-judged moment, Wilde sued for libel. In the ensuing court cases Wilde was found guilty and sentenced to three years hard labour, from which he never truly recovered either physically or mentally, dying in Paris in 1900.
The plot of The Importance of Being Earnest is hardly simple, but briefly two couples wish to marry against the wishes of their respective guardians; a baby has been lost in a handbag; the governess fancies the Canon and it all ends happily.
The play itself, it's first run cut short by the trials, has almost never been out of production every since. Many thousands of stage versions, several films (most notably starring Sir Michael Redgrave and Dame Edith Evans) and a number of TV productions – Dame Joan Plowright made a very effective Lady Bracknell in 1984.
We have seen cross-dressed versions (Sir David Suchet was Lady Bracknell quite recently). All-black cast versions, musical versions and setting ranging from the original contemporary 1895 to the late 30's – a less than satisfactory change.
Now Garrick Theatre presents their version, directed by Douglas Sutherland-Bruce, a veteran of the stage and who has directed the play twice before and acted in it twice. 'Just a couple more times and I'll get it right,' he says.
Stalwart experienced actors Siobhan Vincent (as Lady Bracknell); Kerry Goode; Ray Egan and Alan Shaw are joined by newcomers fresh from WAAPA – Pauline Rosman, Jonathan Hoey and those working their way up through community theatre – Sean Wsiclo and Olivia Fellows.
'A hugely talented cast' Douglas describes them, 'keen to learn and apply their experience to what is for some of them their first classic play, they have been a delight to direct and explore this most delightful of plays.'
The Importance of Being Earnest opens on the 26thNovember, 2020 at Garrick Theatre, 16 Meadow Street, Guildford and runs until the 12th December. Tickets cost $25 for adults and may be booking by ringing Elaine on 9378 1990.
Covid -19 precautions are in place and seats are limited, so book early.
The interview was done by the director Douglas Bruce Sutherland with Malti Elliott.
---
THE GRADUATE DRAMATIC SOCIETY PRESENT
The Boys In The Band
by Mart Crowley
THE FIERCELY FUNNY, GROUNDBREAKING, SMASH HIT PLAY COMES TO PERTH!
A group of men gather in an Upper East Side apartment for a friend's birthday party. An unexpected guest and a street hustler arrive. The drinks are poured and the music is turned up. The evening slowly exposes the fault lines beneath their friendships and the self-inflicted heartache that threatens their solidarity. Secrets are revealed, arguments are unearthed, and blows are thrown, culminating in a shocking game.
This fiercely funny, ground-breaking American play, the first truly honest portrayal of the lives of contemporary gay men, was recently successfully revived on Broadway. Shocking mainstream audiences, it premiered Off-Broadway in 1968, running for 1,001 performances and was subsequently made into a successful feature film with the original cast. At a time when gay characters were seldom seen in commercial media except as crude stereotypes, this play presented a well-rounded view of what critics of the day referred to as 'the homosexual milieu.'
Half a century later, the play is as entertaining, bold, and inspiring as ever. This production is directed by award-winning director Barry Park.
By arrangement with ORiGiN™ THEATRICAL, on behalf of Samuel French Inc.
---
Park yourself in for six tales off the bench
A PARK bench is the basis of six very different short plays at the Old Mill Theatre this October.
Written and directed Perth playwright Noel O'Neill, each play features two actors and is presented by Maverick Theatre Productions under the umbrella title A View from the Park.
Passion Play is a comedy about an egotistical, lecherous theatre director who has walked out of auditions for an Easter play about the crucifixion and his agent trying to reason with him.
It's followed by Daddy's Little Girl where a dominating father insists on orchestrating his daughter's wedding – but, underneath, it's about him not being able to let her go.
In Rules of Engagement, a man is about to propose marriage after receiving some advice from his mother but soon realises his bride-to-be carries a lot of emotional baggage.
A superstitious man meets his long-term partner in Sign Right There and she is under the impression he might move in with her, although he has other plans.
Walking Matilda is a twisted tale of betrayal and deception with the revelation of many secrets when two friends meet.
Rounding out the set is One For Sorrow, featuring two lifelong friends – one is gravely ill and the other has neglected the friendship, so he tries to heal the wounds by lending a hand.
"I like the idea of the park bench because I consider it 'middle ground'," O'Neill said.
"It's not 'your place' or 'my place' but a free atmosphere where people can either solve their differences or walk away from them.
"I always consider the bench itself to be a character that brings people together in conversation while exposing little pieces of what's going on inside."
The main challenge, according to O'Neill, is how to make each play interesting.
"It's not so much about what the actors are doing but what they are doing to each other with the dialogue," he said. "That's where the action really is.
"I try to inject a little comedy into drama and a little drama into comedy because I always feel life is like that."
https://soundcloud.com/malti-elliott/the-park-bench
The interview was done by Malti Elliott with the director/playwright Noel O'Neill
---
BOMBSHELLS"

OPENS THIS WEEK – Sept 4 to 19
ARENAarts @ Roxy Lane Theatre
55 Ninth Ave (cnr Roxy Lane) Maylands
Written by Joanna Murray-Smith
Directed by Christine Ellis
Six extraordinary women with six extraordinary stories balancing their
inner and outer lives with humour
and often desperate cunning.
More Info & Online Bookings Click Here
Phone Bookings: TAZ Tix 9255 3336
https://soundcloud.com/malti-elliott/bombshells
The interview was done with the director Christine Ellis by Malti Elliott.
---
https://soundcloud.com/malti-elliott/breakfast-at-tiffanys
The interview was done by Malti Elliott with Jessie Bailey
Breakfast at Tiffany's
The classic story of Holly Golightly, a country girl turned New York cafe society girl.
Stage adaptation by Richard Greenburg from the Novella by Truman Capote.
Directed by Shaun Griffin
Performance Dates: July 31, August 1, 2*, 5, 6, 7, 8 & 9*
Bookings: TAZ Tix 9255 3336 or BOOK ONLINE
A classic re-telling of the extraordinary Miss Holly Golightly, a small town girl turned New York cafe society woman based on Truman Capote's 1958 novella.
We follow Fred, a young writer who is infatuated with his beguiling, effervescent and captivating neighbour and is increasingly pulled into her world of parties and luxury.
Holly has no job and lives by socializing with wealthy men, who take her to clubs and restaurants, and give her money and expensive presents; she hopes to marry one of them.
Holly likes to shock people with carefully selected tidbits from her personal life or her outspoken viewpoints on variious topics.
Over the course of a year, she slowly reveals herself to the narrator, who finds himself quite fascinated by her curious lifestyle.
Featuring:
Jacob Lane, Jessie Bailey, Robert Jackson, Sylvia Mellor, Glenn Rykenrapp, Charlie Young, Kayti Murphy, Tim Prosser, Romano De Gois, Shaun Griffin and Rach Gilmour.
Venue: Harbour Theatre @ Camelot
16 Lochee St, Mosman Park (indoor theatre)
Performance Dates: July 31, August 1, 2*, 5, 6, 7, 8 & 9*
Times: All evening shows at 7.30pm, *except Sundays at 2pm
Tickets: $25.50 Full, $23.50 Concession, $20.50 F/T Students,
Groups 10+ @ $20 each
Transaction fees apply
---
Love Letters' tells the story of Melissa and Andy — childhood friends who go their separate ways but remain in contact with each other through their entire lives by writing letters. The original production was a finalist for the 1990 Pulitzer Prize for Drama. The script is a summary of Melissa and Andy's lives–their ups and downs, joys and disappointments, triumphs and losses–but throughout it all, they remain lifelong best friends.
The two performers read a lifetime's letters without physically interacting. As such, 'Love Letters' is a perfect production in these social-distancing times. Harbour Theatre also takes the safety of its audiences very seriously, and seating will be arranged in line with government guidelines and physical-distancing requirements. Harbour Theatre is working with MosArts to ensure that hygiene requirements at Camelot are met.
Venue: Harbour Theatre @ Camelot
16 Lochee St, Mosman Park (indoor theatre)
Performance Dates: July 10, 11, 12*
Times: All evening shows at 7.30pm, *except Sundays at 2pm
---
Karl Marx thought it was religion that stupefied us into obeisance. Writing 127 years later, Dario​ Fo astutely hit upon what had become the new mass opiate: scandal – and this nearly half a century before Trump, fake news and social media! Imagine the Italian playwright's nods and winks at our own Royal Commissions into child sexual abuse and financial-sector outrages – not to mention our infrastructure projects and politics.
Then again,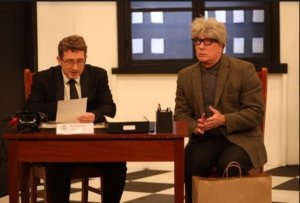 however much red may stain the plush carpet of the Australian Prime Ministerial office, it is merely stage blood compared with the atrocities that characterised Italian politics in the 1960s, when the right wing looked back longingly on Mussolini, and the left looked forward to revolution.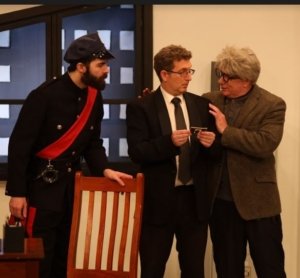 Rather than blowing up buildings, Fo opted to ridicule authority using satire, absurdism, farce and slapstick as weapons in a war to shake people out of their weary acceptance of corruption and oppression being inevitable norms. He wrote Accidental Death of an Anarchist in 1970, only months after an innocent anarchist had fallen to his death from the fourth floor of a Milan police station in which he was being interrogated for a bombing perpetrated by fascists.
The interview was done by Malti Elliott with the director Andrew Watson
---
Grads presents William Shakespeare's most purely comic play, The Merry Wives of Windsor, at the historic and beautiful New Fortune Theatre at the University of Western Australia, Perth's original Shakespeare venue. Peacocks will be provided.
Book now!
5 – 8 and 11 – 14 March, 7:30pm
Duration: 2h 15m including one interval of 15m
$30 standard, $20 concession, $15 standing
For wheelchair accessible seats please call 6488 2440 Monday to Friday, 12pm to 4pm.
When Sir John Falstaff decides that he wants to have a little fun he writes two letters to a pair of Window wives: Mistress Ford and Mistress Page. When they put their heads together and compare missives, they plan a practical joke or two to teach the knight a lesson. But Mistress Ford's husband is a very jealous man and is pumping Falstaff for information of the affair. Meanwhile the Pages' daughter Anne is besieged by suitors.
---
The Cockatoos
Patrick White's timeless Australian story The Cockatoos will be brought to life by 12 of Western Australia's most skilled emerging actors in WA Youth Theatre Company's exciting new production opening on 20 November at the State Theatre Centre of WA. Adapted for stage and directed by visionary theatre-maker Andrew Hale, the young actors tackle a quintessentially Australian tale of suburban secrets broken open to the light, as relevant today as when first published in 1974.
After a sell-out and multi-award-winning season of their 2019 Fringe World production REST, WAYTCo and Act-Belong-Commit present a profoundly moving and dark ensemble piece that explores a seemingly familiar 1970's Australian suburb in The Cockatoos. When a wild mob of cockatoos descend, they affect everyone in the neighbourhood, coming to represent both renewal and destruction. Estranged lovers, Olive and Mick dance tentatively towards reconciliation, as eight-year-old Tim spends a night alone in the park. These two stories rise in a spiralling saraband of exclusion and belonging. WA Youth Theatre Company is privileged to have Hale directing his award-winning adaptation of The Cockatoos once again after its hugely successful season at The Blue Room Theatre in 2015, where it won the venue's award for Best Performance, with its members. The chance to work with Hale is a career defining moment for these emerging performers.
WA Youth Theatre Company's annual scripted production allows the Company's top emerging artists to work with professional artists in a professional theatre on a major production. It has become an unmissable theatrical experience for audiences, and an unparalleled opportunity for artistic challenge and growth for Western Australia's rising theatre talent. Andrew Hale said he was looking forward to working with these young performers: "The Cockatoos explores how on the bridge from childhood to adulthood there is often no safety rail, and some are lost to the depths," he said. "This production is perfectly poised to explore that transition and the paradox of our deep desire to belong while we also long for wildness and freedom. "Having done workshops for WAYTCo and then through the exacting audition process for The Cockatoos it is clear that I will be working with a fantastically talented ensemble that will bring a new richness and vitality to Patrick White's beautiful story of living and growing up in suburban Australia." The Cockatoos opens at State Theatre Centre of WA's Studio Underground from 20 November, running until 29 November.
Performance Dates Wednesday, 20 November (Preview) Thursday, 21 November (Opening) Friday, 22 November Saturday, 23 November Wednesday, 27 November Thursday, 28 November Friday, 29 November Where: State Theatre Centre of WA, Studio Underground Tickets available Via Perth Theatre Trust Website Adult: $35, Concession: $25, WAYTCo Members: $17.50 www.ptt.wa.gov.au Credits Presented by WA Youth Theatre Company and Act-Belong-Commit Written by Patrick White Adapted and Directed by Andrew Hale Performed by members of WA Youth Theatre Company.
The interview was done by Malti Elliott with the director Andrew Hale.Reflecting on a menagerie of memories
The Glass Menagerie
Tennessee Williams' most powerful and haunting play, The Glass Menagerie, is being staged at UWA's Dolphin Theatre this October.
Presented by the Graduate Dramatic Society and directed by Jane Hille, the classic American drama is a stirring portrait of a family that struggles with the past, future – and each other.
Amanda Wingfield desperately struggles to provide her fragile daughter with at least one "gentleman caller" while her son Tom dreams of escaping his job at a warehouse and oppressive life at home.
The semi-autobiographical play is filtered through Tom's memory, reflecting on the glories of times past with echoes of loneliness, fragility and innocent hope.
The Glass Menagerie was Williams' first successful play, catapulting him to the forefront of American theatre with other works such as A Streetcar Named Desire and Cat on a Hot Tin Roof.
"Fragments of Tom's experiences are pieced together as a justification for his actions," Jane said.
"We step back into Tom's memories and witness them being re-lived as he recalls his earlier life.
"The characters in the play are a menagerie and, not unlike the fragility of glass, they fracture and splinter from life's wounds.
"It's a poignant and powerful production of a shattering family.
"The main challenge is creating characters that both honour the text and relate to a contemporary audience, so getting the character of Amanda Wingfield right is paramount."
Involved in theatre since she was a child, Jane is a drama educator, scriptwriter and director and is currently the Artistic Director of Fenceline Theatre Company at Swan Christian College.
She has written and directed numerous productions including 1914 Our Story About Love and its sequel 1915 Under The Surface for the ANZAC Centenary Commemorations in Kojonup, The Pied Piper of Middle Swan and The Chook House (Summer Nights The Blue Room Fringe 2019).
Her show Anyman was named best theatre production at Fringe World in 2018 and in 2019 The Cast of The Book of Everything was awarded WA Emerging Artist in 2019.
"Tennessee Williams captures the complexity of human nature in The Glass Menagerie," Jane said.
"It speaks on many levels about the disillusionment of life, its struggles against adversity and the fight we each have for our own survival.
"Memory and experience are intriguing devices to work with in theatre."
The Glass Menagerie plays at 7.30pm October 16, 17, 18 and 19 with a 2pm matinee October 19. Tickets are $35, $25 concession – book at www.ticketswa.com.
Dolphin Theatre is located at the University of WA, 35 Stirling Highway, Crawley.
The interview was done by Malti Elliott with the director Jane Hille
---
Potchnagoola
David Helfgott visits Greenmount for Author Commemoration
Popular concert pianist David Helfgott, who inspired the Academy Award-winning film Shine, will be visiting Perth in October for the 50th anniversary of the death of Australian author Katharine Susannah Prichard, his mentor and friend, and the debut showing of 'Potchnagoola'.
Prichard was a controversial founding member of the Australian Communist Party as well as a world-renowned author, being the first Australian novelist to win an international literary prize for her first novel, Coonardoo, and achieving a nomination for the Nobel Prize for Literature in 1951.
Helfgott forged an unlikely friendship with Prichard during the 1960s when he was a teenager and emerging as a talented musician, and she was in her eighties with her career starting to wind down.
Prichard looked forward to seeing young Helfgott every Friday night when he visited her at her home in the Perth hills, where they would drink tea and discuss music, poetry and politics. He would play the piano and she would encourage his talent.
On 5-6 October, a one-act play about this unique friendship will be staged as part of the 'Colours of Katharine: Red Witch or Lavender Lady?' community event which commemorates the life of Prichard.
This anniversary of one of West Australia's most distinguished authors created a lovely opportunity for siblings David and Louise Helfgott to work together. Noted Perth playwright Louise Helfgott was commissioned to write the play, and through interviews with her brother David Helfgott she discovered the word Potchnagoola, which he invented to capture the essence of his friendship with Prichard. The word is a composite of book titles published by Prichard and became the ideal title for the play.
Helfgott and his wife Gillian are travelling to Perth for the opening night of Potchnagoola and following the performance, he will play some of Katharine's favourite piano pieces in her memory.
'We are beyond thrilled that David will be joining us to honour Katharine at this private event,' says KSP Writers' Centre director Shannon Coyle. 'The moment when he sits at the very same piano where he once played music for Katharine, will be unforgettable.'
The play, supported by the WA state government, will have a limited run at the KSP Writers' Centre from 5-6 October 2019. Seats are strictly limited and tickets are available through Humanitix. More information can be found on the KSP website: www.kspwriterscentre.com
The interview was done by Malti Elliott.
---
ICE LAND
YIRRA YAAKIN THEATRE COMPANY PRESENTS THE WORLD PREMIERE OF ICE LAND: A HIP H'OPERA, FEATURING NEW MUSIC FROM DOWNSYDE, LAYLA, MOANA MAYATRIX AND TROOTH. With the flow of jazz, the soul of blues and the power of funk, Ice Land: A Hip h'Opera is an exciting new work that uses the language of hip hop to tackle a tough issue currently affecting our society – the plague of methamphetamine use. This contemporary theatre production will have its world premiere at the Subiaco Arts Centre in October. Director Kyle J Morrison said 'the process had been intense but the result was powerful'.
SHORT SYNOPSIS Fractured like shards, Cole, Carly and Joy must fight the demons of their past to reclaim their future, but it's not easy to leave behind the crystal meth plains of Ice Land. TEAM Performers/Lyricists: Benjamin Hasler (Downsyde), Layla Hanbury (Layla), Moana Lutton (Moana Mayatrix), Ryan Samuels (Trooth) and Scott Griffiths (Downsyde) | Mentor/Dramaturg: Andrew Bovell | Director: Kyle J Morrison | Musical Director: Darren Reutens (Downsyde) | Librettist: Zac James | Stage Manager: Karen Cook | Lighting Designer: Joe Paradise Lui | Set and Costume Designer: Matthew McVeigh DATES Season: 15-26 October Previews: 15 & 16 October | Opening night: 17 October | Post-show Q&A: 23 October VENUE Subiaco Arts Centre, Main Auditorium
The interview was done by Malti Elliott with Kyle Morrison – the director.
---
[/fusion_text][/fullwidth][fullwidth backgroundcolor="" backgroundimage="" backgroundrepeat="no-repeat" backgroundposition="left top" backgroundattachment="scroll" video_webm="" video_mp4="" video_ogv="" video_preview_image="" overlay_color="" overlay_opacity="0.5″ video_mute="yes" video_loop="yes" fade="no" bordersize="0px" bordercolor="" borderstyle="" paddingtop="20px" paddingbottom="20px" paddingleft="0px" paddingright="0px" menu_anchor="" equal_height_columns="no" hundred_percent="no" class="" id=""][fusion_text]
LOVE AND MUSIC
Love, music and winning against the underdog Fremantle Performing Artists present a new stage play Love and Music, a romantic comedy/drama with mild adult themes is written by Brenton Foale, with Oliver Temby and Mazey O'Reilly. Steve (James Garces) has been living with his girlfriend, Simone (Mazey O'Reilly), for a couple of years, but Simone feels stifled by Steve's lack of ambition and self‐centredness. At a recent Christmas party, Simone met Andy Robinson, 'Robbo' to his friends, 'Robbo the Yobbo' to Steve, a FIFO worker who reeks of confidence, a personality trait that Steve lacks. After a disagreement with Steve, she leaves him to move in with Andy, sending Steve's life into a crumbling whirlwind of torment and suffering. With the help of his sister and his best friends, Steve discovers how self‐centred he has always been and learns how to be a better man.
But can he change in time to save his relationship with Simone? Or will he lose her to Andy forever?
Writer and director Brenton Foale says his love of romantic comedies, dramas and underdogs winning against the bullies inspired him to create Love and Music. "After our hugely successful stage production of The Breakfast Club last year and drawing on my love for romantic comedies of the 80s and 90s ‐ Mazey O'Reilly, Oliver Temby and I teamed up together and we're excited with our results".
Foale's career in theatre, film and television spans four decades, including roles in Neighbours in the late 80s to The Legend of Ben Hall in 2016. After moving from Melbourne to Perth two years ago, Foale decided to form Fremantle Performing Artists theatre group. Foale also writes and directs for film and stage with many projects on the go including the soon to be released action film A Promise Carved in Flesh and is about to commence filming a feature film Iniquitous. "People will love Love and Music and will see many of my 'Easter Eggs' (surprises) in the way the play is performed", he said. Featuring: James Garces, Mazey O'Reilly, Belinda Harris, Keri Neale, Oliver Temby, Harry Bell, Ashlee McKenna, Charlize Mills, Denim Piche, Caity Rose and Sean Wcislo.
Opening night, 26th September, is a charity performance with all proceeds being donated to the National Breast Cancer Foundation. All tickets for the charity performance are at the special price of only $21 each. Further performances will be held on 27th, 28th, 29th September, and 4th, 5th, and 6th October, curtain rises at 7.30pm, with matinee performances on 29th September and 6th October at 2pm. Venue: Roxy Lane Theatre, 55 Ninth Ave, Maylands (corner Roxy Lane) Tickets are $26 Adult, $21 Concession and $16 Child U14 years, along with great family and group discounts – book at www.TAZTix.com.au or call TAZTix on 9255 3336.
The interview was done by Malti Elliott with the director/ Writer Brendon Foale.
---
Laughter always present in Noël Coward classic
A PLAYFUL reflection on fame, desire and loneliness from Noël Coward is ready to serve up the laughs at the Old Mill Theatre.
Directed by Barry Park, Present Laughter focuses on self-obsessed actor Garry Essendine (an anagram of "neediness") in the midst of a mid-life crisis.
As he prepares to embark on an overseas tour, his colourful life is in danger of spiralling out of control with women who want to seduce him, a crazed young playwright and his long-suffering secretary and wife who both need placating.
Noël Coward acknowledged the main character was a caricature of his real-life persona.
The play's title is drawn from a song in Shakespeare's Twelfth Night that urges people to seize the day: "present mirth hath present laughter".
"I love directing Noël Coward's marvellous comedies, which are still relevant, fresh and entertaining," Park said.
"This play, like so many by Coward, is incredibly funny, extremely well-written, superbly constructed and quite profound.
"It's an entertaining evergreen comedy about a conceited star in crisis, which has provided me with a wonderful opportunity to direct some of Perth's best comedic actors.
"I am looking forward to the challenge of accentuating the richly comic situations and bringing out all the subtle nuances of this splendid classic comedy."
Acting and directing since the 1970s, Park has performed in dozens of plays, musicals, pantomimes, minstrel shows, films, radio plays and television in Salisbury, Cape Town, Edinburgh, London and Perth.
He is equally at home performing in pantomimes and comedies such as Black Comedy, A Laughing Matter and She Stoops to Conquer as he is in Shakespearean tragedies such as Hamlet, The Merchant of Venice and Othello.
Several plays Park has directed have won awards, including M. Butterfly which picked up gongs for best director and best play at WA's annual Finley Awards.
His productions of A View from the Bridge, Other Desert Cities, Broken Glass, The Real Thing and Cat On a Hot Tin Roof have also received several Finley Award nominations.
"Present Laughter is Coward's most autobiographical play, about an actor and the theatre, so it holds a strong personal interest for me," Park said.
"It's a renowned play that actors and audiences love and it's produced frequently – a successful revival is currently running in the West End."
Noël Coward's Present Laughter plays 7.30pm September 27, 28, October 3, 4, 5, 10, 11 and 12 with 2pm matinees September 29 and October 6. Tickets are $25, $20 concession – book at www.trybooking.com/BACAS.
The heritage-listed Old Mill Theatre is on the corner of Mends Street and Mill Point Road, South Perth (opposite the Windsor Hotel and Australia Post).
---
Serial Productions present
at The Old Mill Theatre
"The Nerd"
Another wonderful comedy written by Larry Shue
who wrote "The Foreigner" which we presented last year.
This play is directed by Joe Isaia, who played "the Foreigner" in last years production
and last directed for Serial Productions the highly successful play "Noises Off"
Booking Link: www.trybooking.com/BDMTU
"THE NERD"
Aspiring young architect, ex-GI Willum Cubbert has often told his friends about the debt he owes to Rick Steadman, a fellow ex-GI whom he has never met but who saved has life after he was seriously wounded in Vietnam.
He has written to Rick to say that, as long as he is alive, "you will have somebody on Earth who will do anything for you,"
so Willum is delighted when Rick shows up unexpectedly at his apartment on the night of his thirty-fourth birthday party.
But his delight soon fades as it becomes apparent that Rick is a hopeless nerd, with no social sense, little intelligence, and even less tact.
Rick stays on and on, his continued presence among Willum and his friends leading to one uproarious incident after another, until the normally
placid Willum finds himself contemplating violence, a dire development which, happily, is staved off by the surprising "twist" ending of the play.
The interview was done by Malti Elliott with one of the co-directors – Joe Isaia.
---
our Divas at a BBQ … KADS next farce is a real cracker
Kalamunda Dramatic Society has staged dramas, comedies, whodunits, musicals, pantomimes and more over its 50 year history, but it is the comedies that the Hills audiences seem to love the most.
KADS last comedy was the hit "Keeping Up Appearances" featuring the hilarious snobbery of Hyacinth Bucket, which went on stage in March 2019 and was completely sold out a month before it opened. Their latest farce "Trivial Pursuits" also looks like it will be fully booked even before the season opens on 19 July.
The play is set at an evening garden barbecue, where the members of the Trealaw Operatic Society are meeting for the announcement of next season's musical theatre production. Unbeknownst to the assembled prima donnas Nick, the society's business manager, has promised the lead role to four different actors. As the evening progresses all hell breaks loose and hilarious farce and moments of slapstick alternate with real drama and touches of human pathos.
Trivial Pursuits is written by Frank Vickery, a very talented Welsh playwright and actor who died in 2018. Author of over 30 comedies and musicals for stage, radio and television, Vickery was well-loved in his native Wales and credited with helping to create a resurgence in Welsh theatre attendance in the 2000's with his musical "Amazing Grace" about the Welsh choral revival of the 90's.
Directed by the Finley Award-winning and hugely experienced Anita Bound, the Trivial Pursuits cast of ten actors bring a combination of many years of experience and some completely new talent to the KADS stage.
Trivial Pursuits runs from Friday 19 July to Saturday 3 August, with performances on Wed, Fri and Sat nights as well as Sun matinees. Tickets start from just $16 and can be purchased online from www.kadstheatre.com.au. Saturday 20 and 27 July are KADS much-loved "fish and chip" nights, where your $31 ticket gets you a great show and a delicious supper at half time courtesy of Kalamunda's well-known fish and chip shop "The Jolly Fryer". KADS also now has great meal + show discount deals with Kalamunda restaurants The Vault and Sublime Spices, which means KADS patrons get a substantial discount on their meal if they present their theatre ticket for the night. See the KADS website for more details.
The interview was done by Malti Elliott with the director Anita Bound
---
August: Osage County
Performances: 21-23 June, 27-30 June & 4-6 July 2019
Winner of the 2008 Pulitzer Prize and Tony Award for Best New Play, August: Osage County centres around the Weston family, brought together after their patriarch, world-class poet and alcoholic Beverly Weston, disappears.
Tracey Letts' play August: Osage County will soon be playing in Perth.
Presented by Playlovers, and directed by Barry Park (pictured), this insightful and compassionate study of an American family in meltdown will be playing at The Latvian Centre Theatre in Belmont from 21st June to 6th July.
This play, which won the 2008 Pulitzer Prize and Tony Award for Best New Play on Broadway, is both intense and deeply funny. One of the best contemporary American dramas, it is "a theatrical juggernaut of epic proportions".
August: Osage County is described as amusing, vicious, compassionate and unrelenting. Tensions heat up and boil over in the ruthless August heat as a fractious family is holed up in the large family estate in Osage County, Oklahoma.
The Weston family are brought together after their patriarch, world-class poet and alcoholic Beverly Weston disappears.
The matriarch, Violet, depressed and addicted to pain pills and "truth-telling," is joined by her three daughters and their problematic lovers, who harbour their own deep secrets, her sister Mattie Fae and her family, well-trained in the Weston family art of cruelty, and finally, the observer of the chaos, the young Cheyenne housekeeper Johnna, who was hired by Beverly just before his disappearance.
Holed up in the large family estate in Osage County, Oklahoma, tensions heat up and boil over in the ruthless August heat.
Bursting with humour, vivacity, and intelligence, August: Osage County is both dense and funny, vicious and compassionate, enormous and unstoppable.
Warning: Coarse language, adult themes, sex & drug use references.
The interview was done by Jane Sherwood with David Cotgreave.
2 free tickets will be given to the person who calls 93752359 first. Can also email malti@westnet.com.au
---
Da
Da is a 1978 comedy play by Irish playwright Hugh Leonard.
The play had its New York City premiere at the off-off-Broadway Hudson Guild Theatre in 1978, and this production transferred to Broadway shortly after the completion of its run.
The play is initially set in Charlie's old home in Dalkey, County Dublin, in 1968. Later, there are numerous flashbacks to times and places remembered from Charlie's youth.
The play is largely autobiographical: its protagonist, an expatriate writer named Charlie, represents Leonard himself. The play deals with Charlie's relationships with the two father figures in his life: "Da" (an old-fashioned Irish nickname meaning "Daddy" or "Papa"), his adoptive father, and Drumm, a cynical civil servant who becomes his mentor.
---
Popular UK sitcom writer delivers comedy to die for
A BLACK comedy at its blackest and best will pose numerous questions for audiences at Limelight Theatre this May.
Written by Eric Chappell and directed by Susan Vincent, Natural Causes follows Vincent, a man from a euthanasia assistance group, who is contracted by Walter Bryce.
When Vincent arrives at a country house, he assumes his painless poison is intended for Walter – or maybe Walter's wife Celia – or possibly both.
"He soon senses something is wrong when he discovers the goodbye notes are left unsigned," Mrs Vincent said.
"Vincent starts to wonder about the role of Walter's attractive secretary, who called for the good samaritan and whether anyone will actually drink the lethal potion.
"There's also a running joke about what's happening to the poor pot plant.
"It's a highly original comedy thriller, full of mistaken identities, hilarious consequences and some great laughs.
"The challenge is keeping the drama realistic while the humorous undertones help to lighten the sinister plot."
A professionally trained actress and singer from the UK, Mrs Vincent trained at the Carona London Stage School and was a pop singer in the 1960s, recording three singles on the Decca label.
She came to WA in 1974 to work for Frank Baden Powell at his old-time music hall and then had an 11-year stint with the WA Opera Company before moving to Kalgoorlie where she worked for ABC radio and a local television station.
Over the years, Mrs Vincent has acted, directed, stage-managed and worked on sets for the Graduate Dramatic Society, Playlovers, Goldfields Repertory and the Old Mill, Bindoon, Melville, Stirling, Limelight, Marloo and Garrick Theatres.
With many awards for acting and directing, she was named best actress in a musical for her role in Blitz! in 2017, also scoring a Finley Award nomination.
Most recently, Mrs Vincent's production of Caught in the Net swept the Limelight Theatre awards, scoring gongs for best production, director, set, actor and newcomer.
"I chose Natural Causes for my next show because I'd always wanted to direct a black comedy," she said.
"I also greatly admire playwright Eric Chappell, who has had many successes in the UK with television sitcoms, such as Rising Damp, and plays in the West End."
Natural Causes plays at 8pm May 9, 10, 11, 15, 16, 17 and 8pm with a 2pm matinee May 11. Tickets are $21, $18 concession – book at www.limelighttheatre.com.au or on 0499 954 016 between 9am and midday, Monday to Friday.
Limelight Theatre is located on Civic Drive, Wanneroo.
---
2019 Season
Delius
10 May – 25 May 2019
​
By arrangement with the author
​
Written and directed by C. Aspden Pomfret
​
A fateful meeting between two very different personalities. Eric Fenby, a devout Christian and young musician, offers his services as amanuensis to his favourite composer, Frederick Delius, a semi-recluse living with his wife in provincial France. Aged, blind, paralyzed and passionately agnostic, Delius' acerbity is intensified by the world's indifference to his music. The two men struggle not only to create art in extremely difficult circumstances, but to overcome their diametrically opposed beliefs.
---
Introducing DTP's Second Production for 2019,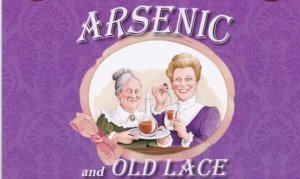 Directed by Brendan Tobin,
with a superb cast of well known local actors;
Jacqui Warner, Michael Hart, Ryan Perrin, Billy Darlington, Kerry Goode,
Tracey Morrison, Richard Hadler, Raymond Egan, Benedict Chau,
Harrison MacLennan and David Seman.
Arsenic & Old Lace written by Joseph Kesselring is a farcical black comedy revolving around the Brewster family,
descended from the Mayflower settlers, but now composed of insane homicidal maniacs.
The hero, Mortimer Brewster (Richard Hadler), is a drama critic who must deal with his crazy, homicidal family and local police in Brooklyn,
New York, as he debates whether to go through with his recent promise to marry the woman he loves,
Elaine Harper (Tracey Morrison), who lives next door and is the daughter of the local minister…
Arsenic & Old Lace plays at 7:30pm May 3,4,8,10,11,15,17,18,22,24 and 25 with 2pm matinees May 5,12 and 19.
Tickets are $22, $20 Concession, $18 Members
BOOK ONLINE NOW on www.trybooking.com/ZYTB
or call 0490 098 552 or visit www.marlootheatre.com.au
Marloo Theatre is located at 20 Marloo Road, Greenmount (off Innamincka Road).
---
The Merchant of Venice
A contemporary adaptation of Shakespeare's The Merchant of Venice is sure to resonate with modern audiences, in light of today's far-right extremist groups and recent anti-Semitic attacks.
Presented by the Graduate Dramatic Society at UWA's New Fortune Theatre, this version is set in 1938 and directed by Lucy Eyre.
The story follows Portia, heiress to a large fortune and forced into marriage by an unorthodox method, stipulated by her late father. This attracts suitors from all over the world, which sets in motion a fateful transaction.
Merchant Antonio must default on a large loan from Shylock, a Jewish moneylender he abused and, in turn, the vengeful creditor demands a gruesome payment. The demand tests the laws of Venice at a time when the rise of fascism in Europe threatens to quash the Venetians' bohemian lifestyle, while strengthening anti-Semitic attitudes.
The Merchant of Venice plays at 7.30pm March 7, 8, 9, 10, 13, 14, 15 and 16. Tickets are $35, $25 concession – book at www.ticketswa.com/event/merchant-venice or call 6488 2440 between 12pm and 4pm weekdays. Please note: the play contains adult themes and anti-Semitic language and is recommended for ages 12 and up.
The New Fortune Theatre is located at the University of WA, 35 Stirling Highway, Crawley.
---
ON OUR SELECTION
by Steele Rudd
Originally published in 1912, this play is described as Australia's only successful folk comedy, having been performed hundreds of times and in many countries ever since.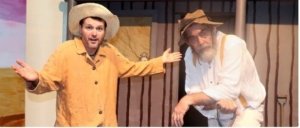 Told from the viewpoint of the original Aussie Battlers, a family of pioneer subsistence farmers, their friends and acquaintances, it contains a winning combination of theatrical ingredients, including life and death struggles, love triangles and political crusades, triumphs and tragedies, beauty, cruelty, heroes, villains, fools and fortune-tellers – and of course – a big bush bash finale. What more can an audience ask for?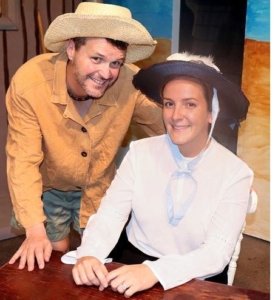 The cast of characters is long – some actors will undoubtedly be doubling up – 14 males of all ages and 5 females – 2 mature and 3 young. The central characters are Dad and Mum Rudd, their sons Dave and Joe and daughters Sarah and Kate. Then there is Dad's nemesis, Carey, his son Jim and various neighbours and petty officials.
Director Pete Nettleton (The Bald Pima Donna, The Trial of CY O'Connor), first read Steele Rudd's short stories as a schoolboy and has for years been looking for the right opportunity to mount this play. Recently, while helping move ArenaArts into its new home, he was struck by the murals on the rear walls of the building, came up with the idea of using them as the backdrop for an outdoor production, then realised that On Our Selection was just the play to fit the bill.
There will be a 'come-all-ye' reading of the play at the Roxy Lane Theatre on Wednesday 14th November 2018 at 7.30 pm. An audition call will follow.
---
Post-war family conflict provides spirit for comedy
After You've Gone
A PLAY from a multi-award-winning actor, director, writer and stand-up comedian is on offer at the Old Mill Theatre this February.
Written by Sue Ingleton and directed by Trevor Dhu, After You've Gone is a comedy set in 1946 in a large country town.
The town square is dedicated to dead hero Harold, followed by an evening supper and a gathering of World War II survivors.
But the event becomes a place of turmoil as friends, both alive and ghost-like, appear to cause retribution for a mysterious death – and then Harold turns up alive and well.
Playwright Ingleton has appeared as an actress in Neighbours, Halifax f.p., A Country Practice and the film version of Dimboola – but is often remembered for her role as Bill Rawlings, the pregnant man, in Australia You're Standing In It.
In 1985, she was nominated for the Perrier Award at the Edinburgh Fringe Festival.
"The play is about four sisters, all lost in relationships," Dhu said.
"They have no love for their children, nor the men that have been in their lives, and are bitter and confrontational towards each other.
"The time period was difficult and that has to be re-created in the portrayals from the cast.
"As a result, the challenge is to showcase the conflict realistically, especially among the younger cast members, and highlight how these people were victims of the time."
Involved in the performing arts for as long as he can remember, Dhu has worked with Patch and Playhouse Theatres, Perth City Ballet and did extensive professional work with the Australian Dance Theatre in the eastern states.
He has directed, choreographed and acted in various productions at the Mandurah Performing Arts Centre – most notably West Side Story and Jesus Christ Superstar – and has also performed and directed at Harbour, Roleystone, Old Mill and Melville Theatres.
More recently, Dhu has directed Last Cab to Darwin, Summer of the Seventeenth Doll, Closer, Venus in Fur, Barefoot in the Park and Spike Heels.
With After You're Gone, he said could relate to the script because he was a post-war baby himself.
"I relate to the angst of women confronting parenting after the war," Dhu said.
"For women during the war, marriage was often based on convenience or a shortage of possibilities for real relationships with many Australian men off fighting."
After You've Gone plays at 7.30pm February 15, 16, 21, 22, 23, 28, March 1 and 2 with 2pm matinees February 17 and 24. Tickets are $25, $20 concession – book at www.trybooking.com/BACAP or call 0475 895 701.
The heritage-listed Old Mill Theatre is on the corner of Mends Street and Mill Point Road, South Perth (opposite the Windsor Hotel and Australia Post).
McAskil plays lead role in searing revenge drama
Seasoned South Perth actor Dean McAskil is playing the lead role of Eddie Carbone in a forthcoming production of Arthur Miller's dark and passionate classic drama set on the Brooklyn waterfront.
Presented by the Graduate Dramatic Society, the great American classic A View from the Bridge will be playing for a very short season this October at UWA's Dolphin Theatre.
This passionate drama of desire, jealousy and betrayal has recently thrilled audiences in London and Broadway revivals.
McAskil says, "Eddie Carbone is a longshoreman living on the waterfront in Brooklyn, New York. He is a casual labourer who physically unloads the ships. It is low-paid, back breaking, dangerous work with no security, in an industry run by organised crime.
"Yet he is an honest man and proud of his work. He defines himself by that masculine space and his home where he is a king attended by a loving wife and an adoring niece.
"Then something happens that fundamentally threatens the place he has made for himself in the world. That challenge exposes a truth that he cannot act on, or even acknowledge, without destroying his family or himself.
"His delusion and progress towards self-discovery play out with devastating consequences and his cataclysmic downfall is shattering."
McAskil says that although he is a simple labourer, Eddie is the most complex character he has ever played. "He is a good man fighting self-knowledge for his life."
He observes, "I love twentieth century American theatre. It is not performed enough in Australia, but I think it was written during a time when, despite the depiction of a very conservative society on the screen, playwrights like Miller exercised far more freedom to challenge audiences. This is certainly a very challenging play."
McAskil has performed in dozens of productions, both professional and community. He first appeared on stage in community theatre at the age of fifteen as a willing stage hand corralled into an unwilling walk on part in Fiddler on the Roof (circa late 1970s) for Theatre Eight at the Town Hall in Geraldton.
He recently won a Plover Award (Playlovers) for best actor, in Other Desert Cities. Other productions ha has appeared in recently include: Bad Girls (Blak Yak Theatre), Wolf Lullaby (The Old Mill), and in Songwriter and Tinder Hearts (Fringe for ACPC.)
Barry Park who is renowned for his skilful productions directs the play.
"This is a rare opportunity to see this transfixing American tragedy," Park says. "A View from the Bridge is a superbly crafted play and every moment is riveting.
"It will appeal to all theatre lovers, students too, particularly those who love fascinating adaptations of great American plays.
"It's as relevant today as when it was written, as it's an intense family drama that concerns the hot topic of illegal immigration.
"It's clear from the opening scene that something awful is going to happen and the audience watches helplessly as the cataclysmic events unfold. It's like a modern Greek tragedy.
Several plays Park has directed have won awards, including his production of M. Butterfly, which won gongs for Best Director and Best Play at WA's annual Finley Awards in 2012.
His production of Other Desert Cities and Broken Glass were also nominated for these awards, and The Real Thing and Cat on a Hot Tin Roof both had several nominations.
Park said he is delighted to have assembled a very strong cast for A View from the Bridge, which features Dean McAskil, David Cotgreave, Sally Barendse, Grace Edwards, Thomas Dimmick, Judd Millner, Emerson Brophy, Neale Paterson and Matti Helm.
The play runs for a very limited season at the Dolphin Theatre, UWA at 7.30 pm on 17, 18, 19, 20 October and there is a matinee at 2pm on Saturday 20 October
The Dolphin's Box Office will be open an hour before each performance if tickets are available.
Book at ticketsWA.com
Or by email info@ticketsWA.com
By phone 08 6488 2440 (Call between Noon and 4pm on weekdays, but not on public holidays)
By post: ticketsWA, M416, 35 Stirling Highway, Crawley WA 6009
Standard auditorium: $35
Concession (pensioners and seniors) auditorium: $25
Stage seating* $20
Groups of 10+: $20
The Dolphin Theatre is located within the University of WA with entry from Mounts Bay Road or Hackett Drive. Parking is free. The production is by arrangement with Hal Leonard Australia Pty. Ltd., on behalf of Dramatists' Play Services, Inc. New York
The interview was done by Malti Elliott with the lead actor Dean McAskil.
---
One Night Stand Off
Comedy pulls back the sheets on the morning after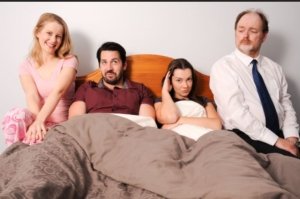 A HILARIOUS exploration of 21st century singles and social graces beds down at the Shenton Park Community Centre this August, as part of Blak Yak Theatre's latest offering. [note to subs: there is no 'C' in Blak Yak]
Written by Perth playwright Martin Lindsay and directed by Dr Melissa Merchant, One Night One Day is a modern farce about the chances people take – and the regrets they have over chances they miss.
Greg and Rachel are both in their late 20s, feeling pressure from family and friends to find "the one" and, instead, find each other.
After a heavy night of drinking, they wake up in bed together with little memory of what happened the night
.
With the help of Bob and Jane, they try to piece together the details from the previous night.
"I've spent a lot of time recently researching theatre from the past and I really wanted to rejoin the 21st century," Merchant said.
"Martin Lindsay's plays are very funny and when I heard he was adapting his award-winning one-act play One Night Stand Off into a full-length play, I knew it would be something I'd want to direct.
"I also wanted to work with a small cast and have been so lucky to have such a wonderful and experienced group working on the play."
Active in theatre since 1995, Merchant has worked with Heritage, Kwinana, Harbour, Melville, Blak Yak, Roleystone, Old Mill, KADS, Garrick and Marloo Theatres, Murdoch University and the Graduate Dramatic Society.
She received a best actress award for her role in Insignificance in 2006 at the annual Garrick Theatre awards, as well as scoring a best actress nomination for No Names… No Pack Drill at the 2015 Milly Awards.
In 2006, Merchant directed a stage adaptation of the TV show Coupling, winner of best ensemble cast at the South West Drama Festival – and she was named best writer for her play Never Ever at the same festival in 2015.
She says the main challenge with One Night One Day is the logistics of the action, despite the set being deceptively simple.
"As with any farce, the timing of the action is crucial so, to work out the specifics, we had to rehearse in an actual bedroom," Merchant said.
One Night One Day plays at 8pm August 9, 10, 11, 16, 17 and 18 and 7pm August 12. Tickets are $25, $22 concession – book at www.trybooking.com/WYNK.
Please note: the play has adult themes, mild coarse language and the potential for nudity.
Shenton Park Community Centre is at 240 Onslow Road, Shenton Park.
The interview was done by Jane Sherwood with the Director Melissa Merchant.
---
THE FIERCELY FUNNY, GROUNDBREAKING, SMASH HIT PLAY COMES TO PERTH!
A group of men gather in an Upper East Side apartment for a friend's birthday party. An unexpected guest and a street hustler arrive. The drinks are poured and the music is turned up. The evening slowly exposes the fault lines beneath their friendships and the self-inflicted heartache that threatens their solidarity. Secrets are revealed, arguments are unearthed, and blows are thrown, culminating in a shocking game.
This fiercely funny, ground-breaking American play, the first truly honest portrayal of the lives of contemporary gay men, was recently successfully revived on Broadway. Shocking mainstream audiences, it premiered Off-Broadway in 1968, running for 1,001 performances and was subsequently made into a successful feature film with the original cast. At a time when gay characters were seldom seen in commercial media except as crude stereotypes, this play presented a well-rounded view of what critics of the day referred to as 'the homosexual milieu.'
Half a century later, the play is as entertaining, bold, and inspiring as ever. This production is directed by award-winning director Barry Park.
By arrangement with ORiGiN™ THEATRICAL, on behalf of Samuel French Inc.