I Love You, You're Perfect, Now Change
I Love You, You're Perfect, Now Change is a witty musical revue that tackles modern love in all its forms.: from the perils and pitfalls of the first date to marriage, children, and the twilight years of life. Set in the modern world and told in a series of vignettes and songs I Love You, You're Perfect, Now Change traces the overall arc of relationships throughout the course of a life. An insightful and hilarious musical, I Love You, You're Perfect, Now Change will have audience members shouting, "This is my life!"
Beauty and the Beast
Disney Beauty and the Beast is coming to the Regal Theatre from 27 March for four magical performances.
Iona's performing arts students invite audiences to "Be Our Guest," as they bring this heart-warming tale to life, with extravagant dance numbers and an award-winning score.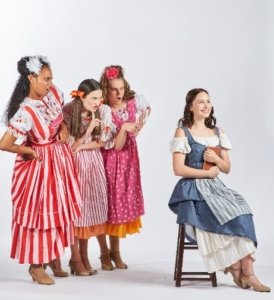 "The music is enchanting and brings back the memories of watching the magical Disney film as a little girl," said Tabitha Kerlin (Belle).
"What I love about the dance numbers is the way in which our talented choreographer, Coby Brant, has created magical and fast paced numbers, filled with energy – there is never a dull moment!" said Jessica Cullity (Mrs Potts).
Based on the Academy Award-winning animated feature, the stage version includes all of the original songs written by Alan Menken and the late Howard Ashman, along with new songs by Mr. Menken and Tim Rice. It was winner of Best New Musical at the 1998 Olivier Awards and was nominated for nine Tony Awards, including Best Musical.
"It is a beautiful and energetic musical with a wonderful sentiment; there's more to a person than what meets the eye," said Eliza Chaney (Lumiere).
The musical tells the tale of a selfish prince who is magically transformed into a hideous beast as punishment for his unkind ways. To avoid remaining a beast for all time, he must break the spell by learning the meaning of true love.
"Belle brings out the best in the Beast, teaching him to be kind and to follow his heart. The unique bond shared between the two is an example of how one shouldn't judge a book by its cover,"said Tabitha Kerlin (Belle).
"The energy, talent and enthusiasm the cast have for this production, along with the experience and innovation of the creative team, will ensure this is a highly entertaining show for all ages," said Joshua Brant, Iona's Director of Performing Arts.
Iona has a decade-long history of producing exceptional musicals at the Regal Theatre. For your chance to see this family-friendly and heart-warning show, visit ticketek.
"Spectacular costumes, familiar tunes from the original Disney movie, massive dance numbers and a story with warmth, humour and romance; that is what our audiences have to look forward to," commented Joshua Brant.
---