Seven Little Australians
Seven Little Australians is an Australian musical with music by David Reeves, lyrics by John Palmer and Reeves and book by Reeves, Palmer and Peter Yeldham. Based on Ethel Turner's best seller classic tale of the same name and loved by young and old since 1894. Audiences will share in the tears and triumphs of the Woolcot family and admire the musical score. The handsome and elegant Captain Woolcot, a widower, has remarried and his new wife is not much older than his eldest daughter. Very quickly, 'the General' is born, a seventh mouth to feed. The children under the leadership of free-spirited daughter Judy, work up a comical mischief as they try to fret and please their father. What will the Captain do to try and reign Judy in? Award winning director, Kimberley Shaw, who has been involved with theatre all her life, is at the helm of this enchanRng producRon with Samantha Ashman on board as Musical Director. Kimberley is President of the Independent Theatre Association and is also the Western Australian writer and reviewer for Stage Whispers Magazine. A director with over thirty years' experience, Kimberley had received many accolades including four times directing the winning musical in the Finley Awards, and winning DramaFest and YouthFest multiple times, including taking out Best Production and Best Director in the 2021 Finley Awards for her production of Into the Woods, and Best Production for Curtains in the 2022 Awards. Seven Li(le Australians, the musical, is sure to have you laughing and shedding a tear. It is relevant today as it was when the book was first released over a century ago
The interview was done by Chris Durrant with the director of the play Kimberly Shaw
CATCH ME IF YOU CAN
WA PREMIERE: Based on the hit DreamWorks film, this splashy musical theatre spectacle follows the high-flying adventures of a globetrotting con artist.
Seeking fame and fortune, precocious teenager, Frank Abagnale, Jr., runs away from home to begin an unforgettable adventure. With nothing more than his boyish charm, a big imagination and millions of dollars in forged checks, Frank successfully poses as a pilot, a doctor and a lawyer – living the high life and winning the girl of his dreams. When Frank's lies catch the attention of FBI agent, Carl Hanratty, though, Carl pursues Frank across the country to make him pay for his crimes.
Nominated for four Tony awards, including Best Musical, this delightfully entertaining show was created by a Tony Award-winning "dream team," with a book by Terrence McNally (The Full Monty, Ragtime) and a swinging score by Marc Shaiman and Scott Wittman (Hairspray).
Catch Me If You Can is a Koorliny Arts Centre and Kwinana Industries Council 2023 Performance Season production.
Tuneful songs in a breezy range of '60s styles… ~ The Hollywood Reporter
DATES: June 9, 10, 14, 15, 16 & 17 @ 7.30PM
MATINEES: June 10 & 17 @ 2PM
The interview was done by Chris Durrant with the director Katherine Friend.The interview was done by Chris Durrant with the director Katherine Friend.
A Salama Odyssey
Following their debut, sold out feel-great show about their Creole roots, Salama is back with a suitcase full of colourful stories and songs as they embark on a soulful journey where they explore with humour their origins, culture, friendships, and ultimately, who they are. Experience musical storytelling with a Creole twist, in their captivating and powerful rhythms, joyful chants and vibrant island moves.
Presented by:
Salama
Salama band is a cosmopolitan collective of Indian Ocean natives and other artists of diverse origins, all sharing a passion for Maloya, a traditional percussion-based music from Reunion Island, which finds its roots in the island's complex and painful history. Today Maloya is associated with ancestry, being Creole and blissful freedom. Salama is fortunate to be pioneering in the sharing of the powerful and magical Maloya in Australia. The comrades in and outside of Maloya proudly bring original musical shows, skillfully blending the traditional and modern, and sharing stories of joy and nostalgia and everything in between.
The interview was done by Malti Elliott with the artistic director Muriel Hillion.
THE WESTERN JUKEBOX
SHOWING SOON: January 19 – 22
Presented by Playlovers
Venue: The Actors Hub, East Perth
Written and devised by Alex McLennan
Radio station, PLAY FM's
Country and Western "Hour of Power"
is sure to tickle your Texan funny bone and then be taken on an educational journey through the world of the Jukebox musical with a little bit of audience input thrown in for good measure!
The interview was done by Chris Durrant with the director Alex McLennan.
Anne of Green Gables
Anne of Green Gables is a classic story written by Lucy Maud Montgomery. It was the first book in a series, written between 1908 and 1939.
The story is set on Prince Edward Island in Canada. This youth musical is lovingly based on the timeless classic with its unforgettable characters, and it brings the comical adventures of spunky red-headed orphan Anne Shirley to life, as she wins over her new family and the people of Avonlea, with her spirit and imagination in this heart-warming story about love, family, and home.
Anne of Green Gables is Fran Gordon's fourth youth musical at Stirling Theatre, and she is delighted to be directing this show. Fran is a life member of Stirling Players and is currently president.
Playing Dates: September 16, 17, 22, 23, 24, 30 and October 1 at 7.30 pm
Matinees: September 18, 24 and 25 at 2 pm
Bookings open July 19 through
Trybooking.com/BUQHO Groups of 10 or more can book on 0411 858 304 during office hours
Tickets: $22 full, $20 concession, $18 members
The interview was done by Chris Durrant with the director Fran Gordon
American Idiot
Green Day's American Idiot
Music by Green Day
Lyrics by Billie Joe Armstrong
Book by Billie Joe Armstrong and Michael Mayer
Presented by The Midnite Youth Theatre Company
Directed by Gregory Jones
Musical Direction by Jarrad Van Dort
The explosive rock musical!
This Tony Award-winning, energy-fueled rock opera follows three friends, each searching for meaning in a post 9/11 America, discovering love, loss, drugs, sex and rock and roll along the way. Green Day's American Idiot features every song from Green Day's multi-platinum album of the same name, including 'Boulevard of Broken Dreams', 'Wake me up when September Ends', 'Holiday' and 'American Idiot'. Come and discover what all the noise is about.
When
18 to 20 August, 7pm
20 August, 2pm
Venue
Subiaco Arts Centre
Bookings
Panawathi Girl
Saddle up for the next big Black musical. Set in a small town in the northwest of Western Australia in the 1960s, Panawathi Girl overflows with wild joy as hippies and cowboys, politicians and protesters fuel an all-singing, all-dancing night of entertainment.
Written by David Milroy, the much loved playwright behind Waltzing the Wilarra, and featuring an all-star cast of WA talent, this music-filled journey is brimming with heart and humour. Follow our heroine Molly Chubb from the big smoke back to the small country town of her birth as she searches for her place in the world.
Set amidst a time of great political change, this bold new production from Yirra Yaakin will have you questioning if much has changed at all, even as it has you tapping your toes and yearning for more.
Presented by Yirra Yaakin Theatre Company
The interview was done by Malti Elliott with Laila Mcguire.
Treasure Island
Treasure Island The Panto at Garrick
The ingredients for a traditional English pantomime are quite simple. Take a large man dressed unconvincingly as awoman; a lissom young woman dressed as a boy; two intellectually challenged bods called Willy and Nilly, Hustle and Bustle, Hither and Yon, or something similar; add in lots of music, slapstick and broad humour of the slightly Carry On sort and you have two hours of glorious fun for all ages.
Audience participation is required (Oh no, it's not! – Oh yes, it is!), disbelief must definitely be left at the door and this uniquely British entertainment can be enjoyed by the young and young at heart.
As a tradition, it can be traced all the way back to the Commedia Dell'arte of sixteenth century Italy, although as we now know it has developed many modern conventions.
This tradition is alive and well at the Garrick Theatre (named for David Garrick,who revolutionised theatre into the form we know today). In 2019 they produced the multi-award winningPuss in Boots and the Christmas offering this year is Treasure Island – The Panto by Ben Crocker.
Directed by Douglas Sutherland-Bruce (who also directed Puss in Boots) it conforms very much to the traditional British standard, this time focussed around the much-loved classic by Robert Louis Stevenson Treasure Island, with a wonderful villain in Long John Silver (Rob McDonnell) trying to outwit Mother Hawkins (Gavin Crane, making a repeat performance as the Dame) and his young lad, Jim (Olivia Fellows); the Squire (Ken Harris) and his delectable daughter, Jenny (Katelyn Barr) all while searching for a fortune in gold.
In this he is aided by his aged parrot, Polly (Fiona Forster); a gang of pirates and the ladies of the Smugglers Cove Women's Institute, who have gone buccaneering for a lark.
Musical Direction is by Christopher Steicke and chorography is by Sophie David.
Director Sutherland-Bruce: 'Panto is important, as it is often the very first time children are exposed to live theatre in any form. Laurence Olivier, Maggie Smith and Judi Dench all have said that the first time they saw theare was a Christmas Panto and it changed their lives. Also it's a lot of fun – hard work and fun.'
Full of song, dance, ghosts, laughter and the purest kind of entertainment Treasure Island The Panto opens at Garrick Theatre, 16 Meadow Street, Guildford on Thursday the 18th November and runs until December 11th, matinees at 2:00pm and evening shows at 7:30pm.
Tickets cost $25 and may be purchased online at Trybooking and directly by ringing Elaine on 0406 231 145.
Book now, as tickets are selling fast.
The interview was done by Chris Durrant with the director of the pantomime Douglas Sutherland Bruce.
100 reasons for war
Roxy Lane Theatre presents
"100 Reasons For War"
Written by multi-award winning playwright Tom Holloway
Directed by Cassidy Bodenham

Venue: Roxy Lane Theatre
55 Ninth Ave, Maylands (corner Roxy Lane)

Performance Dates & Times:
October 22, 23, 29, 30, November 5, 6 @ 7:30pm
October 24, 31, November 7 @ 2pm

Tickets: $20 Full, $16 Concession,
Groups 10+ $15 each
transaction fee applies
Bookings: Book Online or ph TAZ Tix 9255 3336
This is no battlefield drama or period piece. Holloway's war is played out in the here and now, in kitchens and classrooms, boardrooms and bars. A big play about big things.
It's a dense, poetic, funny, angry and poignant theatrical work encompassing the Big Bang, the violence of language, quantum mechanics, Sigmund Freud's nephew, remote controls, ceramic bowls, Gallipoli, electricity, terrorism, Bliss Symbolics, colonial wars, love, coral, epilepsy, evolution, sex, faith, children and chimpanzees.
Content warning: suggested domestic violence and language warning
More information soon.
Featuring: Amalea Lawrence, Lynden Hughes, Ashvath Kunadi, Kerri-Anne Mulley, Michael Hart, Tristan Peers, Clare Alarson, Jahdal Baker, Milli Higgins, Sueanne McCumstie and Anya Pia.
Venue: Roxy Lane Theatre
55 Ninth Ave (cnr Roxy Lane), Maylands
Performance Dates: October 22 – November 7
October 22nd, 23rd, 29th, 30th, November 5th, 6th – Shows start at 7:30pm
October 24th, 31st, November 7th – Shows start at 2pm
Doors open 30 min prior.
Please arrive at the box office to check in Cash/Card bar
The interview was done by Malti Elliott with the director Cassidy Bodenham
I Love You, You're Perfect, Now Change
I Love You, You're Perfect, Now Change is a witty musical revue that tackles modern love in all its forms.: from the perils and pitfalls of the first date to marriage, children, and the twilight years of life. Set in the modern world and told in a series of vignettes and songs I Love You, You're Perfect, Now Change traces the overall arc of relationships throughout the course of a life. An insightful and hilarious musical, I Love You, You're Perfect, Now Change will have audience members shouting, "This is my life!"
Beauty and the Beast
Disney Beauty and the Beast is coming to the Regal Theatre from 27 March for four magical performances.
Iona's performing arts students invite audiences to "Be Our Guest," as they bring this heart-warming tale to life, with extravagant dance numbers and an award-winning score.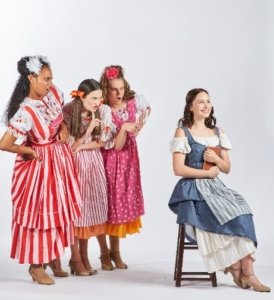 "The music is enchanting and brings back the memories of watching the magical Disney film as a little girl," said Tabitha Kerlin (Belle).
"What I love about the dance numbers is the way in which our talented choreographer, Coby Brant, has created magical and fast paced numbers, filled with energy – there is never a dull moment!" said Jessica Cullity (Mrs Potts).
Based on the Academy Award-winning animated feature, the stage version includes all of the original songs written by Alan Menken and the late Howard Ashman, along with new songs by Mr. Menken and Tim Rice. It was winner of Best New Musical at the 1998 Olivier Awards and was nominated for nine Tony Awards, including Best Musical.
"It is a beautiful and energetic musical with a wonderful sentiment; there's more to a person than what meets the eye," said Eliza Chaney (Lumiere).
The musical tells the tale of a selfish prince who is magically transformed into a hideous beast as punishment for his unkind ways. To avoid remaining a beast for all time, he must break the spell by learning the meaning of true love.
"Belle brings out the best in the Beast, teaching him to be kind and to follow his heart. The unique bond shared between the two is an example of how one shouldn't judge a book by its cover,"said Tabitha Kerlin (Belle).
"The energy, talent and enthusiasm the cast have for this production, along with the experience and innovation of the creative team, will ensure this is a highly entertaining show for all ages," said Joshua Brant, Iona's Director of Performing Arts.
Iona has a decade-long history of producing exceptional musicals at the Regal Theatre. For your chance to see this family-friendly and heart-warning show, visit ticketek.
"Spectacular costumes, familiar tunes from the original Disney movie, massive dance numbers and a story with warmth, humour and romance; that is what our audiences have to look forward to," commented Joshua Brant.
---