THE BOOK CLUB – THE NEXT CHAPTER
When the story begins the best friends, Vivian (Jane Fonda), Carol (Mary Steenburgen), Sharon (Candice Bergen), and Diane (Diane Keaton) are each dealing with life-changing situations and the global shutdown in different ways. But no matter what life throws at them– retirement, heart attacks, or pet loss, these four are still there for each other. When Vivian announces she is engaged to Arthur (Don Johnson), the friends immediately devise a plan to take a once-in-a-lifetime trip to Italy, something that they have wanted to do together for decades. This girls' trip/bachelorette getaway doesn't go as smoothly as they would like but as long as they have each other, life couldn't be sweeter.
Directed by Bill Holderman, written by Holderman and Erin Simms, this sequel is even more of a heightened fantasy than its 2018 predecessor. It will require tossing aside every scrap of disbelief and grabbing onto a glass of prosecco instead, but that doesn't mean that it can't also be a touching story about the importance of lifelong friendships. When Vivian (Fonda) grasps her girls in a group hug and declares them her "soul mates," it's hard not to be at least a little bit moved by their bond, a lively balance of pleasure-seeking, hapless adventure and a healthy dose of tough love.
The stylish seniors have returned: salty Candice Bergen, 77, sex-bomb Jane Fonda, 85, flibbertigibbet fashionista Diane Keaton, 77, and down-to-earth Mary Steenburgen, 70. When Fonda's swinging single decides to finally tie the knot with dapper Don Johnson, 73, her best bookish buddies grab their chardonnay and plan the over-the-top confab of fictional fantasies. They head to Tuscany, land of Under the Tuscan Sun (and so many other Italian escape fantasies). Once there, the women are ogled, robbed, wine-drunk and, yes, jailed! It's all in good fun, though, as the old friends celebrate ushering their soul sister to the altar amid the twists and turns of woman's romance fiction.
I would like to end with the words of ASHLEY SAUNDERS who says of the film Book Club The Next Chapter is a funny, heartwarming good time that is likely to be seen as a sign to more than one group of besties to "take the trip." It isn't out here to break box office records or start a decades long franchise, which is a relief. Rather it is there to entertain and prove that women, especially those above middle age are more than just moms or grandmothers. They are fierce, loyal, and hilarious humans who have plenty of life left to live. While older men consistently show up as headliners with love interests half their ages, it is rare to see films show this side of women at all. The Next Chapter is just one film aiming to change that, but I hope it is a sign that more will follow. I may not be middle aged, but I can appreciate wise, snarky, and powerful women doling out some important life lessons all while looking absolutely fabulous.
POLITE SOCIETY
Polite Society is a thrilling ride that captures the rage of a teenage girl perfectly. The exciting action sequences three dimensional characters and an unusual plot that elevated this new film from polite to delight. The film makes clever commentary about modern feminism and how inspirational culture affects people. It talks about what happens when families are split between tradition and modernism and how to find a balance between the two.
The movie follows two British Pakistani girls – the younger Ria (Priya Kansara) and the other slightly older Lena (Ritu Arya) as they struggle, each in their own way to navigate early adulthood. Ria wants to become a martial artist and future stuntwoman following in the footsteps of her idol.
Lena on the other had has had her dreams of becoming a painter crushed and has therefore lost confidence in herself. Much to Ria's disappointment Lens decides to marry Salim (Akshay Khan) scion of a wealthy family and a doctor in genetics. Ria's gut feeling tells her that this marriage will never work, so she decides to sabotage the nuptials and mayhem ensues.
Inconsistencies and contrivances to set up a plot, point or joke abound, many of which don't hit as solidly as Ria's punches. But if you are willing to suspend belief as well as Ria can suspend her kicks in mid-air, you're in for a joyous caper.
Some of the best comic bits come courtesy of Ria's two close friends Alba ( Ella Bruccoleri) and Clara ( Seraphine Beh) without whom the increasingly elaborate plan to set Lena back on the right path would never work. Joined later by the school bully Kovacs( Shona Babayemi) the team start to dig up some dirt on Salim. However unfortunately he appears perfect in every way and it looks like Lena will end up being his wife. Then comes the great shock – I won't be a spoiler and inform you about the end but suffice to say it is completely unexpected.
I would like to end with the words of Chris Reed who says that polite Society indicates that nothing is worth giving up freedom for There is a moment in every life for leaving pleasantries behind and that time for Lena and Ria is now.
***1/2
SISSI AND I
Sisi & I is a 2023 historical black comedy film written and directed by Frauke Finsterwalder and co-written by Christian Kracht, starring Susanne Wolff as Empress Elisabeth of Austria and Sandra Hüller as Countess Irma Sztáray. It tells a fictionalized story of Empress Elisabeth of Austria from the point of view of her lady-in-waiting, Irma Sztáray. The film is an international co-production between Germany, Switzerland and Austria. Sisi & I made its world premiere in the Panorama section of the 2023 Berlin Film Festival on 19 February 2023. It was released theatrically in Austria by Panda Film, and in Germany and Switzerland by DCM on 30 March 2023.
The film received four nominations for the German Film Award, including Best Actress for Sandra Hüller according to Wikipedia.
Finsterwalder the writer of the film describes it as a feminist film full of biting dialogue – a gripping drama with elements of deep black comedy. She also says it is a wild interpretation of the "Sissi"myth and was not bothered by historical facts.
It has been said that Empress Elizabeth was a radical, intelligent women who was born a century too early.
The film also tries to find answers to the Aristotelian question "What is friendship? Why are friendships made? Out of sympathy? Out of love or calculation and what happens to friendship and love when the power is unbalanced as in the case of Sissi's maid in waiting.
Sissi was considered a beauty queen and influencer in her day, She was renowned for her extensive skincare and dieting regimes. She hated the thought of growing old and undertook a gruelling exercise regime till she was 50 years old to maintain her 18" waistline.
Often compared to the late Diana, Princess of Wales, Sissi inspired adulation in the public, with many institutions in Vienna still named after her to this day. She also endured much tragedy throughout her lifetime, from the loss of her baby daughter, Sophie, to the early death in a murder-suicide of her eldest son and heir to the throne, Rudolf, with his lover, Mary Vetsera. In 1898, at the age of 60, she was stabbed to death by an Italian anarchist while visiting Geneva in Switzerland.
Although not factual the film has an interesting story and all the splendour and pomp and intrigue of living in a royal household is interestingly documented.
The film is part of the German film festival. It is one of the many films that definitely deserve to be seen.
TILL
Till is about Mamie Till's tragedy that occurred in the America's racist South in the 1950's in Mississippi.
Mamie Tills is living in Chicago with her 14 year old son Emmett (Jalyn Hall). After her husband's death in World War Two, she is the only black woman working for the US Air Force and except for the occasional racist remark from a pushy shop keeper, her life is relatively smooth.
Then Emmett asks his mother if he could visit his cousin's in Mississippi. Mamie Till warns Emmett not to look at or talk to any white person in Mississippi because the rather relaxed rules that apply in Chicago definitely do not work in Mississippi. "They have a different set of rules for Negros over there" says Mamie
After Emmett talks to Carolyn Bryant (Haley Bennett), the white cashier at a local grocery store, the inevitable occurs. Bryant's husband and a couple of his friends kidnap Emmett from his great uncle's house and only many days later is his body recovered from the river, badly scarred and bruised, evidence of the brutal beating he was given.
The film's Nigerian born director Chinonye Chukwu and her screen writing team make a wise decision in having the murder off- screen. The intention is to deal with its aftermath and there is enough horror to witness as part of that.
Chukwu's emphasis from here is on Mamie's stricken resolve that takes shape with her insistence that Emmett's disfigured body retrieved from the Tallahatchie River be returned to Chicago for the public to bear witness to the horrific punishment meted out to her beloved son.
Mamie is like a lioness, her grief at the reality of his coffin, after it opens erupts in a howl of despair and her communion with his bloated corpse is so personal to witness that this scene is like a violation of one's privacy.
In 1955 Mamie Till helped turn her son's death into a pivotal event in history of the civil rights movement, with her decision to have an open casket at his funeral. The photograph of this horribly battered face was then sold to Jet, a news magazine for the black community. She was determined that the whole country be shown what she was forced to endure.
I like to end with the words of Sandra Hall of the Sydney Morning Herald who writes "Till distinguishes itself with intimacy of its approach. The numerous close-ups also provide a luminous beauty and of course Deadwyler displays a deep understanding of Mamie's grief and her desire to make her son's death serve a useful purpose."
****1/2
Champions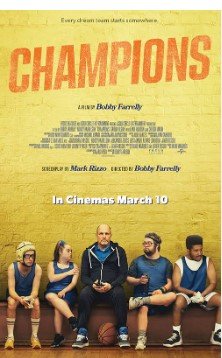 Champions is a film where a group of kids with intellectual disabilities get coached by a G league assistant basketball coach who dreams of working with the NBA but whose past actions and bad temper have tarnished his reputation. After a drunken driving incident lands him in legal trouble, Marcus is given a court ordered community service coaching a basketball team with intellectual disabilities. At his DUI hearing he's faced with a choice: get comfortable in prison for 18 months or spend 90 days fulfilling a community service sentence by coaching "The Friends" – a community team comprised of men and women with Down syndrome, traumatic brain injuries and other assorted injuries. Of course Marcus chose the latter and after initial resentment learns to eventually embrace these kids thereby becoming a better human being.
The film is based on a 2018 Spanish film of the same name that is essentially a feel good sports movie about coming together. It is inspired by an actual events story of a disgraced basketball coach forced to train a squad of intellectually disabled players.
Marcus (Woody Harrelson) befriends aspiring coach Sonny (Matt Cook) in the hope of advancing his own career. However, love and life gets in the way and he meets local Shakespearean actress Alex (Kaitlin Olson) on a dating site. He pals up with her because she has "Needs" and is ready to have sex with him. However, Alex is also the sister of Johnny (Kevin Iannucci), a boy with Down Syndrome who is also a Friends player. So of course all these events have an effect on Marcus who ends up becoming a nicer guy.
The film employs snippets of dozen of pop tunes notably Chumbawamba's left field 1977 hit " Tubthumping" which the movie employs as the Friends theme song. What makes this movie so enjoyable are the actions of the players who make up the Friends group such as Joshua Felder an unusually skilled shooter who refuses to accept Marcus as a coach because a drunken driver caused him a lot of harm. Then we have Madison Tevlin who is really too short to succeed at basketball but who excels in motivating her team mates by being authoritarian and to the point. There is Craig (Casey Metcalfe) a supposed ladies man, geography obsessed Marlon, restaurant worker Benny (James Day Keith) and gregarious Johnny (Kevin Iannucci).
Champion is not interested in cruel mockery. It treats its characters as adorable individuals who exhibit unlikely quirks and make jokes. The film finds purpose and redemption by mentoring disabled youngsters.
A real feel good movie that warms the heart.
***1/2
COCAINE BEAR
Cocaine Bear is about what happens when a Bear and a ragtag group of humans are exposed to several million dollars worth of class A narcotics simultaneously. This is actor turned film maker Elizabeth Banks third directorial feature and is at times good fun and at other times we encounter "what is going to happen" situations.
The incident occurs in the mid 80's when a consignment of air dropped duffle bags of drugs are found by a bear who then proceeds to attack the lot with gusto never realising what it would do to him. This is a film that offers 95 minutes of escapist fare with the right mix of tongue – in- cheek humour and many subplots.
Cocaine Bear is said to be based on true events. Back in 1985 there was a man who threw duffel bags of coke out of a plane door and then followed the loot with a parachute that did not open. A Black bear in the mountains of Georgia came upon the drugs and ingested them dying in the process. However, in Cocaine Bear the over dose enrages the bear who turns into a psychotic monster that wants to slaughter everything in its path. Added to the mix, is a mother (Kerry Russell) who is trying to find her daughter (Brooklyn Prince) who is lost with her friend (Christian Convery). She is helped by the no-nonsense ranger Liz (Margo Martindale) who has a gun and is not afraid to use it. The head honcho of the cocaine group Syd (Ray Liotta) sends his henchman David ( O' Shea Jackson Jnr.) and his son Eddie to retrieve what is left of the drop. A Kentucky cop (Isiah Whitlock Jnr.) heads to Georgia on a quest to arrest Syd. Shock and bewilderment await all these people when they encounter Cocaine Bear.
This movie has everything one needs in a good film. There is humour, violence, (not over the top though) and ofcourse lots and lots of tension. The film is only 95 minutes long which is just the right amount not to be considered too long and overdone. All in all a great evening with a wonderful musical score.
****
BRIEFS – DIRTY LAUNDRY
The opening scene consists of a washing machine in the far right hand corner of the stage – (hence the name). We then have some beautifully sculpted men walk onto the stage to the sounds of "Satisfaction". They dance and open the show with a great flash of excitement.
This is followed by Fez the leader doing a solemn but beautiful acknowledgement to country. He did not recite the usual verse that we hear every time. he put a lot of humour into the whole thing but yet the seriousness of the statement was conveyed.
The ball juggler was another act that required a lot of skill and dexterity. He managed to juggle all his balls without dropping any (No puns intended) Quite a difficult feat indeed.
Then we had the amazing straw man who put a long straw into his nose and pulled it out of his mouth. Absolutely fascinating to watch. A lot of the audience squirmed with horror. After all the shrieks of horror there was a moment of hilarity with the same guy making a penis out of a balloon and teasing his companion with it. This produced a lot of laughs and helped to calm the audience.
We are then transported to the Folie Bergere in Paris with the exquisite feather dance sequence. It was beautifully synchronized and the choreography was breathtaking.

I think the trapeze artiste also needs a special mention. He was extremely talented and the things that he did with his body just reminded us how tough the human body is and how far it can go without cracking up. An absolutely brilliant act not seen before.
The man with the hula hoop on fire was also awesome. He did so many wonderful acts with the hula hoop. He was astounding.
I would like to conclude by saying this show according to me definitely qualifies as one of the best shows at the Perth Fringe. I go every year and I come out thinking "They cannot improve anymore next year" – this is perfection itself. But no, Fez and his band of boys never fail to get better, funnier and more enjoyable. How they do it is a mystery to me.
This show has everything you are looking for. Amazing choreography, wonderful music and of course heaps and heaps of laughs. My recommendation is get your tickets quickly before they all sell out. I went on the preview night and it was a sold out show.
*****
WHAT'S LOVE GOT TO DO WITH IT
This is the name of a film that tries to discover if arranged marriages could be the answer to solving all the ills that plague love marriages. It is based on a script by Jemina Khan who was married to a Pakistani and who possibly experienced some of the difficulties of settling into a culture that was so far removed from hers.
The film focuses on childhood friends living on the same street but coming from two completely different backgrounds. Zoe (Lily James) is English and has found success as a documentary maker However, the heaviness of her topics has made it difficult for her to get funding. Then her neighbour and long term friend Kaz (Shazad Latif) tells her he has decided to have an arranged marriage because he is advancing in years and has not been able to find someone he can settle down with.
Zoe is thrilled with the idea because she now feels she can make a thought provoking doco on arranged versus love marriage. We then see Zoe interviewing a lot of people above their ideas on marriage (Be it love or arranged) and Zoe and Kaz also have a lot of serious discussions. What is interesting is that this film doesn't outrightly frame arranged marriages as something outdated and stifling. It encourages viewers not to rush to judgements and look at each situation on its merits.
Kapur may not have much experience with the comedy genre but his lavish action packed drama filled with beautiful wedding scenes and Indian dances lends the film a glossy grandness that makes it so appealing. One feels like one is gliding from one continent to another and from one culture to another completely different one.
Emma Thompson plays a cameo role in the film. She is not as good as she was in "Good Luck to you Leo Grande" She plays Lily's mother in the film. Shabana Azmi however gives a stellar performance as the mother of the groom. She embraces both the traditional and modern and convinces us she has feet in both worlds.
The conclusion is that Love can happen to anyone anywhere and there is no right or wrong way to approach this important decision in life.
A thoroughly enjoyable film that deals with a very a very serious topic but it does not feel so because of the humour and excellent pageantry of the whole spectacle. Do not miss it if you want a great night out
****
TAR
This very interesting though a bit long film is a psychological study in the poisonous abuse of power – in seeking it, controlling it and ultimately loosing it. It also very subtly covers the issues surrounding the Me Too and cancel cultures through the lens of the downfall of a narcissistic female orchestral maestro, played with icy virtuosity by Cate Blanchell.
Although the film has a sensational music score – it is not really about conducting. It is about Lydia Tar – a brilliant egoistical conductress who is consumed by both power and lust and seeks to achieve whatever she wants without any reference to the effects it has on the people in that particular situation.
What I thought was rather unusual was that the film opened with all the credits as though the director wanted to emphasize that this masterpiece was a definite group effort not the work of one individual.
Although the film does refer to Lydia's obsessive sexual appetite, there are fortunately no scenes packed with hot sex. There are insinuations and suggestions which help build up a picture of this "crazy" lady who we eventually see is her own worst enemy.
It is hard to see a story line in the film as it is based on fiction but the story could be applied to any power hungry female narcissist person who indulges in sexual harassment, bullying and racism.
American conductor Marin Alsop (who many people feel the lead character is based on) says the film is anti- women. This is definitely a debatable issue.
Cate Blanchet's remarkable performance drawn on canvas by Field explores in a very succinct way the corrosive bleakness of the murky waters Lydia Tar has decided to conquer and the unknown depths she finally descends into.
This fascinating lady was not only a dazzling star, who had won every award under the sun but also had time to spend years on ethno musical studies in Peru and also write a long awaited self reverential book and compose a major new work. She was truly a high achiever who was extremely accomplished.
I would like to end with the words of the reviewer from the Evening Standard who sums up the whole film so succinctly in a nutshell. He says "this is the bleakest and funniest film about systemic sleaze since Promising Young Woman. Both movies involve a suicide, but keep the victim off-screen, and both serve up a volatile and gifted central female character who loves the sound of her own voice. Promising Young Woman's Cassie is hunting a predator; Lydia is the predator (though, just to be clear, she's no rapist). Both women, albeit to different degrees, are made to seem worthy of respect. The misuse of power, which so many of the films' characters collude in, is what's entirely repulsive.
****1/2
I Wanna to Dance with Somebody
This authorised portrait of Whitney Houston aims to climb high and celebrate as a glitzy biopic where previous documentaries tended to highlight the downfalls of Houston's life. A lot of attention is given to Houston's singing(which is absolutely brilliwnt and soul stirring) with the intention of making her life much more positive than it had been.
Naomi Ackie as Whitney was absolutely mesmerising. True she was not required to sing the songs but she was absolutely brilliant in the lip-synch department. I never realised she was not singing till I read some of the reviews.
Whitney's legendary performanceat the 1991 Tampa super bowl in a track suit ensures that has obtained the peak vocal tribute that any singer can get.
She had been accused of selling out to the white pop market but she fights to ensure that she remains herself and nothing can change that.
Screen writer Antony Mcarten seems to indicate that the woman beneath the pop star shell was definitely struggling to find herself at the time of her death at the age of 48.
At the start of the film we realize that Whitney did not sing like she did of her own will-it was due to the constant coaching of her fastidious mother (Tamara Turie)who said " God gave you a gift and you have to use it in the right way".
Despite all her successes we see the poor little rich girl being destroyed by a lot of influences throughout her young life. She came from a marriage where the parents did'nt really love each other and there was constant friction them. Her father was a casonva who used her money to live the high life. She met and married Jackson Brown (a bit of a drug addict) and finally ubder the pressure of all this adulation she finds solace in drugs.
This could be the story of any famous star in Hollywood. However, Naomi Ackie in her performance brings out all the sorrow and joy of what it is to be a woman who is adored and revered –only to succumb to drugs because the whole thing is to much to bear.
Puss in Boots – The Last Wish
PUSS IN BOOTS – THE LAST WISH
REVIEW OF THE FILM
What a great film for the kids that will be released during the summer holidays.
I learnt so much more about the original Puss in boots through this film. I did not realise that there was such a great chemistry between Puss in Boots and Kitty Soft paws. Salma Hayek was a great choice for Kitty's voice. Antonio Bandaress was wonderful and powerful as Puss – displaying his immense talent.
Although the film does not have a great stand out story, there are many aspects of it that make it a great visual adventure. The animation was absolutely wonderful and would definitely appeal to young and old alike.
The film is wonderfully heartfelt and even though silly at times, it is still unpretentious and genuinely funny. It does however pack in a few double entendres and jokes that may not appeal to the kids but parents would definitely see the humour. The western aspect to the film is another interesting dimension to the film.
I would like to conclude by saying this film would be a very enjoyable way of spending the afternoon with the kids – buying them popcorn and an ice-cream and making them feel Christmas is really close.
***1/2
SHE SAID
The story opens with a quick reference to Donald Trump who was known to be a serial offender when it comes to young aspiring women. It then goes on to talk about a far more serious issue – the most popular man in Hollywood Harvey Weinstein. This man got dozens of Oscar nominations and 3 best picture wins but his abuses were covered up by his studio with hush money payments.
That reporting helped inspire countless "Me too" revelations, the departure of several top executives and radical changes that have given women more opportunities and protection in the film industry and other workplaces as well.
Directed by Maria Schrader the film is one of the most compelling films that talks about the newspaper reporters who doggedly chase down a tough story. The two reporters Twohey and Kantor wrote a best selling book about researching the article and persuading women to go on record. This was no easy task as most of the women had careers to protect and did not want to talk about issues that they had suppressed for a very long time. This film clearly shows us how powerful men are enabled and how shattered women are silenced.
Harvey Weinstein – the ogre in the film was a man who had immensurable power and money. He was shrewd enough to make use of this fact and did not hesitate in telling young women that he could make or break their careers or ensure they never got off the ground in the first place.
If his victims threatened to reveal information about him, they were paid huge amounts of money to keep quiet and also sign non-disclosure agreements. Unfortunately targets of predators always blame themselves because they find so many reasons to say nothing and so many secrets develop in these sort of situations.
The movie talks about the investigative work done by the two reporters as well as their personal lives as they become more and more consumed by this dedication to getting the story right. Twohey struggles with post partum depression and Kantor who has young children decides to undertake the project despite the problems it may cause the family. We also see the how important it is to have supportive husbands and editors when one is on assignments such as this one.
This is a solid brilliant film that is very skilfully made. It shows us Twohey's and Kantor's divergent tactics to get sources to trust them and open up and talk about experiences that have been suppressed for many years. The subjects traumatic recollections are all similar and they show us what money and power can do in an industry where these things appear to be most important. It also talks about the far flung places that these reporters go to, to collect information to back up their story.
I would like to conclude by saying this is a must see film for everyone who is interested in the birth of the "Me too" movement because it beautifully portrays the emergence of a new era in politics.
****1/2
Mrs Harris goes to Paris
REVIEW OF " Mrs Harris goes to Paris"
This lovely feel good movie is heart warming, escapist and just what the world needs at this time of doom and gloom.
Lesley Manville plays Ada Harris – the big hearted cleaner from Battersea South London who not only dreams big but also decided to make those dreams a reality. Her dream is to buy a couture gown from Dior in Paris after she gets a little money from her dead husband's pension and a little hustle at the races.
Luckily Ada's down to earth appeal disarms the rest of Paris and she not only succeeds in getting what she wants but also manages to captivate a charming Marquis who is enamoured by her innocence and charm.
The film shows us very graphically how the rich and famous treat the poor with disdain and contempt. This was evidenced in the behaviour of Dior's chief executive (Isabella Huppert) towards simple good natured Mrs. Harris. We also see the setbacks and prejudices that she has to endure due to her status and background in life. Manville conveys the joy and pain in Ada's life with aplomb. She gives a tremendously moving performance from the other side of the economic divide.
This film is a warm and witty crowd pleasing delight from start to finish. Filled with spectacular costumes, gorgeous production design, charming characters and story telling that will take you on a roller coaster of emotions.
A few people who deserve a mention are Isabella Huppert as the disapproving Dior director Claudine Colbert, Lambert Wilson as the charming Marquis De Chassagne who takes a real shine to Ida and of course Jason Irish who plays the roguish Irish bookie.
In conclusion this film is a celebration of beauty and the importance of cherishing those special things in life that may seem silly to others but make us feel most like ourselves. It is definitely a movie that sparks with joy.
A TICKET TO PARADISE
This is a film which sees the return of two of the 90's brightest luminaries – George Clooney and Julia Roberts reunite for a rom-com that definitely rekindles some of their old magic.
Julia Roberts and George Clooney play Georgia and David, a pair of successful professionals leading completely separate lives. They were once married for five years only but that was 25 years ago. Now they apparently can't stand each other because of the lifetime of resentment that they harbour towards each other. This is obvious due to the fact that even being on a plane together draws a lot of irritation from both people.
Their only child Lily ( Kaitlyn Dever) has just graduated from college and has taken off to Bali with her best friend for a bit of R & R. However, as invariably happens she falls in love with a stunning looking seaweed farmer Gede (Maxime Bouttier) and decides to marry him.
This causes her parents a lot of distress and they both decide to fly to Bali to prevent her from making the same mistake they made twenty five years ago.
There are a few silly and daft moments in the film. Lucas Bravo is the pilot who flies them to Bali – he coincidently also happens to be in love with Georgia.
Another silly moment is when Georgia and David get drunk with the young married couple and start doing some crazy dancing at a party.
All these crazy though beautiful moments are set against the lush tropical background of Bali – though in reality the film was shot in Queensland. Why the producers did not want to publish this fact is a bit of a mystery. It would have been a great advertising coup for Australia.
I would like to conclude with the words from the Mama Mia website which so brilliantly captures my feelings towards the film. It says " This film is definitely a return to event movie screening. It is a true romantic comedy that is best experienced in a cinema with a choc top in your hand. One needs to hear the laughter erupt from our fellow audience members during the movies most hilarious moments and feel a sense of unity as we swoon together during a particularly romantic on screen kiss ( of which there were many).
REVIEW OF THE RAILWAY CHILDREN RETURN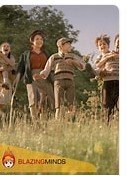 This film is a sequel to the family classic "The Railway Children" in which Jenny Agutter played the mum in a 2000 TV series. She now returns as her original character Roberta but forty years older as the grandmother.
The story talks about three evacuee kids from war time Manchester- Lily ( Beau Gadson) , Patti ( Eden Hamilton), and Ted (Zac Aidby)who end up in a village where Roberta (Jenny Agutter) is a friendly grandmother and her daughter Anne (Sheridan Smith) is the principal of the local primary school. Here they become good friends with Roberta's grandson Thomas. The kids love the country side – far away from the bombing in Manchester and seem to have a good time in the village. They also get to know the peppery station master Richard(John Bradley).
The first half hour of the film shows us the fun the kids are having in the country side – playing with the chickens, mud and finding secret hide outs that are quite thrilling. Fortunately, there seems to be a great chemistry between Anne the principal and these three kids and this really makes the film feel a bit more uplifting – considering their sad farewell with their mother at the start of the film.
I feel the film has been beautifully crafted and Danny Brocklehurst's screenplay adds a lot of grit and beauty to the film. It captures very successfully the vulnerable childlike innocence of youth and shows us what the halfway house to adolescence is.
Although it is engaging and entertaining, it can be quite sad at times because it is based on a true story. However its fresh young cast are absolute winners.
Some reviewers have objected to the racial overtones seen in the film. I however feel it adds body to the film and makes us realise how bigoted and stupid some people can unnecessarily be.
I would like to conclude by saying that this film is quaint, good entertainment and positively intoxicating with the timeless charm of the trains in the Yorkshire countryside.
Most of the people who came out of the cinema did not have a dry eye and definitely loved the film.
Beast
Jaws may have been the point of inspiration for this film but I think the comparison ends there. This is a straight forward film with a bit of a flimsy story line which is as follows. Dr. Nate Samuels is obsessed with his (played by handsome Elba) work and therefore becomes a remote father to his two beautiful daughters. After his late ex- wife dies, he tries to make amends by taking his daughters to visit his late ex- wife's homeland. He is assisted on this trip by his good friend Martin (Sharth Copley) who originally introduced him to his ex- wife initially.
The first twenty minutes of the film establishes the dysfunction of Nate's family and the tragedy of their loss. The depth of emotions and relationship woes between Nate and his daughters feel genuine enough for one to understand the family's dilemma. At times we see Nate's two daughters Neh and Nora squabble and make crazy decisions that truly show their teen angst and make them so much more human and normal. These characters really make you feel you are stranded with them in the middle of nowhere and fearing for their lives.
The beauty of the Beast is in the tense sequences of the family evading the lion attacks. They are exciting enough to raise your blood pressure but not too gory to put you off the film completely.
Beast's lion operates on the principle that it wanted to kill people because I presume poachers had destroyed its family. The lion is characterised as psychotic and amoral killing for pleasure and revelling in its prey's terror.
However to me the success of the film lies in it's near seamless visual/sound effects and tight editing. The beauty of Africa is there for all to see and the photography is exquisite enough to draw you in completely and make Africa your next holiday destination.
I would like to end by saying I thoroughly enjoyed this film and I would recommend it to anyone who loves to see nature in all its beauty and ferocity.
Where the Crowdads sing
This film was based on the based on the book by the same name by Delia Owens and was on the best-seller list for four years after it was published. The book is a fantasy where beautiful children and young people live in nature free from the corruption of the so-called civilised world. Hence it will be no surprise if this film remains on top of the list for a considerable amount of time. This is due to the exquisite film images of the natural world so beloved by the main character who magically imparts her love for these creatures to us. The cinematography by Polly Morgan is exquisite and the song by Taylor Swift is haunting and evocative.
As the movie opens in 1969, a man called Chase is dead. Kya is arrested for the murder based on circumstantial evidence and the town's contempt for the "marsh girl". Her back story is interlaced with the trial.
Daisy Edgar Jones – an up comer effortlessly commands the screen. She fully inhabits the character of Kya Clarke and we can't help noticing how completely at home she s in her environment. Her beautiful face lights up in close-ups as she invites us into her world and makes us care about an odd ball heroine who paints and collects feathers and studies the lives of insects and birds. She is so natural and unaffected by the outside world and we can therefore understand why the films young lead men are attracted to her.
Director Olivia Newton and her mostly female collaborators bring the book to life with great care and skill. This is a movie where mood and atmosphere are crucial and the film makers have got it down to a T. This is a tribute to cinematographer Polly Morgan, production designer Sue Chan, composer Mychael Danna and the rest of the technical crew.
I am not going to give you details of the story because this is a film that has to be seen to be believed. Suffice to say you will not regret a single minute that you sit in the cinema hall relishing the exquisite film that HAS to be seen to be enjoyed. Finally I can only say it can be described as an escapist piece of fantasy entertainment but what a great escape it is after the misery surrounding out at the moment.
Phantom
This is a film about a man who puts his dream on hold to raise his family. That dream was to enter the British Open. However we are not told why this man who would never have had any exposure to golf in his life would suddenly want to enter the British Open. We are however shown a snippet where we see Maurice getting very excited when he sees someone win the British Open. This was supposed to be the spark that lit his desire to be a professional golfer. A bit farfetched but fits in well with the story.
We are then told that Maurice Flitcroft finds himself in the British Open due to a chain of events that seem realistic enough. He also manages to get the worst score in the games history.
Initially one wonders how a man's continual failure can serve as a source of inspiration. However, Roberts and Farnaby concentrate on the winning spirit behind Maurice's losing endeavour. Maurice is painted with such warmth, sincerity and a flawless childlike naivety, it's easy to root for the optimistic underdog – and even easier to understand why his wife Jean (whom Sally Hawkins embodies so tenderly) and the general public go on to stand by and celebrate him. Farnaby paints Maurice as a figure motivated by undying optimism-despite the hardened cynicism of the stiff upper lipped golfers that surround him. For the Flitcroft clan it is less about achieving the grand prize than following one's passion-wherever that may take you. We see this not only in Maurice but also his own boys who wanted to conquer the world with their dancing skills.
Because of Farnaby and Roberts skill and sincerity behind the camera this premise does not appear mawkish. Farnaby's script paints a deft balance between Maurice's optimism and the stuffy stodgy golf world that condemns him often mining humorous gags at the two sides dissidents sensibilities. This juxtaposition also creates proper dramatic gravity on screen with Farnaby incorporating enough roadblocks to make the whole film more realistic.
It would be hard to imagine " The Phantom of the Open" working quite as well without its Oscar winning star Mark Rylance who effortlessly disappears into Maurice's idiosyncratic persona conveying his unique spark without overworking the real life subject into a goofy caricature. Supporting players Sally Hawkins, Jake Davies and Jonah Sees skilfully round out the Flitcroft family through their obvious rapport and love and support for each other.
The film constantly delivers what it sought to – that there are more important facets to life than winning a game.
I would like to conclude by saying this film may not have landed spectacularly amidst the elite onto which professional golf is built, but Flitcroft's romance with big dreams and joy amidst bleakness is a reminder that there's power and braveness in shooting for the stars.
Sundown
I would like to start by saying this is definitely a movie that is not for everyone. I loved it because it is an art film that is very visual and allows you to slowly digest the plot which takes a long time to unravel.
We are introduced to a rich family who are on vacation in Acapulco. We are initially not sure about the relationship between the family members neither do we know much about what is to occur but an air of mystery is gradually built up through the course of the film.
It appears that nothing is happening but yet one does not want to leave the film – difficult to explain that feeling.
The protagonist played by Tim Roth is a selfish creature who throws away not just things but also people who should mean everything to him. Hence many viewers may not understand him or even like him. The unusual thing about this film is that although it is nasty, it is also quite funny in parts. It could be called black comedy.
The million dollar question that viewers may keep on asking is: What on earth is wrong with Niel. Is he sick in the head or is he an out and out sociopath. However close to the end we come to realise that maybe Niel does not want to be associated with the slaughter of pigs which is how his family made their fortune. He would rather live on a small stipend, enjoy an outdoor restaurant or just sit on the beach and enjoy a beer. He definitely captures for us the enviable indolence of a summer vacation and this helps us understand why he does not want money or stress.
I would like to conclude by saying the film is subtle, artful, moving and yet sad. It has great photography and scenery and the acting by Tim Roth is just brilliant.
***1/2
ELVIS – THE MOVIE
The story of Presley is the story of rock and roll from the backwater shacks and steamy late night clubs of the American South to prime time national TV.
Luhrmann with his hyperactive camera work takes us on a musical roller coaster through Elvis's 42 years. Playing Elvis is the energetic Californian whose previous credits were mostly limited to teeny bopper TV. However, in this film Butler gives a performance that would definitely gain him entry to the pantheon of sizzling silver screen stars.
Camouflaged beautifully and packed with prosthetics is Tom Hanks playing the former carnie who goes by the name of Colonel Tom Parker and who also calls himself "the man who gave the world Elvis". However he could also be called the man who killed him not directly but via the escalating demands he placed on his client and then by ensuring his access to pharmaceuticals so that Elvis eventually became a drug addict.
The story unfolds in a prismatic way zipping giddily backwards and forwards in time – generally from the Colonel's perspective where his narration is I feel a bid for absolution though scene after scene condemns him.
We have to remember that Elvis was once just a boy with greasy hair and girly make-up who dreamt of buying a hot pink Cadillac and who always defied good taste. On one occasion in his landmark 1968 TV special, he sandwiched a musical number set in a brothel between a gospel medley and a Kung Fu spectacular. He did not discriminate and that is why he was called the King of rock and roll.
Baz Luhrmann's gloriously excessive razzle dazzle production turned an unknown entity into a sizzling hot star. The film touches the many, many permutations of Elvis from malleable country bumpkin to sex symbol icon to B movie star to seemingly irrelevant has been and then to the Las Vegas icon and finally his tragic death at 42.
A great rendition where Baz Luhrmann uses his most flamboyant techniques to capture the energy of the amazing much loved legend. A must see film.
Downton Abbey – A New Era
The Crawley family goes on a grand journey to the South of France to uncover the mystery of the dowager countess's newly inherited villa.
Review
After the last Downton Abbey film, the dowager of Grantham has become seriously ill and we the audience thought this is the end of the Great Downton Abbey series. But no – fortunately it is back with screenwriter Julian Fellowes producing another hilariously entertaining movie. Maggie Smith is obviously the star of the show ( at least I think she is)and she seems to have become or at least sounds less and less posh.
According to the story around 1928/29 Lady Mary ( played brilliantly by Michelle Dockery) comes to her crotchety papa – the Earl of Grantham ( played by Hugh Bonneville – another excellent choice of the actor) and informs him that the roof is leaking and is in need of urgent repairs. So much against his wishes, the snobbish, snooty Earl decides to accept money from the " Kinema" a film production company that wants to use the location for a new film.
Guy Dexter played by Dominic West charms the entire household with particular attention being paid to the house's footman turned butler Barrow( Robert James Collier). At the same time, the below stair staff are glittering with excitement about the new adventure and the rather new director Jack Barber ( Hugh Dancy) who also develops a fondness for Lady Mary who helps him out in a distressful situation.
While all these shenanigans are going on we learn that the Dowager Countess has been left a villa in the south of France in the will of an aging French aristocrat with whom she had a dalliance in the previous century. So this new development means some of the family have to journey to the sun-dappled Cote d'Azur to inspect this gorgeous property on the Countess's behalf. Shock and horror greet the family when they encounter the nobleman's widow played brilliantly by Nathalie Baye who makes no attempt to conceal her anger and indignation even though the incident happened before she arrived on the scene. We then see a series of events that make the film colourful, interesting and quite spellbinding.
I would like to conclude by saying that this is a quality production. Writer Julian Fellowes has crafted his believable personalities in the Crawley family and their staff and cast an enormously talented ensemble to bring them to life. A great movie not to be missed if you want frothy light entertainment to pass away an otherwise boring evening.
Maixabel
Eleven years after her husband is killed, Maixabel Lasa receives a request from one of the murderers to meet in the prison where he is being held.
REVIEW
Spain has suffered through a civil war, the Franco dictatorship, a Catalan independence movement and a ETA independence movement. The ETA movement is the focus of Iciar Bollain's Maixabel. It talks about the killings and bombings that took the lives of 800 individuals in the name of Basque independence. Based on true events the drama focuses on the lives of a handful of ETA members and their victims.
The film chillingly dramatises the real life encounter between a real life widow and the independent Basque terrorist who murdered her husband. It is a very sensitive exploration of the emotional fallout of terrorism. The film is based on historical events that happened in 2000. When Basque politician Juan Mariawas Jauregui was assassinated by the ETA Ibon and Luis were the two men responsible for Jaurequi's death. The lake revelation of the news to Juarequi's daughter Maria as she plays with friends at a summer camp is the first of several soul wrenching scenes we the audience are exposed to.
We are then transported to 2011 with Ibon and Luis now imprisoned and Jaurequi's wife leading a group of terrorist victims. Maixable's decision to publicly memorialises all terrorist victims regardless of political persuasion is being questioned by her colleagues but her refusal to see things in black and white sets the film's moral tone.
Next we are taken to a scene ten years later when Ibon and Luis are older, wiser and really unhappy. Their rejection of their old ideals are making things tough for them both inside and outside prison. When a government initiative for restorative meetings between terrorists and their victims is mooted – (a real life scheme that was abruptly brought to an end with a change of government) both Ibon and Luis agree to meet with Maixable.
Louis and Ibon's supercharged encounter is the highlight of the story. Maixable's dignity and suffering are superbly portrayed by Portillo while Olazebel and Tosar deliver contrasting portrayals of once violent men who seek redemption.
The only flaw in this film is that someone who is not full bottle on the Spanish situation would find it a bit difficult to understand certain events that are spoken about in the film. However the acting as indicated earlier was superb and I enjoyed the emotional content of the film.
I would like to conclude by saying this is a true story built on love, forgiveness, friendship and the devastating effects of terrorism. Audiences will be gripped by the actors brilliant performances and I feel this is a film of the festival that is a must.
Ambulance
Needing money to cover his wife's medical bills, a decorated veteran teams up with his adoptive brother to steal $32 million from a Los Angeles bank. However, when their getaway goes spectacularly wrong, the desperate thieves hijack an ambulance that's carrying a severely wounded cop and an EMT worker. Caught in a high-speed chase, the two siblings must figure out a way to outrun the law while keeping their hostages alive.
REVIEW
This is a movie full of action, speed and adrenalin pumping scenes. The swooping camera technique coupled with the amazing visuals make it a feast for the eyes. The good thing about this film is that although it has lots of speed and bad boy heat it also has a good storyline.
The twists and turns and the fast heart beating adrenaline scenes really kept me gripped to the story line to the bitter end. This movie has one of the longest car chases thrown in with a lot of action to keep the audience mesmerized. Jake Gyllenhaal and Yehya Abdul Mateen play two brothers in the movie and Eiza Gonzalez plays the EMT. All three main actors – in fact the entire cast play their roles to perfection.
Jake Gyllenhaal and Yahya Abdul Mateen are two brothers whose childhood has been spent robbing banks. Yahya has now married and got a son and he has decided to lead a clean life. However one day his brother calls him up and implores him to join him in a huge bank robbery. The only reason Yahya agrees is because his baby son is seriously ill and he needs a lot of money for the operation. That is the story line in a nutshell.
This movie has a bit of everything. There is the brothers relationship which is spoken about and we see the brilliant brotherly chemistry that exists between these two men. We see Yahya's humanity when he does his best to save Eiza Gonsalez from being killed and we see the trauma of Yahya's wife when she sees her husband may be dying.
This film is definitely not for the faint hearted. There is a lot of violence, bloodshed and a graphic operation scene which is quite unnerving. However there is a lot of quippy humorous dialogue and scenes that lighten the mood from time to time. Overall Ambulance is action packed and thrilling.
Happiest Season
Happiness Season is cheeky, blithe and situational, suffused with enough upscale Christmas froth to get the audience high on spiced-cocktail fumes. In a key scene near the end, it's more than willing to go over-the-top. Yet "Happiest Season" is also a deft and humane dramedy of manners that's really about something. It's a coming-out story that feels highly specific to our era, even as it keeps pelting us with entertaining family curveballs. "Happiest Season" is formula done with feeling; you can believe in the people you're watching. The movie is a true romance — not because it's a rom-com about two people stumbling toward love, but because it's a rom-com about two people already in love navigating the minefield of what love is. That all adds up to a Christmas movie that lifts your spirit in just the right ways.
In Happiness Season Kristen Stewart plays a character who is caught in a major bind. Wearing long platinum hair that sets off her easy, open grin, Stewart plays Abby, who has been living with Harper(Mackenzie Davies) for a while, and they're a serious couple: patient, devoted, affectionate, good company. The two live in Pittsburgh, where Abby is working toward her art-history doctorate at Carnegie Mellon and Harper is a political reporter on The Pittsburgh Post-Gazette. Their principal difference appears to be that Harper loves Christmas and Abby doesn't (or so she says). But when Harper invites Abby to spend the holiday with her family in Grove City about 50 miles away, she agrees to come. Maybe that's because Abby has a secret scheme: She plans to propose to Harper in front of her family, and even ask for her father's blessing. However Harper's reluctance to come out to those around her begins to take its toll on her relationship with Abby (who vents to both her friend John, played by Daniel Levy, and to Riley). Can Harper overcome her fear — and save her relationship? This is the multi – million dollar question that the film takes pain to explore.
The cast does a great job at keeping the film feeling light, funny, and heartwarming. And the film's humor also ensures that the tough, complex subject of coming out never gets too dramatic or possibly triggering. But the retreading of popular holiday movie/romcom themes does prevent the film from breaking out of traditional Hollywood modes. For instance, Levy's character, John, embodies several too-familiar "gay male best friend" stereotypes — i.e. characters who are often mysteriously devoid of familial ties, always have snappy comebacks ready, and are the emotional backup for their best friend when needed. John does have a more serious, expansive moment when he counsels Abby on Harper's reticence to come out to her family, citing how some families disown or disapprove of children who identify within the LGBQ spectrum and talking about his own traumatic coming-out experience. But beyond this, John remains a character of cliches, which is unfortunate in a film like this, which overall aims to break stereotypes.
Despite its minor flaws, Happiest Season does remind audiences that, for many people, the point of the holidays is to be with family and celebrate love and joy. And the film's message that everyone deserves love, understanding, and empathy rings true throughout the film. A great X'mas film that needs to be seen to cheer us up after our dreadful Covid times.
---
Here's a tense pic. that taps into the fight against terrorism theme. If you missed it, first time around, It's a sizzling watch on the small screen while it will only be a few weeks before the big screen re-opens.
​​ See this in the (not so) dark on your home screens. phil.
EYE IN THE SKY will put your moral compass in a spin:
learning the rules of a new war game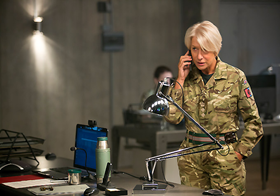 Helen Mirren is Colonel Powell in Eye in the Sky
BRITISH : M : 102 mins : 4/5
Glued to her surveillance screen, Colonel Katherine Powell (Helen Mirren) watches a group of terrorists, in a house in Kenya, prepare for a suicide mission. When she receives positive identification that two of them are top-of-the-list terrorists, her mission objective changes from 'capture' to 'kill'.
Above the house, an armed drone hovers, while, in a distant operations room, a soldier waits, with his finger on the trigger. Powell has top level clearance to proceed from the network of allies – Kenya, Britain and the U.S. – all receiving the same vision and sound, through advanced technology. But, suddenly, a young girl comes into view, setting up a table outside the house to sell her bread. Bureaucrats and legal advisers are thrown into confusion. If the missile is fired, there is a better than even chance the girl will die. Nobody wants to risk a public backlash. The mission is in limbo.
Director, Gavin Hood and screenwriter Guy Hibbert have produced a moral dilemma that weighs the loss of one innocent life against the possible loss of many more. But neither Powell, nor any of the advisers, wants to take ultimate responsibility and so they handball the problem from one to another, sending it back and forth across the globe.
Far from the battlefields of old, this state-of-the-art type of military conflict is operating under new and highly complex 'rules of engagement' which depend on statistical analyses of 'collateral damage'. While Powell urges action, Lieutenant General Frank Benson (Alan Rickman, in his final role) is the perplexed face of the traditional soldier, battle-ready but stymied by civilian intervention.
Skilfully written, tightly directed, superbly acted, Eye in the Sky is securely anchored by Mirren who displays a steely resolve, tempered by a growing sense of frustration.
Eye in the Sky is tense and thrilling but wants the audience to do more than watch. It wants us to feel the same sense of desperation. It wants to make us squirm as well.
(This film is dedicated to the memory of Alan Rickman who died in 2016).
---
On the trail of Odysseus, this is a welcome relief for home-bound fans.
But is it the end of the road for Steve and Rob?
U.K. : 110 mins : M : 3.5/5
While Coronavirus has put international travel plans on hold, it's an appealing consolation to go armchair tripping with Steve Coogan and Rob Brydon (and director, Michael Winterbottom) in their latest (and possibly final) comic mix of culinary and travel delights. After England's Lake District, Italy and Spain, The Trip to Greece (again sponsored by the Observer newspaper) begins in Turkey and loosely follows in the footsteps of Odysseus, in the ancient tale of his return from the war in Troy to Ithaca.
That war (ending in the ploy of the Trojan horse) lasted for ten years which, coincidentally, is as long as Brydon and Coogan have been paired – a fact that takes them by surprise. What began, on tv, as a quirky, commercially risky idea, is now a highly popular formula, with this film (like the previous three) being culled from 180 minutes of the television series.
As usual, the two raconteurs play exaggerated versions of themselves with Steve Coogan making much of his greater status in the acting world (note the BAFTAs) while Rob Brydon accepts the mantle of the 'light' entertainer. But, this time, there are intriguing (and comical) tie-ins to Homer's Odyssey, in stunning Mediterranean locations, from cosy coves to fairy-tale villages. The tone is amiable, the chemistry effervescent and quick visits to the kitchen, where chefs in white, toss enticing ingredients over flaming stoves, punctuate the dinner-table banter. The celebrity impersonations are there – Michael Caine, Marlon Brando, Mick Jagger, Anthony Hopkins et al and, while some of it feels a little tired, at its best, it sparkles. When Steve Coogan slips, effortlessly, into his Stan Laurel persona (BAFTA nominated for the role in Stan and Ollie), it's a joy to watch.
While hitting some darker notes along the way and with a decidedly sombre conclusion, The Trip to Greece is, overall, a lot of fun. The hope is that talk of it being the last in the series is ill-founded. After all, there are many other exciting countries to visit, further afield. There could even be a Trip to Australia. Now that sounds like a dish to savour.
---
]WITH THE OPENING OF BOMBSHELL THIS THURSDAY, IT INVITES COMPARISON WITH THE PREVIOUSLY RELEASED WORKING WOMAN
Which one is better?
Both films are about a vitally important subject which needs to be opened up in discussion. Bombshell is based on true facts while Working Woman is fiction.
Bombshell has a much higher profile. It has three famous female leads in Charlize Theron, Nicole Kidman and Margot Robbie (plus John Lithgow) who are all great (Robbie is outstanding) in an American studio production with a huge budget. Working Woman is an Israeli film with English subtitles and two stars with difficult, unknown names – Menashe Noy and Liron Ben-Shlush as the female victim. Ben-Shlush's performance is devastating and she's been awarded Israel's highest acting honour – the equivalent of an Oscar.
Bombshell will attract audiences on its star power and glamour. It's set in a high-powered social and corporate arena while Working Woman is about an ordinary woman working as a sales rep. and trying hard to improve the position of her family. While Bombshell makes its points, it's both privileged and distant and is more a vehicle for its three female stars, rather than an in-depth examination of the subject. However, for the majority of females in the workplace Working Woman is utterly relatable and has more emotional impact. The incidents of sexual harassment occur with dramatic intensity and the central character struggles valiantly to maintain her dignity while desperate not to lose her job.
Bombshell will win at the box office, because ticket sales are all about star power, budget and marketing even though Working Woman is the superior film.
However, it's pleasing to see that Working Woman has a much higher approval rating on Rotten Tomatoes. Bombshell is rated at 67% (which is just a shade in front of 'rotten') while Working Woman is rated at 97%.
Lastly: Phil's scores: Bombshell 3/5 Working Woman 4.5/5
Bombshell opens on January 16th.
phil. 25.12.19. pbsailing@yahoo.com.au
---
TRUE HISTORY OF THE KELLY GANG

– at The Backlot

As with Netflix films, the mercurial Ian Hale at The Backlot has secured exclusive rights to cinema screenings of STAN films. The Backlot is the only place you can see True History of the Kelly Gang in W.A., apart from on your own screen.

Do we ever get tired of Ned Kelly? Is there need for another tale of our celebrated bushranger? Well, this is an entirely different angle to the story because it's an adaptation of Peter Carey's book which is imagined to be Ned's own story. It's full of dynamic energy and you'll see George Mackay in an utterly different role to the iconic lone soldier he plays in 1917 (which also opens tomorrow – see below).

See you in the dark with the Aussie legend. phil.

TRUE HISTORY OF THE KELLY GANG

Like Peter Carey's novel, Justin Kurzel's adaptation

is the twisted version of the truth that came from

Kelly's own head – savage, brutal and murderous.
U.K./AUSTRALIA : 124 mins : MA15+ : 4.5/5
Ned Kelly was the subject of the first feature film ever made, not just in Australia but in the world (The Story of the Kelly Gang, 1906). In this latest version, inspired by Peter Carey's Booker Prize winner, True History of the Kelly Gang, the 'truth' was the agonised, jaundiced and socially disenfranchised view of events that came from Ned Kelly himself. Director, Justin Kurzel (Snowtown, 2011) and scriptwriter, Shaun Grant, went through the same process of getting inside Kelly's head for their film of the same name. For this reason, True History of the Kelly Gang is a shock of a film – an immersive, visceral experience, with a touch of lunacy, that's unlike anything about the Kelly myth yet committed to the screen.
It's hard not to sympathise with the young Kelly (Orlando Schwerdt) whose father was relentlessly pursued by the police and who died when the boy was twelve but who he felt ashamed of (he was rumoured to be a cross-dresser – something the adult Ned and his gang later adopted, themselves, to terrorise their victims). And he was devoted to his mother, Ellen (Essie Davis) even though she was morally ambiguous. When she seized the chance to 'sell' Ned to Harry Power (Russell Crowe) to make a bushranger of him, it could only have added to his mental turbulence. An equally telling role is that of Constable Fitzpatrick (Nicholas Hoult) who's ever eager to abuse the power of the law for his own gain and to doff his uniform in an instant to have his way with Ned's mother. It's no wonder that, for Ned Kelly, the Australian landscape had no beauty in it and is shot by cinematographer, Ari Wegner, as harsh and alien, with every leafless tree like a blackened skeleton.
But this is Ned's show and George Mackay is a perfect fit for this Ned Kelly whose film seethes with aggression and feels more like the grunge and teddy-boy aesthetic of Trainspotting than of life in the 1800's. As a bloodied bare knuckle boxer, he has a tough physicality and in a heartbeat, the oppression and loss he carries, like a millstone on his back, flame in his eyes with almost insane intensity.
There aren't many instances where reading the book is an advantage in seeing the film but True History of the Kelly Gang could be an exception. It's one of the finest adaptations of the year.
phil. 17.12.19. pbsailing@yahoo.com.au
True History of the Kelly Gang will have limited screenings at The Backlot, Perth from January 9 before streaming on STAN on January 26.
---