Where the Crowdads sing
This film was based on the based on the book by the same name by Delia Owens and was on the best-seller list for four years after it was published. The book is a fantasy where beautiful children and young people live in nature free from the corruption of the so-called civilised world. Hence it will be no surprise if this film remains on top of the list for a considerable amount of time. This is due to the exquisite film images of the natural world so beloved by the main character who magically imparts her love for these creatures to us. The cinematography by Polly Morgan is exquisite and the song by Taylor Swift is haunting and evocative.
As the movie opens in 1969, a man called Chase is dead. Kya is arrested for the murder based on circumstantial evidence and the town's contempt for the "marsh girl". Her back story is interlaced with the trial.
Daisy Edgar Jones – an up comer effortlessly commands the screen. She fully inhabits the character of Kya Clarke and we can't help noticing how completely at home she s in her environment. Her beautiful face lights up in close-ups as she invites us into her world and makes us care about an odd ball heroine who paints and collects feathers and studies the lives of insects and birds. She is so natural and unaffected by the outside world and we can therefore understand why the films young lead men are attracted to her.
Director Olivia Newton and her mostly female collaborators bring the book to life with great care and skill. This is a movie where mood and atmosphere are crucial and the film makers have got it down to a T. This is a tribute to cinematographer Polly Morgan, production designer Sue Chan, composer Mychael Danna and the rest of the technical crew.
I am not going to give you details of the story because this is a film that has to be seen to be believed. Suffice to say you will not regret a single minute that you sit in the cinema hall relishing the exquisite film that HAS to be seen to be enjoyed. Finally I can only say it can be described as an escapist piece of fantasy entertainment but what a great escape it is after the misery surrounding out at the moment.
Phantom
This is a film about a man who puts his dream on hold to raise his family. That dream was to enter the British Open. However we are not told why this man who would never have had any exposure to golf in his life would suddenly want to enter the British Open. We are however shown a snippet where we see Maurice getting very excited when he sees someone win the British Open. This was supposed to be the spark that lit his desire to be a professional golfer. A bit farfetched but fits in well with the story.
We are then told that Maurice Flitcroft finds himself in the British Open due to a chain of events that seem realistic enough. He also manages to get the worst score in the games history.
Initially one wonders how a man's continual failure can serve as a source of inspiration. However, Roberts and Farnaby concentrate on the winning spirit behind Maurice's losing endeavour. Maurice is painted with such warmth, sincerity and a flawless childlike naivety, it's easy to root for the optimistic underdog – and even easier to understand why his wife Jean (whom Sally Hawkins embodies so tenderly) and the general public go on to stand by and celebrate him. Farnaby paints Maurice as a figure motivated by undying optimism-despite the hardened cynicism of the stiff upper lipped golfers that surround him. For the Flitcroft clan it is less about achieving the grand prize than following one's passion-wherever that may take you. We see this not only in Maurice but also his own boys who wanted to conquer the world with their dancing skills.
Because of Farnaby and Roberts skill and sincerity behind the camera this premise does not appear mawkish. Farnaby's script paints a deft balance between Maurice's optimism and the stuffy stodgy golf world that condemns him often mining humorous gags at the two sides dissidents sensibilities. This juxtaposition also creates proper dramatic gravity on screen with Farnaby incorporating enough roadblocks to make the whole film more realistic.
It would be hard to imagine " The Phantom of the Open" working quite as well without its Oscar winning star Mark Rylance who effortlessly disappears into Maurice's idiosyncratic persona conveying his unique spark without overworking the real life subject into a goofy caricature. Supporting players Sally Hawkins, Jake Davies and Jonah Sees skilfully round out the Flitcroft family through their obvious rapport and love and support for each other.
The film constantly delivers what it sought to – that there are more important facets to life than winning a game.
I would like to conclude by saying this film may not have landed spectacularly amidst the elite onto which professional golf is built, but Flitcroft's romance with big dreams and joy amidst bleakness is a reminder that there's power and braveness in shooting for the stars.
Sundown
I would like to start by saying this is definitely a movie that is not for everyone. I loved it because it is an art film that is very visual and allows you to slowly digest the plot which takes a long time to unravel.
We are introduced to a rich family who are on vacation in Acapulco. We are initially not sure about the relationship between the family members neither do we know much about what is to occur but an air of mystery is gradually built up through the course of the film.
It appears that nothing is happening but yet one does not want to leave the film – difficult to explain that feeling.
The protagonist played by Tim Roth is a selfish creature who throws away not just things but also people who should mean everything to him. Hence many viewers may not understand him or even like him. The unusual thing about this film is that although it is nasty, it is also quite funny in parts. It could be called black comedy.
The million dollar question that viewers may keep on asking is: What on earth is wrong with Niel. Is he sick in the head or is he an out and out sociopath. However close to the end we come to realise that maybe Niel does not want to be associated with the slaughter of pigs which is how his family made their fortune. He would rather live on a small stipend, enjoy an outdoor restaurant or just sit on the beach and enjoy a beer. He definitely captures for us the enviable indolence of a summer vacation and this helps us understand why he does not want money or stress.
I would like to conclude by saying the film is subtle, artful, moving and yet sad. It has great photography and scenery and the acting by Tim Roth is just brilliant.
***1/2
ELVIS – THE MOVIE
The story of Presley is the story of rock and roll from the backwater shacks and steamy late night clubs of the American South to prime time national TV.
Luhrmann with his hyperactive camera work takes us on a musical roller coaster through Elvis's 42 years. Playing Elvis is the energetic Californian whose previous credits were mostly limited to teeny bopper TV. However, in this film Butler gives a performance that would definitely gain him entry to the pantheon of sizzling silver screen stars.
Camouflaged beautifully and packed with prosthetics is Tom Hanks playing the former carnie who goes by the name of Colonel Tom Parker and who also calls himself "the man who gave the world Elvis". However he could also be called the man who killed him not directly but via the escalating demands he placed on his client and then by ensuring his access to pharmaceuticals so that Elvis eventually became a drug addict.
The story unfolds in a prismatic way zipping giddily backwards and forwards in time – generally from the Colonel's perspective where his narration is I feel a bid for absolution though scene after scene condemns him.
We have to remember that Elvis was once just a boy with greasy hair and girly make-up who dreamt of buying a hot pink Cadillac and who always defied good taste. On one occasion in his landmark 1968 TV special, he sandwiched a musical number set in a brothel between a gospel medley and a Kung Fu spectacular. He did not discriminate and that is why he was called the King of rock and roll.
Baz Luhrmann's gloriously excessive razzle dazzle production turned an unknown entity into a sizzling hot star. The film touches the many, many permutations of Elvis from malleable country bumpkin to sex symbol icon to B movie star to seemingly irrelevant has been and then to the Las Vegas icon and finally his tragic death at 42.
A great rendition where Baz Luhrmann uses his most flamboyant techniques to capture the energy of the amazing much loved legend. A must see film.
Downton Abbey – A New Era
The Crawley family goes on a grand journey to the South of France to uncover the mystery of the dowager countess's newly inherited villa.
Review
After the last Downton Abbey film, the dowager of Grantham has become seriously ill and we the audience thought this is the end of the Great Downton Abbey series. But no – fortunately it is back with screenwriter Julian Fellowes producing another hilariously entertaining movie. Maggie Smith is obviously the star of the show ( at least I think she is)and she seems to have become or at least sounds less and less posh.
According to the story around 1928/29 Lady Mary ( played brilliantly by Michelle Dockery) comes to her crotchety papa – the Earl of Grantham ( played by Hugh Bonneville – another excellent choice of the actor) and informs him that the roof is leaking and is in need of urgent repairs. So much against his wishes, the snobbish, snooty Earl decides to accept money from the " Kinema" a film production company that wants to use the location for a new film.
Guy Dexter played by Dominic West charms the entire household with particular attention being paid to the house's footman turned butler Barrow( Robert James Collier). At the same time, the below stair staff are glittering with excitement about the new adventure and the rather new director Jack Barber ( Hugh Dancy) who also develops a fondness for Lady Mary who helps him out in a distressful situation.
While all these shenanigans are going on we learn that the Dowager Countess has been left a villa in the south of France in the will of an aging French aristocrat with whom she had a dalliance in the previous century. So this new development means some of the family have to journey to the sun-dappled Cote d'Azur to inspect this gorgeous property on the Countess's behalf. Shock and horror greet the family when they encounter the nobleman's widow played brilliantly by Nathalie Baye who makes no attempt to conceal her anger and indignation even though the incident happened before she arrived on the scene. We then see a series of events that make the film colourful, interesting and quite spellbinding.
I would like to conclude by saying that this is a quality production. Writer Julian Fellowes has crafted his believable personalities in the Crawley family and their staff and cast an enormously talented ensemble to bring them to life. A great movie not to be missed if you want frothy light entertainment to pass away an otherwise boring evening.
Maixabel
Eleven years after her husband is killed, Maixabel Lasa receives a request from one of the murderers to meet in the prison where he is being held.
REVIEW
Spain has suffered through a civil war, the Franco dictatorship, a Catalan independence movement and a ETA independence movement. The ETA movement is the focus of Iciar Bollain's Maixabel. It talks about the killings and bombings that took the lives of 800 individuals in the name of Basque independence. Based on true events the drama focuses on the lives of a handful of ETA members and their victims.
The film chillingly dramatises the real life encounter between a real life widow and the independent Basque terrorist who murdered her husband. It is a very sensitive exploration of the emotional fallout of terrorism. The film is based on historical events that happened in 2000. When Basque politician Juan Mariawas Jauregui was assassinated by the ETA Ibon and Luis were the two men responsible for Jaurequi's death. The lake revelation of the news to Juarequi's daughter Maria as she plays with friends at a summer camp is the first of several soul wrenching scenes we the audience are exposed to.
We are then transported to 2011 with Ibon and Luis now imprisoned and Jaurequi's wife leading a group of terrorist victims. Maixable's decision to publicly memorialises all terrorist victims regardless of political persuasion is being questioned by her colleagues but her refusal to see things in black and white sets the film's moral tone.
Next we are taken to a scene ten years later when Ibon and Luis are older, wiser and really unhappy. Their rejection of their old ideals are making things tough for them both inside and outside prison. When a government initiative for restorative meetings between terrorists and their victims is mooted – (a real life scheme that was abruptly brought to an end with a change of government) both Ibon and Luis agree to meet with Maixable.
Louis and Ibon's supercharged encounter is the highlight of the story. Maixable's dignity and suffering are superbly portrayed by Portillo while Olazebel and Tosar deliver contrasting portrayals of once violent men who seek redemption.
The only flaw in this film is that someone who is not full bottle on the Spanish situation would find it a bit difficult to understand certain events that are spoken about in the film. However the acting as indicated earlier was superb and I enjoyed the emotional content of the film.
I would like to conclude by saying this is a true story built on love, forgiveness, friendship and the devastating effects of terrorism. Audiences will be gripped by the actors brilliant performances and I feel this is a film of the festival that is a must.
Ambulance
Needing money to cover his wife's medical bills, a decorated veteran teams up with his adoptive brother to steal $32 million from a Los Angeles bank. However, when their getaway goes spectacularly wrong, the desperate thieves hijack an ambulance that's carrying a severely wounded cop and an EMT worker. Caught in a high-speed chase, the two siblings must figure out a way to outrun the law while keeping their hostages alive.
REVIEW
This is a movie full of action, speed and adrenalin pumping scenes. The swooping camera technique coupled with the amazing visuals make it a feast for the eyes. The good thing about this film is that although it has lots of speed and bad boy heat it also has a good storyline.
The twists and turns and the fast heart beating adrenaline scenes really kept me gripped to the story line to the bitter end. This movie has one of the longest car chases thrown in with a lot of action to keep the audience mesmerized. Jake Gyllenhaal and Yehya Abdul Mateen play two brothers in the movie and Eiza Gonzalez plays the EMT. All three main actors – in fact the entire cast play their roles to perfection.
Jake Gyllenhaal and Yahya Abdul Mateen are two brothers whose childhood has been spent robbing banks. Yahya has now married and got a son and he has decided to lead a clean life. However one day his brother calls him up and implores him to join him in a huge bank robbery. The only reason Yahya agrees is because his baby son is seriously ill and he needs a lot of money for the operation. That is the story line in a nutshell.
This movie has a bit of everything. There is the brothers relationship which is spoken about and we see the brilliant brotherly chemistry that exists between these two men. We see Yahya's humanity when he does his best to save Eiza Gonsalez from being killed and we see the trauma of Yahya's wife when she sees her husband may be dying.
This film is definitely not for the faint hearted. There is a lot of violence, bloodshed and a graphic operation scene which is quite unnerving. However there is a lot of quippy humorous dialogue and scenes that lighten the mood from time to time. Overall Ambulance is action packed and thrilling.
Happiest Season
Happiness Season is cheeky, blithe and situational, suffused with enough upscale Christmas froth to get the audience high on spiced-cocktail fumes. In a key scene near the end, it's more than willing to go over-the-top. Yet "Happiest Season" is also a deft and humane dramedy of manners that's really about something. It's a coming-out story that feels highly specific to our era, even as it keeps pelting us with entertaining family curveballs. "Happiest Season" is formula done with feeling; you can believe in the people you're watching. The movie is a true romance — not because it's a rom-com about two people stumbling toward love, but because it's a rom-com about two people already in love navigating the minefield of what love is. That all adds up to a Christmas movie that lifts your spirit in just the right ways.
In Happiness Season Kristen Stewart plays a character who is caught in a major bind. Wearing long platinum hair that sets off her easy, open grin, Stewart plays Abby, who has been living with Harper(Mackenzie Davies) for a while, and they're a serious couple: patient, devoted, affectionate, good company. The two live in Pittsburgh, where Abby is working toward her art-history doctorate at Carnegie Mellon and Harper is a political reporter on The Pittsburgh Post-Gazette. Their principal difference appears to be that Harper loves Christmas and Abby doesn't (or so she says). But when Harper invites Abby to spend the holiday with her family in Grove City about 50 miles away, she agrees to come. Maybe that's because Abby has a secret scheme: She plans to propose to Harper in front of her family, and even ask for her father's blessing. However Harper's reluctance to come out to those around her begins to take its toll on her relationship with Abby (who vents to both her friend John, played by Daniel Levy, and to Riley). Can Harper overcome her fear — and save her relationship? This is the multi – million dollar question that the film takes pain to explore.
The cast does a great job at keeping the film feeling light, funny, and heartwarming. And the film's humor also ensures that the tough, complex subject of coming out never gets too dramatic or possibly triggering. But the retreading of popular holiday movie/romcom themes does prevent the film from breaking out of traditional Hollywood modes. For instance, Levy's character, John, embodies several too-familiar "gay male best friend" stereotypes — i.e. characters who are often mysteriously devoid of familial ties, always have snappy comebacks ready, and are the emotional backup for their best friend when needed. John does have a more serious, expansive moment when he counsels Abby on Harper's reticence to come out to her family, citing how some families disown or disapprove of children who identify within the LGBQ spectrum and talking about his own traumatic coming-out experience. But beyond this, John remains a character of cliches, which is unfortunate in a film like this, which overall aims to break stereotypes.
Despite its minor flaws, Happiest Season does remind audiences that, for many people, the point of the holidays is to be with family and celebrate love and joy. And the film's message that everyone deserves love, understanding, and empathy rings true throughout the film. A great X'mas film that needs to be seen to cheer us up after our dreadful Covid times.
---
Here's a tense pic. that taps into the fight against terrorism theme.  If you missed it, first time around, It's a sizzling watch on the small screen while it will only be a few weeks before the big screen re-opens.
​​    See this in the (not so) dark on your home screens.  phil.
EYE IN THE SKY will put your moral compass in a spin: 
learning the rules of a new war game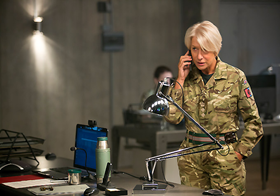 Helen Mirren is Colonel Powell in Eye in the Sky
BRITISH : M : 102 mins :  4/5
Glued to her surveillance screen, Colonel Katherine Powell (Helen Mirren) watches a group of terrorists, in a house in Kenya, prepare for a suicide mission.  When she receives positive identification that two of them are top-of-the-list terrorists, her mission objective changes from 'capture' to 'kill'.
Above the house, an armed drone hovers, while, in a distant operations room, a soldier waits, with his finger on the trigger.  Powell has top level clearance to proceed from the network of allies – Kenya, Britain and the U.S. – all receiving the same vision and sound, through advanced technology.  But, suddenly, a young girl comes into view, setting up a table outside the house to sell her bread.  Bureaucrats and legal advisers are thrown into confusion.  If the missile is fired, there is a better than even chance the girl will die.  Nobody wants to risk a public backlash.  The mission is in limbo.
Director, Gavin Hood and screenwriter Guy Hibbert have produced a moral dilemma that weighs the loss of one innocent life against the possible loss of many more.  But neither Powell, nor any of the advisers, wants to take ultimate responsibility and so they handball the problem from one to another, sending it back and forth across the globe.
Far from the battlefields of old, this state-of-the-art type of military conflict is operating under new and highly complex 'rules of engagement' which depend on statistical analyses of 'collateral damage'.  While Powell urges action, Lieutenant General Frank Benson (Alan Rickman, in his final role) is the perplexed face of the traditional soldier, battle-ready but stymied by civilian intervention.
Skilfully written, tightly directed, superbly acted, Eye in the Sky is securely anchored by Mirren who displays a steely resolve, tempered by a growing sense of frustration.
Eye in the Sky is tense and thrilling but wants the audience to do more than watch.  It wants us to feel the same sense of desperation. It wants to make us squirm as well.
(This film is dedicated to the memory of Alan Rickman who died in 2016).
---
On the trail of Odysseus, this is a welcome relief for home-bound fans.
But is it the end of the road for Steve and Rob?
U.K. : 110 mins : M : 3.5/5
While Coronavirus has put international travel plans on hold, it's an appealing consolation to go armchair tripping with Steve Coogan and Rob Brydon (and director, Michael Winterbottom) in their latest (and possibly final) comic mix of culinary and travel delights.  After England's Lake District, Italy and Spain, The Trip to Greece (again sponsored by the Observer newspaper) begins in Turkey and loosely follows in the footsteps of Odysseus, in the ancient tale of his return from the war in Troy to Ithaca.
That war (ending in the ploy of the Trojan horse) lasted for ten years which, coincidentally, is as long as Brydon and Coogan have been paired – a fact that takes them by surprise.  What began, on tv, as a quirky, commercially risky idea, is now a highly popular formula, with this film (like the previous three) being culled from 180 minutes of the television series.
As usual, the two raconteurs play exaggerated versions of themselves with Steve Coogan making much of his greater status in the acting world (note the BAFTAs) while Rob Brydon accepts the mantle of the 'light' entertainer. But, this time, there are intriguing (and comical) tie-ins to Homer's Odyssey, in stunning Mediterranean locations, from cosy coves to fairy-tale villages. The tone is amiable, the chemistry effervescent and quick visits to the kitchen, where chefs in white, toss enticing ingredients over flaming stoves, punctuate the dinner-table banter.  The celebrity impersonations are there – Michael Caine, Marlon Brando, Mick Jagger, Anthony Hopkins et al and, while some of it feels a little tired, at its best, it sparkles.  When Steve Coogan slips, effortlessly, into his Stan Laurel persona (BAFTA nominated for the role in Stan and Ollie), it's a joy to watch.
While hitting some darker notes along the way and with a decidedly sombre conclusion, The Trip to Greece is, overall, a lot of fun.  The hope is that talk of it being the last in the series is ill-founded.  After all, there are many other exciting countries to visit, further afield.  There could even be a Trip to Australia. Now that sounds like a dish to savour.
---
]WITH THE OPENING OF BOMBSHELL THIS THURSDAY, IT INVITES COMPARISON WITH THE PREVIOUSLY RELEASED WORKING WOMAN
Which one is better?
Both films are about a vitally important subject which needs to be opened up in discussion. Bombshell is based on true facts while Working Woman is fiction.
Bombshell has a much higher profile. It has three famous female leads in Charlize Theron, Nicole Kidman and Margot Robbie (plus John Lithgow) who are all great (Robbie is outstanding) in an American studio production with a huge budget. Working Woman is an Israeli film with English subtitles and two stars with difficult, unknown names – Menashe Noy and Liron Ben-Shlush as the female victim. Ben-Shlush's performance is devastating and she's been awarded Israel's highest acting honour – the equivalent of an Oscar.
Bombshell will attract audiences on its star power and glamour. It's set in a high-powered social and corporate arena while Working Woman is about an ordinary woman working as a sales rep. and trying hard to improve the position of her family. While Bombshell makes its points, it's both privileged and distant and is more a vehicle for its three female stars, rather than an in-depth examination of the subject. However, for the majority of females in the workplace Working Woman is utterly relatable and has more emotional impact. The incidents of sexual harassment occur with dramatic intensity and the central character struggles valiantly to maintain her dignity while desperate not to lose her job.
Bombshell will win at the box office, because ticket sales are all about star power, budget and marketing even though Working Woman is the superior film.
However, it's pleasing to see that Working Woman has a much higher approval rating on Rotten Tomatoes. Bombshell is rated at 67% (which is just a shade in front of 'rotten') while Working Woman is rated at 97%.
Lastly: Phil's scores: Bombshell 3/5 Working Woman 4.5/5
Bombshell opens on January 16th.
phil. 25.12.19. pbsailing@yahoo.com.au
---
TRUE HISTORY OF THE KELLY GANG

– at The Backlot

As with Netflix films, the mercurial Ian Hale at The Backlot has secured exclusive rights to cinema screenings of STAN films.  The Backlot is the only place you can see True History of the Kelly Gang in W.A., apart from on your own screen.

Do we ever get tired of Ned Kelly?  Is there need for another tale of our celebrated bushranger?  Well, this is an entirely different angle to the story because it's an adaptation of Peter Carey's book which is imagined to be Ned's own story.  It's full of dynamic energy and you'll see George Mackay in an utterly different role to the iconic lone soldier he plays in 1917 (which also opens tomorrow – see below).

See you in the dark with the Aussie legend. phil.

TRUE HISTORY OF THE KELLY GANG

Like Peter Carey's novel, Justin Kurzel's adaptation

is the twisted version of the truth that came from

Kelly's own head – savage, brutal and murderous.
U.K./AUSTRALIA : 124 mins : MA15+ : 4.5/5
Ned Kelly was the subject of the first feature film ever made, not just in Australia but in the world (The Story of the Kelly Gang, 1906).  In this latest version, inspired by Peter Carey's Booker Prize winner, True History of the Kelly Gang, the 'truth' was the agonised, jaundiced and socially disenfranchised view of events that came from Ned Kelly himself. Director, Justin Kurzel (Snowtown, 2011) and scriptwriter, Shaun Grant, went through the same process of getting inside Kelly's head for their film of the same name.  For this reason, True History of the Kelly Gang is a shock of a film – an immersive, visceral experience, with a touch of lunacy, that's unlike anything about the Kelly myth yet committed to the screen.
It's hard not to sympathise with the young Kelly (Orlando Schwerdt) whose father was relentlessly pursued by the police and who died when the boy was twelve but who he felt ashamed of (he was rumoured to be a cross-dresser – something the adult Ned and his gang later adopted, themselves, to terrorise their victims). And he was devoted to his mother, Ellen (Essie Davis) even though she was morally ambiguous.  When she seized the chance to 'sell' Ned to Harry Power (Russell Crowe) to make a bushranger of him, it could only have added to his mental turbulence.  An equally telling role is that of Constable Fitzpatrick (Nicholas Hoult) who's ever eager to abuse the power of the law for his own gain and to doff his uniform in an instant to have his way with Ned's mother.  It's no wonder that, for Ned Kelly, the Australian landscape had no beauty in it and is shot by cinematographer, Ari Wegner, as harsh and alien, with every leafless tree like a blackened skeleton.
But this is Ned's show and George Mackay is a perfect fit for this Ned Kelly whose film seethes with aggression and feels more like the grunge and teddy-boy aesthetic of Trainspotting than of life in the 1800's.  As a bloodied bare knuckle boxer, he has a tough physicality and in a heartbeat, the oppression and loss he carries, like a millstone on his back, flame in his eyes with almost insane intensity.
There aren't many instances where reading the book is an advantage in seeing the film but True History of the Kelly Gang could be an exception.  It's one of the finest adaptations of the year.
phil. 17.12.19. pbsailing@yahoo.com.au
True History of the Kelly Gang will have limited screenings at The Backlot, Perth from January 9 before streaming on STAN on January 26.
---