REVIEW OF EIREBORNE
Do you want to see an exquisite show. Well, Eireborne is the show to see. This show features an extremely talented group of young Irish dancers who tap dance and sing their way to glory. Some even tap dance on their toes. Something I have never seen and which was truly remarkable. The entire show was an amazing spectacle.
The cast consists of fifteen of the best Irish dancers in the world who return back to Australia after an extremely successful tour of Europe in 2019.
The show is a celebration of all things Irish such as musical hits from Irish sensations such as Snow Patrol, Van Morrison, Hazier, the Script, the Cranberries and many more.
The audience can also see Liam Costello who is the youngest and only Australian to win the Irish world dance championship three times consecutively. Luke Chamont the Riverdance lead and eight times Victorian Irish dance state champion complements the Irish tap dance team.
Vocal virtuoso and hit maker Reigan Derry who notched up four Number 1 songs in 2021 and also performed in LA and New York will also be singing. Her voice is truly like a nightingale.
Pete Murphy is another star who has been performing in many major shows and live concerts throughout Australia and the world for the past 20 years will also be singing a few songs.
Peta Anderson co-created the concept for Eireborne. She is also a well known dancer, choreographer and co-producer of this production. Peta is driven by a desire to inspire the next generation after Riverdance by showcasing Irish dance in a fresh and innovative way.
I walked out of the theatre feeling on the clouds and thrilled that this two and a half hour production had taken me out of my misery of our everyday life and showed me that LIVING meant seeing great productions like this one.
Spectrum of Chocolate
Malti Elliott
8 May 2022, 16:23 (1 day ago)
to me, Montserrat
Spectrum of Chocolate Cake premieres as part of The Blue Room Theatre's Annual Season – 3 May to 21 May 2022.
Five women dance circles around cake – creating an enticing blend of dance, raw movement and theatre. The performance explores our natural state of ambivalence and the conflicting feelings we have towards the self, an object or one another, within a sometimes incongruent and absurd world.
The piece is choreographed and directed by emerging artist Montserrat Heras, who is making their debut as creative lead at The Blue Room Theatre. Heras is joined by award-winning mentors – Brooke Leeder as producer, and Bronwen Carson as artistic advisor, accompanied by a cast of fresh and exciting performers.
Heras states that the work is: "melancholic, playful and sentimental. I aim to get across a light[1]hearted message, after an abstract exploration through movement, capturing the conflicting states of being – which the cake induces." As the tension between unconscious desires and the rational mind unfolds, even the most loving actions become tentative in this new unmissable piece.
Dates: Preview 3 May, Season 4 May to 21 May
The interview was done by Malti Elliott with the choreographer Monserrat Heras.
GLOBAL HIT SHOW 'SPIRIT OF THE DANCE' ADDS EXTRA WA SHOWS DUE TO OVERWHELMING DEMAND
West Australians are so excited to see international dance sensation, Spirit of the Dance, that Mellen Events have added two extra shows in May due to overwhelming demand.
Tickets are now available to an additional Perth show at Crown Theatre on Thursday May 14, and a 2pm matinee show at Mandurah Performing Arts Centre on Saturday May 16.
Winner of nine global awards, this is one of the most successful dance shows ever and has been seen by over 20 million people worldwide. Spirit of the Dance is Irish in origin, bursts with raw energy, and has been described as "explosive", "breathtaking", and "spectacular". Check out the sizzle reel here.
Their new spine tingling 21st anniversary show takes dance to the next level and features an excitingfusion of heart pounding Irish Dance, combined with dance styles from around the world including Scottish, Flamenco, Latin, Salsa, Street Dance, Hip Hop, Techno Can Can and American Tap.
With thunderous applause, standing ovations and sold out crowds at every performance around the world, you won't want to miss Spirit of the Dance.
Tickets for the matinee Mandurah show on sale now.
Tickets for the extra Perth show on sale at 3pm on Tuesday January 21.
---
FREMANTLE
Thursday 16 May
PERTH
Saturday 25 May
"Brilliant ballads, meet dazzling dancing" The Northern Post
This year Australian audiences have the chance to witness World Champion Irish dancers direct from the West End's Lord of the Dance, when A TASTE OF IRELAND visits Fremantle on 16 May and Perth on 25 May telling the tale of the world's most loved nation in one incredible live performance.
Told through Irish music and dance, A TASTE OF IRELAND explores magical tales spanning generations of Irish storytelling and culture. This world class show features World, All Ireland & National Champion Irish dancers, and musicians from around the globe performing unique music and dance that reflects pure Irish talent.
​
Melodic Celtic accordion, alongside raw and rhythmic guitar and banjo, complimented with heart felt sound of the traditional tin whistle, the tunes are Munster born & Dublin raised. Impressive dancing rarely seen outside of the World Championship stage, "A Taste of Ireland" was composed and choreographed in Dublin and is quickly on its way to becoming the new frontier in Irish entertainment.
This new frontier of Irish entertainment combines melodic Celtic accordion, raw and rhythmic guitar and banjo to produce ballads and songs from across the counties with dancing rarely see outside of the World Championship stage.
Created and produced by Pace Entertainment Group, the show will transport the audience to a time and place where tunes, taps and tradition showcase the very essence of celebrating the Irish spirit.
​
HEADLINE ARTISTS – CEILI MOORE and BRENT PACE
CEILI MOORE performed the lead role opposite Michael Flatley in "Lord Of The Dance" on tour throughout Australia, New Zealand, Asia, Europe, South Africa and London's West End Palladium Theatre. Her other dancing highlights include the Graham Norton Show, BBC Proms In The Park, Dancing Down Under and The Wiggles videos. Ceili has returned to Australia and teamed up with her partner, Choreographer and Producer BRENT PACE to perform in A Taste of Ireland. Brent was the Lead Principal in "Gaelforce Dance" and "Rhythms of Ireland". is a World Medallist and six Time National Champion.
Venue & date: Fremantle, City of Fremantle Town Hall Centre
Performance: Thursday 16 May at 7.30pm
Prices: from $49.40 to $89.90
Bookings: www.atasteofirelandshow.com
Venue: Perth, The Regal Theatre
Performance: Saturday 25 May at 7.30pm
Prices: from $49.40 to $89.90
Bookings: www.atasteofirelandshow.com
A TASTE OF IRELAND COMPETITION
(CLOSED Better luck next time )
If you are interested in winning a double pass for the awesome show " A TASTE OF IRELAND" send me your contact phone number and email address.
The first 2 people to do this will win a double pass for the show. My contact details are:
---
A WORLD PREMIERE performance
Co-commissioned by PICA and Carriageworks
7 – 16 JUNE 2018
BURRBGAJA YALIRRA (DANCING FORWARDS)
THREE SHORT WORKS
Three stories for country
Internationally acclaimed contemporary dance-theatre company Marrugeku presents the world premiere of BurrbgajaYalirra (Dancing Forwards) from 7-16 June at the Perth Institute of Contemporary Arts (PICA).
From the creators of GudirrGudirr, Cut the Sky and Burning Daylight, BurrbgajaYalirra is an evocative triple bill of new solo works.
Marrugeku are based across the Yawuru buru in Broome and the land of the Gadigal people of the Eora Nation in Sydney. The triple bill is curated by Marrugeku Co-Artistic Directors DalisaPigram and Rachael Swain.
Through a series of collaborations with Marrugeku Associate Artists Edwin Lee Mulligan, Eric Avery and Miranda Wheen and a team of interdisciplinary artists, BurrbgajaYalirra presents a deeply poetic and vivid engagement of Indigenous and non-Indigenous cultures across dance, music and storytelling.
Ngarlimbah (You are as much a part of me as I am of you) is a spoken word, dance and animated video work conceived by Walmajarri/Nyikina painter and poet, Edwin Lee Mulligan and created in collaboration with award-winning new media artist Sohan Ariel Hayes (Cannibal Story, BoornaWaanginy (The Trees Speak), Home). Ngarlimbah expresses the interconnected nature of human, spirit and environmental realms.
Dancer/musician Eric Avery collaborates with Belgian choreographer Koen Augustijnen (director of the award-winning GudirrGudirr) to create Dancing with Strangers. Avery belongs to the Yuin, NgiyampaaWangaaypuwan and Gumbangirri peoples of NSW and is a custodian of songs and dances from his father's line. He explores the first colonial contact period, including early (and missed) opportunities for exchange in language, dance and sharing knowledge.
Miranda Wheen creates Miranda with Marrugeku's associate choreographer Serge AiméCoulibaly (Burkina Faso/Belgium). Taking a starting point of her namesake, Miranda fromPicnic at Hanging Rock, Miranda explores the awkward, destabilising and often painful process for Australians of settler descent as they grapple with their own identity and sense of belonging when experiencing an encounter with First Nations Australian histories and cultural practices.
Speaking of the work, Marrugeku Co-Artistic Director DalisaPigram said, "exploring the challenges of what it means to learn from one another and our experience and understanding of 'country', BurrbgajaYalirra sees some of our finest collaborating artists give voice and embodiment to the complexities and possibilities of seeing and feeling from another perspective. Marrugeku looks forward to sharing these three solo performances with our audiences."
PICA Director Amy Barrett-Lennard said, "PICA is thrilled to be premiering BurrbgajaYalirra, a landmark triple bill of new works by Marrugeku that has been co-commissioned by PICA with Carriageworks. Commissioning is a significant feat, and to partner with these two leading Australian organisations – who are recognised at the forefront of contemporary performance – is evidence of PICA's recent performance program expansion."
"We are excited to realise a project of scale and ambition through our additional financial support. This is a powerful, uniting work that explores the intricacies of Australia at this moment and will no doubt leave audiences deeply moved."
The interview was done by Malti Elliott with the curator Dalisa Pigram
---
In the past two decades, the highly acclaimed Australian production of Burn the Floor has simply revolutionised Ballroom style — worldwide.
The production was conceived as a theatrical dance performance in 1997 by Australian Producer Harley Medcalf, as a combination of ballroom dance tradition and history, staged with a rock and roll pedigree.
Since its first performance in the UK in 1999, Burn the Floor has toured regularly around the globe. With three seasons in the West End, multiple tours through Japan, China, South Africa, Canada and the USA, Europe and the UK, South East Asia and New Zealand, the show has created a formidable performance history and reputation.
Performing on Broadway in 2009, Burn the Floor set a new box office record at the Longacre Theatre, 48th Street, during their 193 Broadway show run.
The Broadway season was followed by a 52 city, gruelling nine month US tour through 2010.
The interview was done by Malti Elliott with the director/co-choreographer Peta Roby
In the last six years Burn the Floor has also helped to reinvent entertainment in the Cruise Ship industry, now with five permanent dance show installations around the world on ships with Norwegian Cruise Line, playing to over 10,000 people every week.
Perth, The Regal Theatre – 12 April – 21 April Ticketek
Melbourne, The Palms at Crown – 26 April – 05 May Ticketmaster
Brisbane, QPAC Concert Hall – 08 May QPAC
Sydney, The Darling Theatre at ICC Sydney – 12 May– Ticketek
REVIEW *****
Burn the Floor's specific appeal is its hybridisation of ballroom dances with other forms of movement, as well as the fame of both it's choreographers and founders, Jason Gilkison and Peta Roby. Twelve dancers perform a range of styles, blending rumbas with tangos, hip-hop, jive or just plain old bump-and-grind.
The dancers are impressive and versatile, performing at top energy all the way through what is undeniably a demanding production. This is a fun show that has not forgotten that the heroes are the dancers themselves.
The sets are opulent, the costumes sexy and beautiful and the lighting is perfect. The merging of different dances types is done cleverly, without it being obvious and glaring.
The opening scene begins with an exquisite ballroom dance scene but that is quickly changed to a dance of another genre.
This is an unbelievable show. It is a delight to watch, a joy to experience and exciting to hear. Do not miss this blast of several sensory experiences. You will really regret it if you do. The show runs till the 21st of April at the Regal theatre. A great gift for a loved one.
I do not generally allocate 5 stars to a show because every show cannot be perfect. However I did not find any fault with this production and I can honestly say it deserves 5 stars. The general response from the audience showed this as well with the standing ovation received at the end.
---
[/fusion_text][/fullwidth][fusion_text]
A new creation of Frank Enstein

returns to the stage in 2018
After a sell-out 2017 season, Frank Enstein returns to the Heath Ledger Theatre at the State Theatre Centre of WA in April. Made by the award-winning creative duo of Gavin Webber and Grayson Millwood from QLD- based company The Farm, in collaboration with Co3 Australia, Frank Enstein is a poignant and hilarious tale of self-acceptance in this classic story with a twist.
This much-anticipated return season of Frank Enstein coincides with the 200th anniversary of Mary Shelley's novel and features two extraordinary young performers in the lead roles, formerly played by adults, who join Co3 Australia's professional dancers on-stage.
William Rees ,16, takes on the title role of Frank, bringing his unique experience of performing with a disability to the character. William received a brachial plexus injury at birth restricting the use of his left arm. He developed his interest in acting by performing with his school and the Canberra Academy of Dramatic Art at the Canberra Theatre Centre, winning the Acting Up theatre competition for 'Theatre Underground' in early 2017. He also starred in a film Black Sheep, receiving the award for Best Actor in a University of Canberra short film competition.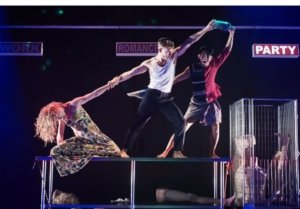 Fifteen-year-old local dancer, and Act-Belong-Commit Co:Youth Ensemble member, Luci Young, makes her professional debut in the role of Liz. She joined Co3's Act-Belong-Commit Co:Youth Ensemble in 2015, performing in Our City, Our Stories at the Dolphin Theatre (2016) and Project NEXT at the Centre for Performing Arts at All Saints' College (2017). Luci studies ballet on a scholarship at the Graduate College of Dance and is in year 10 at Methodist Ladies' College.
Co3 Australia dancers Andrew Searle, Talitha Maslin and Zachary Lopez reprise their roles as the monsters Frank brings to life.
Frank's a lonely guy who wants to make his imaginary friends real. Harnessing electricity from a storm he creates his world from nothing but his imagination and the garbage in his lab. Battling a physical impairment, Frank creates monsters to fulfil his desire to be normal and to be accepted by others. Can he control what he creates? And who is the real monster anyway?
Co-Director of The Farm Gavin Webber says, "It has been great to re-work Frank Enstein with Will and Luci, who as teenagers bring a new perspective to the story and the show."
Of the show returning to the stage, Co3 Australia's Artistic Director Raewyn Hill says, "This work matters. Frank Enstein is a story that we can all relate to – the struggle to fit in, to find a place, to find worth and what better way to tell it than through the voices of our young people. It's a work that speaks to all of us; we all sometimes need that reminder to be a little less judgmental, and a little more accepting of ourselves and those around us."
The Farm's wicked sense of humour and the extreme physicality of Co3 Australia's dancers create a sensational mix of extraordinary dance-theatre and mind-blowing magic, set to an electrifying contemporary soundtrack with spectacular lighting and design to delight the child in us all.
Frank Enstein opens at the Heath Ledger Theatre, at the State Theatre Centre on 11 April 2018 until 15 April 2018.
The interview was done by Malti Ellliott with the director Raewyn Hill
---

Good Little Soldier
Australian Premiere: Subiaco Arts Centre – 9-30 July
World premiere:10 May 2013 at Radialsystem V Berlin,Germany.
GOOD LITTLE SOLDIER
"I've read many articles about PTSD, but never thought about it as much as I did after that performance." New York Times, 21 June 2013
Artistic Director Mark Howett is bringing his dynamic Berlin production of Good Little Soldier home to Perth for his second show with Ochre Contemporary Dance Company. His first Ochre work, Kaya, thrilled local audiences with its dramatic portrayal of cultural clash and collaborations and was described by The West Australian as "A deeply felt, passionate work that feels both hard-won and joyous"
Good Little Soldier, like Kaya, is robust dance theatre, physically breathtaking, emotionally engaging and presented by world class performers. It explores how PTSD infects the families of those afflicted. For Mark, the son of a veteran, this is a deeply personal story.
"In creating Good Little Soldier my aim was to develop a physical dance based on my personal experiences of growing up as the son of a war-damaged soldier. I wished to investigate veterans' families common experiences and how it affects and infects the families of those afflicted with the burden of PTSD." Mark Howett
Mark brings a decade of making theatre and dance in Europe to create a collaborative work of powerful physical theatre. He has attracted a team of extraordinary artists to the production.
Australia's renowned international dance makers Gavin Webber and Grayson Millwood reprise their Belin roles of a damaged soldier and the ghost he has brought home from the front. Co3's Artistic Director Raewyn Hill makes a long-awaited return to performance as the tortured wife and mother
Bringing the work home to country allows an investigation of indigenous perspectives on inter-generational PTSD after 200 years of trauma. Brilliant Nyoongar actor/director/dancer Ian Wilkes plays a second ghost that has come home from war. The team is completed by the Perth-based musicians Dale Couper, Matthew de la Hunty, Laurie Sinagra (who create a live "industrial" band) and the dramaturg of the Berlin show, Phil Thomson, Company Dramaturg for Ochre Contemporary Dance Company.
Set in an Australian suburban home the work portrays a returned soldier struggling to return to normal family life. He has brought ghosts home from the war that only he sees. They push him into paranoid behaviour, encouraging the subjugation of his wife and son. The family explodes under the pressure.
Water drips, milk burns, a wall becomes a landscape. Daily life and trauma merge into part hallucination, part violent reality, part trench humour. The conflict comes home and the hypervigilance of soldiers, life-saving in war, shatters nerves in civilian life.
The production is an exciting collaborative partnership between Ochre Contemporary Dance Company and The Farm (Qld). The Veterans and Veterans Families Counselling Service (Department of Veterans' Affairs) supports the project. Present and former members of the Defence Forces and Emergency Services and their families will be invited to view rehearsals and help the artists to forge a work of authenticity.
The interview was done by Malti Elliott with the director mark Howett.
---
Shadowland Review
Shadowland is an amazing art creation developed by Pilobolus. It consists of dancers producing wonderful shadows that tell a simple story based on the lines of Alice in wonderland. However, unlike Lewis Carroll's heroine, this girl lacks any outstanding personality traits and her dream journey doesn't have the driving momentum of danger.
The dancing and incredible shapes made by the shadows was completely awesome. The visuals highlighted the beauty of the whole experience. The shadow puppetry was totally captivating.
The blend of modern dance, popular music, acrobatics and shadow movement was extremely well done. Because the storyline was so simple, emphasis could be placed on the dance movement which was truly amazing. The dream sequence was extraordinary.
The concept of a show being based on shadows is amazing and intriguing. I never thought so many beautiful images could be produced by acrobatic bodies contorted over and under each other.
The craftsmanship and skill in executing this show has to be seen to be believed. The strength and agility of the dancers was well balanced by their story telling ability through dance. This is an amazing piece of art, featuring accomplished dancers producing unbelievable shadows.
In conclusion I would like to say the show was innovative, creative and thoroughly entertaining. To find humour in a show like this was another bonus that just contributed to making the entire experience mesmerising. The ending was the greatest finale to Australia and its beauty. I will not tell you about it. – no words can describe the beauty of that experience. It has to be seen to be believed. So book your tickets soon. The show is on at the Regal theatre from 4th August – 7th August
---
OUR land people stories
BANGARRA DANCE THEARE BRINGS LATEST TRIUMPH TO PERTH STAGE
One of the most loved dance ensembles in Australia, Bangarra Dance Theatre brings their latest choreographic success, OUR land people stories, to the State Theatre Centre of WA this July. Bangarra returns to Perth after their successful and near sell out season of Patyegarang in 2014.
The dancers' artistry, athleticism and authenticity drive the company's reputation as one of Australia's most loved performing arts group. OUR land people stories has been described as their most ambitious program yet, featuring stories about family, visual arts and Australia's cultural heritage, performed with immense passion and spirit.
Artistic Director Stephen Page tells the story of internationally acclaimed visual artist Nyapanyapa Yunupingu from North East Arnhem Land. Page has long admired Nyapanyapa's meditative painting process and this new work speaks to the power of her art, history, spirit and community. Nyapanyapa's work won her the Telstra National Aboriginal and Torres Strait Islander Art Award in 2008. Composer Steve Francis, who has previously created scores for eight Bangarra productions, collaborates with Stephen to create a vivid soundscape.
Jasmin Sheppard's Macq (first performed in 2013 during Dance Clan 3) is brought to the main stage, exploring Governor Macquarie and his role in the 1816 Appin massacre. This political and passionate work will open your eyes to a chapter of Sydney's unsettling colonial history. The music for Macq was composed by David Page in 2013, and was the last piece of music he worked on for the company.
The kinship systems of Wiradjuri Country – the complex familial ties between clans – are explored by WAAPA graduate Beau Dean Riley Smith and Daniel Riley in Miyagan ("our family", pronounced Me-ya-gun). Blak composer Paul Mac, a Helpmann and ARIA award winner, is creating the music for this work, his second for Bangarra.
Resident designer Jacob Nash designs inspiring sets for each work in the triple bill, complimented with costumes by Jennifer Irwin and lighting by Matt Cox.
The message of hope and resilience runs through the three parts of OUR land people stories, which has been dedicated to Bangarra's music director David Page .
"It's so exciting to be on this bill with three artists who have been nurtured right here in our own backyard – they are the next generation of cultural leaders. I've always said that, along with community relationships, it's the dancers who inspire our stories, and its their heritage, their experience, their families and where they come from that permeate our productions; that's where the heart and spirit comes into it and why our productions are so unique and moving," says Artistic Director Stephen Page.
"The 17 dancers are entrancing" – The Australian
"★★★★ ½ An engrossing and moving experience" – The Sydney Morning Herald
"★★★★Brilliant" – The Guardian
The show is a tribute to David Page by Stephen Page.
---
The return to Australia of the spectacular masterpiece
"SLEEPING BEAUTY"
Grand
International Concerts' proudly presents the welcome return to Australia of Moscow Ballet LA CLASSIQUE spectacular masterpiece and ballet's most loved fairy tale, Tchaikovsky's "SLEEPING BEAUTY", touring nationally in April/May 2015. The great success of Russian Theatre is undoubtedly Classical Ballet and the highly-acclaimed and respected Moscow Ballet LA CLASSIQUE was established in 1990 by its current Artistic Director ELIK MELIKOV and have earned the reputation for their internally-acclaimed ballet skills, lavish costumes and magnificent stage sets – the illustrious Moscow-based will take Australian audiences on a mystical journey to the fairytale world of Princess Aurora, the "Sleeping Beauty". In this 2-Act fairy tale performance Moscow Ballet LA CLASSIQUE will capture the imagination and the magic of "SLEEPING BEAUTY", a hugely enjoyable dance spectacular for ballet lovers of all ages.
The dates for this are 3rd and 7th May at the Regal Theatre.
---