The Marvelous Wonderettes
The Marvelous Wonderettes will keep you smiling in this must-take musical trip down memory lane!
"One irresistible musical! An utter charm bomb!" – The New York Times.
This smash off-Broadway hit takes you to the 1958 Springfield High School prom where we meet Betty Jean, Cindy Lou, Missy, and Suzy, four girls with hopes and dreams as big as their hairdos! As we learn about their lives and loves the girls serenade us with classic ' 50s hits including " Lollipop," " Stupid Cupid," and " Lipstick on Your Collar."
In act two, the Wonderettes reunite to take the stage and perform at their ten-year reunion. We learn about the highs and lows the girls have experienced in the past decade and are charmed to find that no matter what life throws their way, they will conquer it together. Featuring over 30 classic ' 50s and ' 60s hits.
Starring Sian Dhu, Bella Lambert, Gemma Little & Caris Reid.
The interview was done by Chris Durrant with the director Carole Dhu
The World goes round
The world keeps spinning at Midnite The Midnite Youth Theatre Company talented performers will come together next month to perform The World Goes 'Round, a lively musical revue encompassing songs from such award[1]winning Kander and Ebb musicals as Cabaret, Chicago and New York, New York.
John Kander and Fred Ebb are the longest-running collaborative partnership in musical theatre history. Liza Minnelli, Chita Rivera, Barbra Streisand, Frank Sinatra, Lauren Bacall, and Robert Goulet are among the many who have performed their work.
Conceived by Scott Ellis, Susan Stroman, and David Thompson, The World Goes 'Round first appeared on Broadway in 1992. It features songs selected from the popular musicals such as "All That Jazz" and "Mr Cellophane" from Chicago and "Money" and "Maybe this Time" from Cabaret.
The World Goes 'Round will be directed by Artistic Director of Midnite, Gregory Jones, whose credits range from musical theatre and plays to devised works. Also on the creative team is Musical Director, Jackson Griggs, Choreographer, Claire Nichols and assisting the production is cabaret performer, Simone Craddock.
"We are delighted to bring this incredible revue to life, filled with great songs and style," says Midnite's Artistic Director, Gregory Jones.
The production brings together a talented ensemble of emerging young performers from 18 to 25 years selected from throughout WA.
"We have an incredibly talented team guiding these young performers through this fantastic repertoire by Kander and Ebb. These energetic and colourful songs embody the wit and enthusiasm of the writers but also embrace the raw emotions of heartbreak and loss."
The season runs from 9 to 12 March, Downstairs @ the Maj, His Majesty's Theatre. Tickets can be purchased online through the Perth Theatre Trust website. midnite.ccgs.wa.edu.au
The interview was done by Chris Durrant with one of the performers Maya Curtis
NEVERMORE: THE IMAGINARY LIFE AND MYSTERIOUS DEATH OF EDGAR ALLAN POE
The multi award winning team at Grey Lantern Productions is thrilled to present the AUSTRALIAN PREMIER of the stunning NEVERMORE: THE IMAGINARY LIFE AND MYSTERIOUS DEATH OF EDGAR ALLAN POE at the Subiaco Arts Centre, 1-4 December 2021.
PREPARE YOURSELF FOR A SHOW UNLIKE ANYTHING YOU'VE SEEN BEFORE.
Dark and dazzling, bizarre and beautiful, Nevermore – The Imaginary Life and Mysterious Death of Edgar Allan Poe is a unique and wildly theatrical musical play combining haunting music, poetic storytelling, and stunning stagecraft to chronicle the fascinating and moving life story of iconic American writer Edgar Allan Poe, one of the world's most famous and fascinating writers.
Nevermore blends fact and fiction to create a darkly immersive experience that is difficult to describe, but impossible to forget. A literary rock star in his day, Poe struggled with tragedy and addiction, poverty and loss, yet produced some of the world's most original, visionary and enduring literature before dying in unexplained circumstances at the age of 40.
At once gorgeous and grotesque, exploring the events that shaped Poe's character and career and giving powerful expression to Poe's words "all that we see or seem is but a dream within a dream."
CREDITS: Book, Lyrics and Music by Jonathan Christenson, By permission of ORiGiN™ Theatrical on behalf of Playscripts, Inc.
Director – Lorna Mackie Production Manager – Mike McAllan Musical Director – Maddison Moulin Choreographer – Anita Telkamp
Edgar Allan Poe – Cal Silberstein Players: Simon Brett, Daniel Burton, Zac Bennett-McPhee, Charlotte Williams, Erin Craddock, Arianne Westcott-King *** This show has adult themes***
Where: Subiaco Arts Centre, Main Stage
When: 1-4 December 2021
Suitable: Recommended 15+, this show has adult themes including suicide, depression, addiction and child marriage
The interview was done by Malti Elliott with the Assistant Director Mitch Lawrence.
Jack and the Bean Stalk
Jack and the Beanstalk Jack Trot and his mother, Dame Trot live in a village called Merrydale. Jack is in love with King Bertram's daughter, the lovely Princess Demelza. The village is being terrorised by the Giant who lives Up-In-The Clouds. He demands increased taxes and the hand of the Princess in marriage. In order to pay the Giant, Dame Trot and Jack are forced to sell their cow Daisy. However, Jack is tricked by Slimeball, the Giant's henchman, who pays him in beans instead of cash; and who abducts the Princess and takes her to the Giant. Jack throws the beans away in disgust, but magically they grow into a huge beanstalk allowing him to climb up into the clouds to rescue the Princess. Will it end happily ever after?
The interview was done by Chris Durrant with Gwen Browning .
Mamma Mia
ABBA's hits tell the hilarious story of a young woman's search for her birth father. This sunny and funny tale unfolds on a Greek island paradise. On the eve of her wedding, a daughter's quest to discover the identity of her father brings three men from her mother's past back to the island they last visited 20 years ago.
The story-telling magic of ABBA's timeless songs propels this enchanting tale of love, laughter and friendship, creating an unforgettable show. A large cast, non-stop laughs and explosive dance numbers combine to make Mamma Mia! a guaranteed smash hit. A mother. A daughter. Three possible dads. And a trip down the aisle you'll never forget!
The interview was done by Chris Durrant with Chris Dodson & Hayley Parker
Presented by: Serasi Entertainment
Briefs Dirty Laundry

BRIEFS BOYS TO TAKE OVER GIRLS SCHOOL Briefs are heading back to Perth with a very special presentation outside the regular FRINGE WORLD Festival season for the first time in ten years!
This time, they've got a hills hoist in tow and they're ready to air all of their dirty laundry in their brand-new show, Briefs Dirty Laundry. This WA Premiere will take over Girls School from 11 – 22 August 2021.
With more glitter stains and ballsy attitude than ever before, your favourite Briefs misfits give you a night of intoxifying physicality, unapologetic truths and gob-smacking comedy. Turn your cycle to HOT as you watch these boys tumble dry.
Led by Briefs Creative Director, Fez Fa'anana (aka Shivanana), Briefs Dirty Laundry features a line-up of lads you know and love (Mark 'Captain Kidd' Winmill, Thomas Worrell and WA's own Louis Biggs) as well as some shiny new toys and boys (Brett Rosengreen, Dylan Rodriguez and Luke Hubbard).
Don't miss out on this chance to see the ridiculous showmanship of the Briefs boys who were disappointed to cancel their Perth appearance earlier this year at FRINGE WORLD 2021 due to a COVID-19 breakout in Queensland.
Fa'anana explains: "Dirty Laundry is an opportunity to creatively, metaphorically and candidly get some sh*t off our chest, to 'air our dirty laundry'. A space for the audience to free themselves with the fabric of our relationships and overindulge with the floral maskings of a softener. These interesting and unpredictable times may give us the spin cycle that we need to speak truths and let muddy waters drain. A chance to super-soak and stain-remove the blemishes that can spoil the load. We launder our collective thoughts and our Y-fronts, we rinse off the residue, spin dry some sense into ourselves and throw caution to the hills hoist."
Briefs Dirty Laundry is a co-production between Briefs Factory International, ARTRAGE and Cluster Arts. "There's no chance for a boring winter when the Briefs boys are in town. This is a ridiculously entertaining show and it's one of the many new things that ARTRAGE has on the cards for Perth. It's part of our plan to find more ways to entertain the people of Perth when we're not all busy Fringe-ing" said ARTRAGE CEO Sharon Burgess.
Tickets from $42 or $60 for the VIP Briefs Deluxe Full Service featuring table service. Tickets are on sale now from girlsschool.com.au
Girls School is the fabulous art-deco building located in East Perth and is presented by ARTRAGE, the team behind FRINGE WORLD Festival. Girls School is a creative hub featuring a winter cinema and special events. BRIEFS DIRTY LAUNDRY Girls School // 2 Wellington Street, East Perth 11 – 22 August 2021
7:30pm Wednesday, Thursday and Sunday 7:30pm & 9:30pm Friday and Saturday Restricted to audiences aged 18+ Tickets on sale now from girlsschool.com.au
This is an interview with Fez Fa'anana – the creative director and Chris Durrant.
Puttin' On the Ritz
Dig out your sequins, put on your glad rags and slip into your dancing shoes. It's time to head back to the Golden Age of Hollywood.
Following the huge success of their 2017 debut Australian tour, Puttin' On the Ritz is back by popular demand and gliding its way across Australian May and June for an all-singing, all-dancing celebration of some of the most iconic music of all time.
Presented by Mellen Events, Puttin' On the Ritz delivers all the razzamatazz and style, celebrating the most famous songs which hark back to the glory days of Hollywood. This wonderful extravaganza features a 16-strong stellar cast of six multi-talented vocalists and 10 energetic dancers direct from London's West End.
The interview was done by Chris Durrant with Graham Macduff.
---
MIMMA:A Musical of War and Friendship to have World Premiere
at The Regal Theatre, Subiaco
The Regal Theatre Subiaco will be the host to the West Australian production of the new musical, Mimma: A musical of war and friendship, from Orana Productions, with the season running from April 9 -21, 2019.
The original musical is the result of several years of collaboration between WA based author Dr Giles Watson and composer, Ron Siemignowski. Incorporating completely new musical numbers, including a blend of Jazz, Opera and Musical Theatre, 'Mimma' is a musical that bridge contents and cultures.
Producer and Composer Ron Siemignowski said: "We are very excited to see 'Mimma' come to life. What started with small dreams and ambition has turned into an incredible production with an amazing cast & crew, both local and international talent investing time into creating something that we can all be proud of".
The Story…
The shadow of Fascism spreads across Italy as Mimma, a young journalist from Turin, takes refuge at her Uncle Lorenzo's nightclub in Soho, London. As another World War becomes inevitable, Mimma forges an unassailable friendship with Sarah, an aspiring jazz singer, while her family are increasingly embroiled in resistance against Mussolini. The coming conflict brings out the best and worst in people as Mimma's brother is captured, Londoners prepare for Hitler's Blitz, and fears of betrayal reach fever pitch. Even refugees and firm opponents of the dictators are classified as "Enemy Aliens". Mimma and Sarah are caught in the turmoil as Soho is torn apart by arrests and internments. England and Italy are facing their darkest hours, and Mimma is in danger of losing everything. Everything – that is, except the one friend she can trust.
The Cast…
Casting the lead role of Mimma was a relatively easy task, when Australian Soprano, Mirusia Louwerse read the Libretta via her agent. Mirusia immediately jumped on board and is very excited to be part of the production: "This incredible new musical features such beautiful and exciting music, I fell in love with the melodies when I first heard them. The storyline and the script is something so different and fresh, yet it is based on true events during the Second World War in Italy and England. I am honoured and proud to be creating the role of Mimma and giving life and a voice to an incredible character."
Mirusia has spent 10 years performing as the Star Soprano of André Rieu and is one of the most celebrated voices in the world. She has performed in front of country leaders, royalty and sung live to many millions of fans across every continent. Mirusia is celebrated for the vocal clarity, dexterity and exquisite tone she brings to the world stage.
Directed by Adam Mitchell, previously with Black Swan Theatre Company, Mimma also stars world renowned Baritone, Jason Barry-Smith in the lead male role of Aldo, with WAAPA graduate & accomplished musical theatre actress, Holly Meegan playing Sarah.
They are joined by Canadian Opera star Suzanne Kompass, WA based Igor Sas and Ian Toyne in the main cast. Mimma's ensemble cast are all proudly West Australian performers whilst the production will feature original music performed by The Perth Symphony Orchestra under Musical Director Sean O'Boyle.
---
Patience
Love, jealousy, and utter foolery
Dolphin Theatre, UWA
September 6 – 15, 2018
You can't hurry love
Fashion, pretension, celebrity culture and the pursuit of love are the targets for the wicked wit of WS Gilbert and musical brilliance of Arthur Sullivan in their timeless musical comedy, Patience, opening at the Dolphin Theatre on September 6, 2018.
Gilbert and Sullivan's hilarious satire on the "art for art's sake" movement, epitomised by Oscar Wilde and his followers, is a timeless take on the crazes, fads and fashions that have the power to enslave us all to this day.
First produced in 1881, Patience sees the finest and manliest specimens of Her Majesty's Dragoon Guards go into a state of shock when they realise that the hearts of the most eligible young ladies about town are being stolen by a pair of "beauty loving" poetry-worshipping dandies.
Mayhem breaks out as they attempt to win their intended brides back to their side by any means possible. Even going as far as devising and declaiming poetry themselves and shedding their spiffing uniforms for something more … erm … exquisite?
Presented by The Gilbert and Sullivan Society of WA, Patienceis directed by acclaimed G&S exponent, Alan Needham (HMS Pinafore 2017, Trial By Jury, Cox & Box 2015), who has appeared in all 14 of Gilbert and Sullivan's comic operas. He is joined by musical directors, Michael Brett (Iolanthe 2016, HMS Pinafore 2017, The Gondoliers 2018) and Georg Corall making his directorial debut with the Society.
Needham said Patience is one of the funniest shows in the G&S comic repertoire and that its nineteenth century setting belies its contemporary relevance.
"It is an eternal delight to see Gilbert gleefully pop the balloons of pretension and pomposity whether it be from fake poets overly fond of reciting their own verses or manly posturing," he said. "Patience is a rollicking romp through the follies of fashion and the foibles of the heart that will have you in stitches and chuckling long after you leave the theatre. And maybe even striking a few poses and reciting a few verses of your own!"
The Society is thrilled to welcome back Ross Bryant as the poet Bunthorne (The Gondoliers 2016), David Cosgrove (HMS Pinafore 2017, The Gondoliers 2018) as Major Murgatroyd, Belinda Cox (Iolanthe2016, HMS Pinafore 2017, The Gondoliers 2018), as Lady Jane, and Grace Feltoe (HMS Pinafore 2017, The Gondoliers 2018) as Patience with a superb cast of Society singers and a live orchestra.
Tickets are extremely limited for the nine performance season. Don't miss out. Bookings can be made 24/7 on www.ticketsWA.com (no online booking charges) or on 6488 2440 between noon and 4 pm Monday to Friday.
Founded in 1951, The Gilbert & Sullivan Society of Western Australia has produced over 50 productions of Gilbert & Sullivan's extraordinary contribution to the musical theatre. Founded by Bernard Manning, the Society is supported by The Gilbert & Sullivan / AN Bullock Trust created in 1983 through the bequest of the late Arnold Bullock. Distinguished entertainer, Max Kay became the Patron of the Society after the late Sir Charles Court. Over seven decades, the Society has brought laughter and joy through the comedy and melody of W.S. Gilbert and Arthur Sullivan to generations of Western Australians. For more information: www.gilbertandsullivanwa.org.au
---
IN THE MOOD
Hit U.S. Big Band Swing Celebration Returns for Silver Jubilee
"Sensational all-swinging show… it's the total package" The Adelaide Advertiser
"Seeing IN THE MOOD isn't an option, it's a MUST!" BroadwayWorld.com
Celebrating its 25th anniversary and back by popular demand, Mellen Events presents the smash U.S. 1940s big band swing celebration IN THE MOOD, returning to Australia for another triumphant run of shows in 2018.
Afterselling out seasons in 2011, 2013 and 2016, IN THE MOOD commemorates its Silver Jubilee year with a 4th Australian visit. With matinee and evening shows across the country, IN THE MOOD is an uplifting treat for the whole family and the perfect opportunity to get in early for your most inspired and desired Mother's Day gift yet!
IN THE MOOD brings you back to the bold, beautiful days of the 30s and 40s when the joint was jumping to the hot sounds and jiving rhythms of Glenn Miller, Benny Goodman, Tommy Dorsey, Duke Ellington, Frank Sinatra, the Andrews Sisters and many more unforgettable, indelible swing artists. Against the contrast of war, great melodies and lyrics energized by the big bands featuringsaxophones, trumpets, trombones and rhythm sections, gave everyone faith in their heartsand a reminder of what they were fighting for.
For over 2 hours, this big retro event will hold audiences enthralled with its singers, dancers and period costumes, fine orchestral arrangements, vocalists delivering songs from the era, choreographed dance routines and shear theatrical pizzazz! IN THE MOOD introduces a new generation to the swing, rhythm and jazzy sentimental and patriotic music of a pivotal time in American history, when everyone listened to, and danced to the same music.
Nineteen cast members including the sensational Stringof Pearls Big Band Orchestra and In the MoodSingers & Dancers bring more than fifty unforgettable hits to the stage including Chattanooga Choo Choo, Boogie Woogie Bugle Boy (of Company B), In The Mood, Sing, Sing, Sing, On The Sunny Side of the Street and so much more!
With music arrangements written by Vic Schoen, the conductor for the Andrews Sisters and Musical Director for Universal and Paramount Pictures, along with sizzling choreography from Broadway veteran Alex Sanchez, IN THE MOOD is high-energy, world class family entertainment that pays a heart-felt tribute to the service men and women of World War II and is loved throughout the USA, Canada, Europe, New Zealand and Australia.
Whether it's your first time or your fourth,this show will do more than just get you IN THE MOOD, it will reaffirm your spirit!
What era do the songs of the show belong to.
The first right answer will get a double pass for the show.
Please email answer to malti@westnet.com.au
---
Gutenberg! The Musical!
MUSICAL SINGS ITS WAY BACK TO SUBIACO
After a critically acclaimed season in 2016, Gutenberg! The Musical is bringing back the laughs, this
time to the Subiaco Arts Centre in June.
The knee slappingly funny, musical-spoof about two ambitious writers, Bud and Doug, and their first (cross your fingers) Broadway smash, is showing as part of the Subiaco Theatre Festival from the 27th of June.
Taking the form of a "backers' audition", Bud and Doug introduce their new project – a big, splashy musical about Johann Gutenberg, the inventor of the printing press. With relentless enthusiasm and misguided optimism, they sing all the songs and play all the parts in their historical epic, hoping one of the producers in attendance will give them a shot at Broadway stardom.
Featuring Andrew Baker and Fringe World favourite Tyler Jacob Jones, the show had audiences and critics raving and gasping for breath in its original season.
"Gutenberg is really like nothing you've ever seen before – but you'll want to see it again," says Baker. "We've already had people buy tickets who saw it last time".The madcap musical comedy written by New Yorkers Anthony King and Scott Brown, ran Off-Broadway and has been seen by audiences around the world. Its appeal reaches to lovers of musicals and comedy fans.
The Subiaco Theatre Festival runs through June at the Subiaco Arts Centre, and features a showcase of exciting and innovative performances from independent WA artists and producers.
Gutenberg! The Musical!
Runs: 27 – 30 June at Subiaco Arts Centre, Hammersley Rd, Subiaco
Shows: 7.30pm (run time – 80 mins)
Booking information: available at ptt.wa.gov.au
Facebook Event:
About the Company:
Western Sky Theatre produces cabaret and chamber musical theatre in Western Australia. It aims to offer creative opportunities for musical theatre professionals who have a WA connection
The interview was done by Jane Sherwood with one of the cast Andrew Baker.
---
THE EDGE
CATFACE PRODUCTIONS BRINGS A MULTI-AWARD WINNING MALAYSIAN MUSICAL THE EDGE TO AUSTRALIAN AUDIENCES FOR THE VERY FIRST TIME
29 MAY – 16 JUNE 2018, THE BLUE
ROOM THEATRE
Jarod. Lilly. Deanna. Michael. Ryan. April.
Six people who know Josh, an aspiring artist and a troubled young man. When Josh declares that he wishes to end his life, these six are forced to re-examine their relationships: with him, with one another, and with themselves.
The Edgeis a dynamic new musical, originally staged in Malaysia and coming to Perth for the first time. A production that peers over the edge of the human condition and leaps into the complicated nature of relationships, it asks questions about affect, responsibility – and ultimately, forgiveness.
"a powerful play with characters that speak directly to audiences" – New Straits Times, Malaysia
"The Edge is very unique in how it doesn't depict the act, and is not interested in shock value or shouting in an audience's face. It is firmly about those left behind, grappling with questions of if they could have done more and wondering if they were in some way responsible. We question the past, replaying it in our minds, looking for ways we could have done things differently; and it is all too futile. Even on a macro-level, with the general despair and insecurity around the environment, economy, and political spheres, shows like The Edge are needed now more than ever; while the content may be heavy, the hope contained within is so important and vital to so many people. That is why I want to make this show."
– Levon J Polinelli |Director &Producer
"It is my hope that The Edge's upcoming season at The Blue Room Theatrewill serve as yet another vehicle through which conversation on mental health issues can happen in Perth; and that other people who undergo self-doubt, self-esteem issues and self-loathing – all trademarks of depression – will see themselves reflected in the characters, to give them some small comfort in the knowledge that they are not alone in their struggles." – Nick Choo |Writer

Director and Producer: Levon J Polinelli / Book, Music and Lyrics: Nick Choo / Featuring: Claudia Van Zeller, Emerson Brophy, Grace Johnson, Madeleine Shaw, Philip Lynch, Tate Bennett / Musical Director: Harry Oliff / Designer: Sara Chirichilli / Stage Manager: Thomas Dimmick
About the Company
Catface Productions was formed out of a desire to bring to Perth audiences great live entertainment across theatre, comedy, cabaret; and to work alongside and foster artists to develop works to their full potential. In its maiden year, Catface produced nine shows at FRINGE WORLD 2017 with numerous sold-out sessions, stellar reviews, a Best Comedy nomination, and over a thousand dollars raised for local charities.
THE EDGE
Preview 29th May 2018
Season 30th May – 16th June 2018
The Blue Room Theatre
Perth Cultural Centre, Northbridge, Western Australia
Bookings/info: blueroom.org.au / 08 9227 7005
---
[/fusion_text][/fullwidth][fusion_text]
Mellen Events Present
Direct from the U.S.A.& U.K. with a cast of West End Stars
NEW JERSEY NIGHTS
Celebrating the music of FrankiValli&The Four Seasons
★★★★★A Massive 5 Star hitReno Press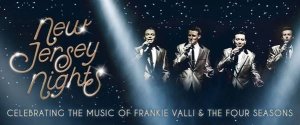 Take an exciting musical journey through the career of one of the biggest-selling groups of all-time, in this spectacular celebration of the music of FrankiValli&The Four Seasons!
From the back street studio in New Jersey where it all began, this vibrant production includes all of The Four Seasons' greatest hits, including Sherry, Rag Doll, Big Girls Don't Cry, Walk Like A Man, Let's Hang On, Can't Take My Eyes Off You and many more.
With a sensational cast of award winning West End singers and dancers, complete with a live band on stage, you won't want to miss this musical extravaganza!
New Jersey Nights has smashed box office records right across the USA and UK and is proving to be one of the most successful touring shows of all time.
From the promotors who took you back to the roaring twenties with the hugely popular In The Mood theatre tour in 2016, and through the Golden Era of Hollywood with the 2017 Puttin' On The Ritz theatre tour, New Jersey Nights promises to be one of the must see premiere musical theatre events of 2018.
Brilliant show, perfect harmonies, the crowd went wild– Liverpool Echo
A thrilling concert – a 5 star performance – a must see–WhatsonStage.com
A Brilliant production – The Theatrical event of the year! – News and Press
5 Star Fabulous!– New York Press
The Standing Ovations say it all– The International Post
Mellen Events Present
NEW JERSEY NIGHTS
Celebrating the music of Franki Valli &The Four Seasons
BREC, Bunbury WA
Tuesday 3 April 2018 – 7:30pm
1300 661 272
Mandurah Performing Arts Centre, Mandurah WA
Wednesday 4 April 2018 – 7:30pm
(08) 9550 3900
Regal Theatre, Perth WA
Thursday 5 April 2018 – 7:30pm
Friday 6 April 2018 – 2pm
Friday 6 April 2018 – 7:30pm
1300 795 012
---
ONCE WE LIVED HERE
Music by Dean Bryant, Lyrics by Mathew Frank
An exciting Australian musical will receive its WA premiere at The Blue Room Theatre in October.
Once We Lived Here centres around Amy (Taryn Ryan), who runs her family's sheep station 'Emoh Ruo', in rural Australia. She's held onto the property through drought, bushfire, and falling wool prices, determined not to let it slip out of the family grasp. Over a scorching long weekend, the family gathers, and Amy has to face up to the myths and lies the place has been built upon.
Written by the critically acclaimed team of Dean Bryant & Mathew Frank (themselves WAAPA graduates from the 1990s), this full-length musical is an authentically Australian story, with a uniquely Australian sound. The debut season in Melbourne received a Green Room Award for Best New Musical, and was described by Geoffrey Rush as "a beautiful, poignant piece of home-grown music theatre". The Age newspaper described it as "musical theatre full of life, emotion and renewal"
ONCE WE LIVED HERE
Preview 17th October 2017
Season 19th October – 4th November 2017
All shows at 8.30pm and include an interval
The Blue Room Theatre, Perth Cultural Centre, Northbridge
Bookings/info: blueroom.org.au / 08 9227 7005
The interview was done by Malti Elliott with the director Andrew Baker.
---
Mellen EventsPresent
For the first time in Australia
Direct from the U.K.with a cast of West End stars
Featuring the Music of Irving Berlin, Cole Porter & George Gershwin
Travel back to the golden age of Hollywood where melody, rhythm and dance was king! The dazzling theatre spectacle Puttin' On The Ritz– with special guest Rob Mills, brings to life the music of Irving Berlin, Cole Porter and George Gershwin.
Touring the countryfor the very first time this August &September, and starring Australia's own golden boyRob Mills,along withan acclaimed cast of West End stars direct from the U.K. Puttin' On The Ritz is the must see premiere musical theatre event for 2017.
Cheek to Cheek, Alexander's Rag Time Band, Birth of the Blues, Swanee, Night and Day, I Got Rhythm, Easter Parade, Puttin On The Ritzand so many more. The most famous songs of the Golden Age of Hollywood are recreated live on stage with award winning singers and dancers in glittering costume.
From the company who took you back to the roaring twenties with the hugely popular In The Mood theatre tour in 2016, Puttin' On The Ritz is an all-singing, all-dancing celebration of some of the most iconic music of all time.
Starring Rob Mills, the new face of Australian theatrewho first came to the country's attention as a finalist on Australian Idol and has gone on to become a bona fide theatre star in his own right. Rob has appeared in numerous productions including prime roles in Legally Blonde, Wicked, Grease, Hairspray and Ghost the Musical. His matinee idol good-looks and acting talent can currently be seen during his guest role on the perennial Australian TV soap favourite Neighbours.
The show is produced by David King, one of the most successful theatrical producers ever to come out of the UK. David has had hit shows all over the world, owns his own theatres in America and, at any one time, up to 20 of his shows are appearing around the globe, to the highest critical acclaim. Credited with bringing musicals to the masses and affectionately known as "the working man's Andrew Lloyd Webber", David's shows have toured in more than 30 countries, and he is the first producer from the Western world to have three consecutive tours in China, playing to over a million people.
Puttin On The Ritz delivered a brilliant and nostalgic night out! The audience loved every single minute of this show. The singing was top class, and the dancing even better.
Edinburgh press
A glittering extravaganza that has the audience cheering for more.
Norwich evening news
A decadent visual treat. A wonderful reminder of times gone by.
What's on Theatre
---
HIT Productions in association with Luckiest Productions presents
Everybody Loves Lucy
Written by Elise McCann & Richard Carroll
Directed by Helen Dallimore
Lucille Ball was the Queen of American comedy for decades. As television's biggest star in I Love Lucy -the most popular sitcom in American history – the wacky, fearless, and totally endearing Lucy broke the mold for the way women were allowed to behave on TV.
Lucy was joined every step of the way by her real-life and on-screen husband Desi Arnaz.
Together they defied conventions and expectations, and ensured total control by creating their own studio. Lucy and Desi held up a fun-house mirror to every marriage in America – exaggerating and making amusing every idiosyncrasy of married life. But as Lucy's popularity thrived, her relationship with Desi suffered both professionally and privately.
Generations of fans love Lucy Ricardo for her impulsive, foolhardy and child-like charm – but the produ
cer of I Love Lucy once said "Lucille Ball is about as different from Lucy Ricardo as anyone could possibly be." She was a dedicated professional whose seemingly effortless comedy was a result of rigorous attention to detail and fanatical rehearsing.
Everybody Loves Lucy stars Jayde Westaby, an acclaimed musical theatre performer, originally from the UK, whose West End credits include Grease, West Side Story, Jersey Boys and Chicago. And Steven Kreamer as Desi Arnaz, most recently been Associate Musical Director on Little Shop of Horrors (Tinderbox/Luckiest) and Rent (Highway Run).
Brimming with Lucille Ball's irrepressible spirit Everybody Loves Lucy is a tribute to a true trail-blazer. This cabaret-style show is a a treat for audiences young and old.
Interview by Malti with Jayde Westaby
---
The Gilbert and Sullivan Society of WA
will be presenting this double bill at the Subiaco Art Centre from 14 – 17th October 2015.
Trial by Jury was the second collaboration of Sullivan with WS Gilbert. Edwin promised to marry Angelina then left her in the lurch. In a breach of promise suit the learned judge sings one of the most famous of the G&S patter songs which includes the line "she may very well pass for forty three in the dusk with the light behind her"! Like all G&S it has a hilarious and happy ending.
Cox and Box was written by FC Burnand with music by the then young Arthur Sullivan. Mr Cox works during the day (and is home at night) and Mr Box works at night (and is consequently home during the day). The unscrupulous landlord has rented the same room to both of them and thus collects double rent! This works well until the day they come home at the same time -then the fun really starts!
Director: Alan Needham
Musical Director: Michael Brett
Featuring :Justin Freind
Listen to an interview conducted by Chris Durrant with the director Alan Needham.
---
The Music Theatre Company of WA MEDIA RELEASE
30 July 2015
SPANGLES TO STUDS! – BRENDAN HANSON (WA's HUGH JACKMAN), SCORES THE
LEAD ROLE IN OKLAHOMA!
Finalist on the TV talent show "Priscilla – Queen of the Desert", Perth actor Brendan Hanson will play Curly McLain in Oklahoma, produced by the new production company Musae – The Music Theatre Company of WA (Inc.)., at The Regal Theatre 17th-26th September 2015.
A dark horse when it comes to talent, Brendan played Jean Valjean in Les Miserables, Rum Turn lugger in Cats as well as many roles for the Black Swan Theatre Company and was Assistant Director for WA Opera's Marriage of Figaro as well as Lecturer and a Director of operas at WAAPA.
"Curly is a role that was made famous on the big screen by Gordon MacRae many years ago, and much later on the stage by WAAPA graduate Hugh Jackman, " said Brendan, " Adam Mitchell the Director ( Black Swan) and I are looking forward to a special interpretation to this romantic character," he said.
Playing the role of Curly's love-interest is opera singer Emma Petteremides who was the spectacular diva Carlotta in The Phantorr cf the Opera last year.
To complete the love-triangle, Ian Cross will play the darkly brooding Jud Fry (previously Brendan's protagonist as Javert in Les Miserables and last year Captain von Trapp in The Sound of Music.)
Supported by a talented chorus of emerging WAAPA talent and the MUSAE Orchestra, Oklahoma will be conducted by Founder and Musical Director Ian Westrip 0AM.
Winner of the 2015 Performing Arts WA Best Actor award – Igor Sas is the conniving Ali Hakim and the wise and insightful Aunt Eller, will be played by the magnificent Alinta Carroll.
This new company MUSAE proudly sponsored by Zetta and supporting the Prostate Cancer Foundation of Australia, presents Rodgers and Hammerstein's Oklahoma playing matinees and evenings from September 17th (Preview) – Sat 26th Sept including matinees.
Tickets are already on sale – book through Ticketek on 132 849 or at www.ticketek.com.au.
Further information is available at www.musictheatrewa.com.au
Click to listen to an interview by Chris with Emma Pettemerides